Number of far-right terrorists in UK prisons triples as arrests hit new record
Islamists make up the majority of terrorist prisoners and suspects arrested in Britain
Lizzie Dearden
Home Affairs Correspondent
Thursday 14 June 2018 10:43 BST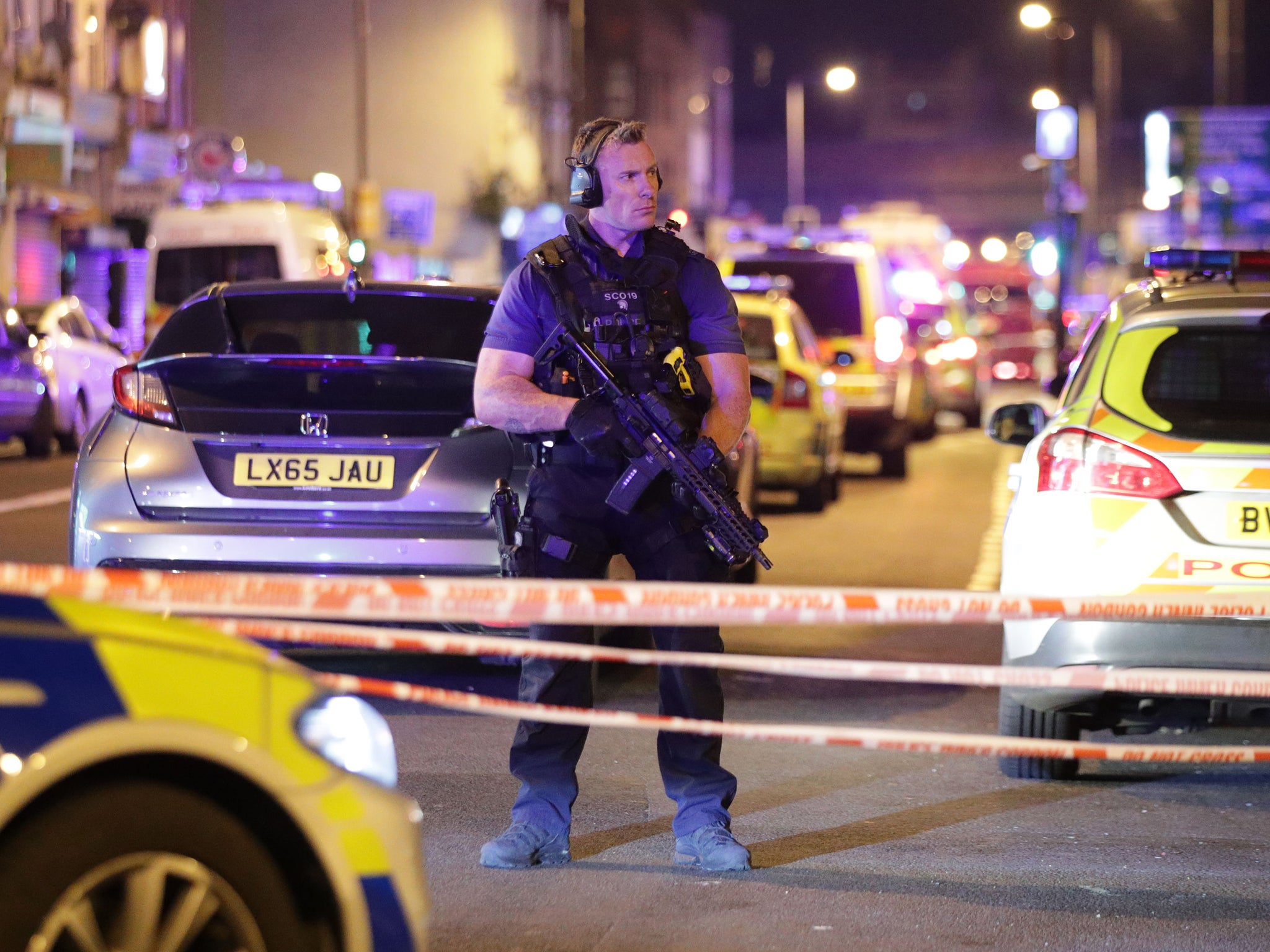 The number of far-right terrorists imprisoned in Britain has more than tripled in a year, new statistics reveal.
There were 29 people in custody by the end of March, up from nine the previous year.
Islamist extremists make up the majority of 228 people imprisoned for terror offences in the UK, at 82 per cent of the total, followed by 13 per cent far-right and 6 per cent driven by other ideologies including those linked to Northern Ireland.
"There have been steady increases in recent years in the number of terrorist prisoners across all the types of ideologies covered," a Home Office bulletin said.
"The proportion of prisoners holding far-right ideologies has increased steadily over the past three years."
The number of terror-related arrests rose by 17 per cent to hit a new record of 441 in the 12 months to April, which saw large-scale police operations in response to the attacks at Manchester Arena, London Bridge, Finsbury Park and Parsons Green.
British security services have been thwarting attack plots at the rate of one every month since the Westminster attack in March 2017, the head of MI5 revealed.
Andrew Parker warned of an "intense, unrelenting and multidimensional international terrorist threat" last month.
Neo-Nazi found guilty of terror attack plot at gay pride event
"Daesh [Isis] continues to pose the most acute threat, but al-Qaeda and other Islamist terrorist groups haven't gone away," he added. "With the police we are also actively monitoring the trajectory of extreme right-wing terrorism. As we see instances of it rearing its ugly head our response is equally firm."
Scotland Yard said 12 terrorist plots and four extreme right wing attacks have been foiled since March 2017, and there are 600 active investigations into 3,000 of the highest priority suspects.
A spokesperson said police were also using disruption tactics by arresting suspected extremists for criminal matters like fraud, robbery and drugs offences if there is not enough evidence for a terror charge.
Assistant Commissioner Neil Basu, head of counter-terror policing in the UK said: "With the terrorist attacks of 2017 we saw a genuine step-change in momentum. As a result, our operational activity increased to meet the new and emerging threats we now face.
"A year on and our activity continues to be at unprecedented levels; shown, not least, by the fact that, in the past year, working together with the security services we have stopped an average of one terrorist attack every month. Police, together with the security services, are determined to make the UK as hostile an environment for terrorists as possible."
Mr Basu said there was "no typical profile of a terrorist" and urged the public to remain vigilant and report any suspicious activity to police.
A relatively small number of terror-related arrests cover attack planning compared to lower-level offences including collecting or disseminating terrorist information.
The vast majority of people arrested in the past year were men in the 30 and over age group, but 27 under-18s and 56 female suspects were detained.
Around 40 per cent of suspects were recorded as being of Asian ethnic appearance, 34 per cent white and 1 per cent black, while 68 per cent defined themselves as British or dual nationals.
Other nationalities included Algerian, Pakistani, Iraqi, Afghan, Iranian, Somali, Turkish, Indian and Irish.
More than half of suspects were released without charge, a quarter on bail pending further investigation and a third were eventually prosecuted.
The number of stop and searches under the Terrorism Act increased by 70 per cent in the year, seeing police examine almost 800 people, of whom 64 were arrested.
Ben Wallace, the security minister, said: "These figures demonstrate yet again the impressive work done by the police, MI5 and wider criminal justice system to keep us all safe.
"Intervening early is central to our strengthened counter-terrorism strategy and through the Counter-Terrorism and Border Security Bill, we are introducing new laws giving the police the powers they need."
The prison sentences handed to convicted terrorists could increase further under the proposed changes, which would criminalise viewing terrorist material more than three times online and making "reckless" statements that could invite support for a banned group.
The figures were released a day after four members of the neo-Nazi terrorist group National Action were jailed for posting racist stickers on a university campus.
Chad Williams-Allen, 26, Garry Jack, 21, and two other men who cannot be named for legal reasons posed performing Hitler salutes after posting the stickers at Aston University in Birmingham in July 2016.
They included slogans such as "white zone" and "Britain is ours the rest must go" set against images showing masked faces and Nazi images.
Judge Paul Farrer QC said the stickers were recruitment tools for National Action and were intended to undermine British values and "foment hatred and unrest in society".
Williams-Allen, of West Bromwich, was jailed for 21 months and Jack, of Birmingham, received a 12-month suspended sentence at Birmingham Crown Court.
The unidentified defendants were imprisoned for 12 months and 16 months each. All four defendants had been convicted of stirring up racial hatred.
Sue Hemming, of the Crown Prosecution Service, said: "Their hope was to inspire others to stoke racial tensions but their criminal attempt to incite others to despise, reject, and expel non-whites failed."
Another member of National Action has admitted plotting to murder a Labour MP with a machete in an ongoing trial at the Old Bailey, where he and five co-defendants deny membership of a proscribed group.
Among other plots foiled in the past year was a planned attack by Britain's first known all-female Isis cell.
Safaa Boular was just 17 when she planned a grenade and gun attack on the British Museum after she was prevented from joining her Isis fighter boyfriend in Syria.
The teenager enlisted her sister after being arrested and their mother was also convicted for supporting the plot.