UK terror arrests rise to record 400 in year as white suspects increase by 77%
Statistics also show rising numbers of suspected Islamists and far-right extremists being detained
Lizzie Dearden
Home Affairs Correspondent
Thursday 07 December 2017 10:41 GMT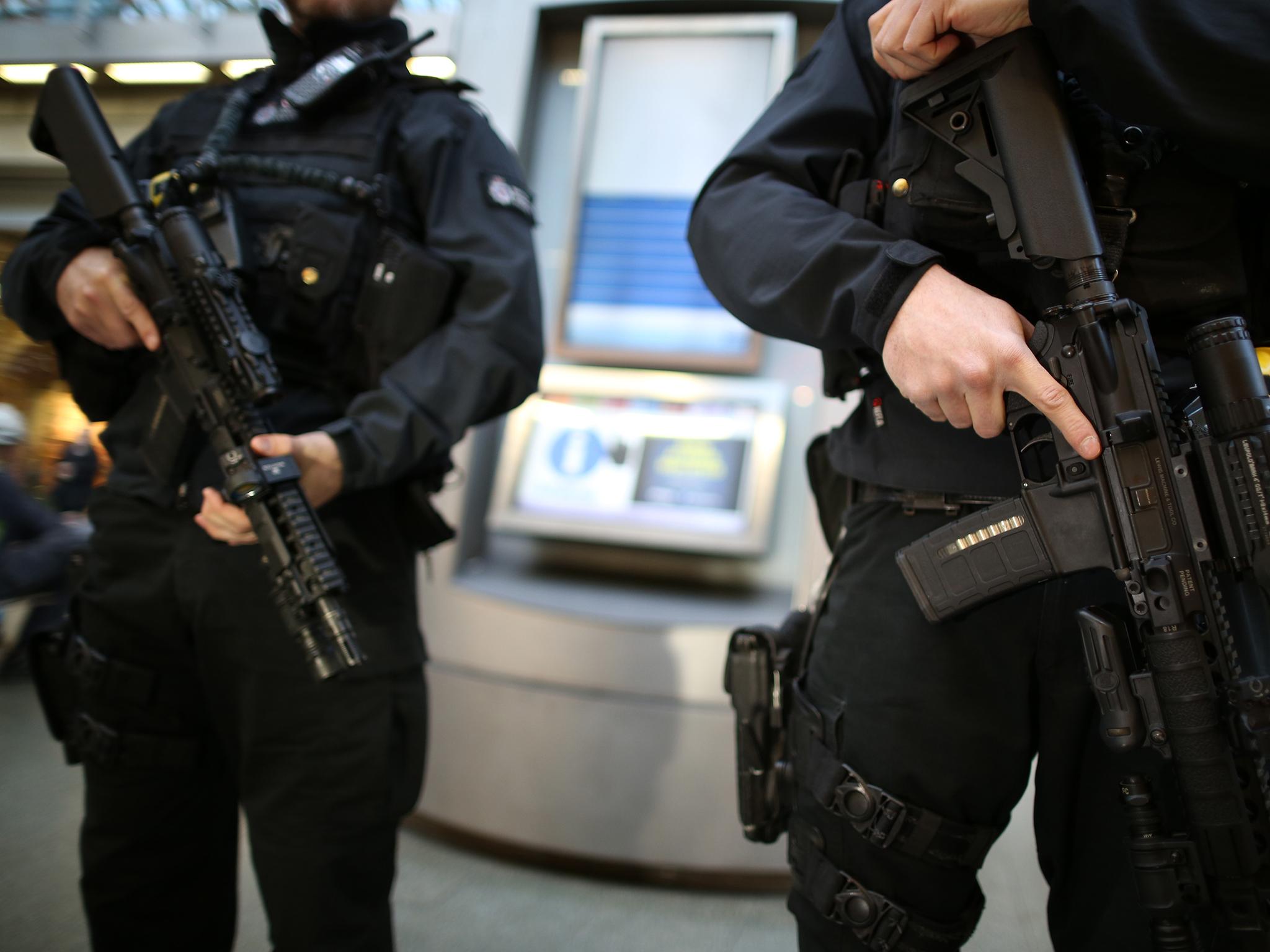 The number of white people arrested on suspicion of terrorism has risen dramatically as the total hits a new annual high, statistics show.
The Home Office said 400 suspects were detained and more than 850 searched under the Terrorism Act in the year to 30 September.
Police arrested 12 people in connection with the Westminster attack, 23 in connection with the Manchester Arena bombing, 21 related to the London Bridge attack, one following Finsbury Park and seven linked to the Parsons Green bombing.
The perpetrators of the Westminster, Manchester and London Bridge attacks died while carrying out the atrocities and none of those arrested have been charged.
The brother of Manchester bomber Salman Abedi could be prosecuted if he is returned to the UK from Libya but his extradition has been repeatedly delayed.
Around 15 per cent of those detained were women and girls – the highest proportion on record – and the number of arrests across all age and ethnic groups increased.
The largest rise was seen for suspects of "white ethnic appearance", the Home Office said, with the number of arrests rising by 77 per cent since the previous year to 143, making up 36 per cent of the total.
MI5 chief warns that Britain is facing an unrelenting terrorist threat
The spike may partly be accounted for by crackdowns on the neo-Nazi terrorist group National Action, which has several alleged members due in court.
Among them are British soldiers accused of joining the organisation – which was banned last December – and a man who allegedly plotted to murder a Labour MP with a machete.
The biggest ethnic group among terror suspects was Asian, standing at 44 per cent (174 people) in the same period.
Of those arrested in the year, 69 per cent considered themselves to be of British or dual nationality.
The number of arrests linked to international terrorism, involving foreign groups such as Isis, jumped from from 212 to 292.
Arrests for domestic terrorism, with no connection to international groups or Northern Ireland, was up to 73 from 20 the previous year.
Under a third were prosecuted for committing a crime and more than a half were released without charge, with others freed on bail or facing alternative action.
A total of 78 terrorism trials saw just nine people acquitted and almost 90 per cent convicted.
There were 213 terrorists in custody – a quarter up on the previous year – with the vast majority holding Islamist extremist views, followed by the far-right and others.
Security minister Ben Wallace said Britain was facing a "shift, rather than a short-term spike" in the threat.
"These statistics we are publishing today demonstrate the breadth of work that they undertake, alongside the rest of the criminal justice system, day in and day out to keep us safe," he added.
"But this is not the totality of our work. The whole of society must come together to challenge the terrorist threat.
"The public must remain alert but not alarmed and report any suspicions they have about unusual activity or behaviour to the appropriate authorities."
The Government is reviewing its counter-terror strategy in light of recent attacks, amid warnings that the threat from Isis is continuing to rise as it loses territory in Syria and Iraq.
A report by David Anderson QC, the former independent reviewer of terrorism legislation, found MI5 had missed opportunities that could have prevented the Manchester attack.
He said two pieces of evidence that should have sparked an investigation were dismissed as non-terror-related in the months before the bombing.
At the same time Khuram Butt, the ringleader of the London Bridge attack, was being monitored for suspected attack-planning but spies failed to detect his plot.
Diane Abbott, the Shadow Home Secretary, said Labour was "deeply concerned" about falling police-officer numbers amid the continued threat.
"As the recent Anderson report showed, counter-terrorism police and security services want to move towards greater reliance on community policing but that has been undermined by 20,000 police officers being cut under the Tories," she added.
"There has been a record number of terrorism-related arrests but no comparable increase in the number of charges for terrorism offences which suggests problems about the quality of intelligence and a lack of police resources."
The figures were released after the head of MI5 revealed that nine terror plots have been foiled since the Westminster attack in March.
In the latest case, a man appeared in court this week accused of planning to bomb Downing Street and assassinate Theresa May.
Security services currently have 3,000 people under active investigation who are perceived to be an imminent threat, as well as a wider pool of 20,000 who have previously appeared on their radar.
The Government has been attempting to bolster its controversial Prevent strategy, which saw thousands of children among the 7,631 people referred to in a year.
It has also been increasing efforts to combat the presence of online propaganda and communications between militants using encrypted messaging-apps.
As well as domestic extremists, security services are attempting to manage the threat posed by returning foreign fighters.
The arrival of up to 300 British jihadis from Isis' former territories in Syria and Iraq was initially feared, but the actual number is now expected to be significantly lower.
Of around 850 people who left the UK for Isis, around half have already returned and an unknown number have been killed.