Victims blamed for child sex abuse as Oxford council chief faces calls to quit over exploitation ring
Deputy Children's Commissioner says senior child protection figures said the issue was of the victims' own making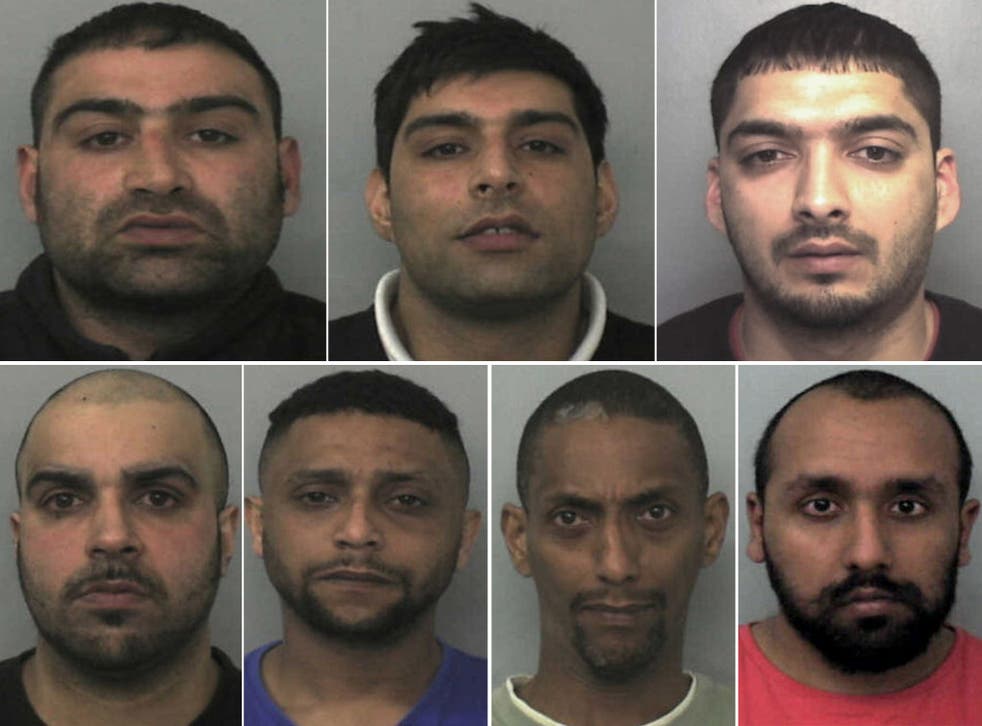 Victims of child sex exploitation are still being blamed for their own abuse by the people responsible for protecting them, the author of a major study into sex trafficking gangs has said.
Deputy Children's Commissioner Sue Berelowitz told the Independent she has spoken to senior child protection figures who said the issue was of the children's own making.
Her comments, which follow the convictions of seven members of the Oxford child sex gang, come as pressure mounts on the chief executive of Oxfordshire County Council Joanna Simons to resign over her organisation's failure to protect children in its care.
Five of the six girls who gave evidence in the trial at the Old Bailey were in the care of the council. Nevertheless, the gang was able to get away with raping, abusing and selling them for sex over an eight-year period.
Oxfordshire County Council has apologised for its failure to protect the girls. But chief executive Ms Simons said that although the council "take enormous responsibility for what's happened", her "gut feeling" is that she will not resign.
Ms Simons said the council would be asking itself some "very hard questions" in the wake of the case, which involved girls as young as 11 being drugged and raped by members of one of Britain's biggest ever child sex gangs.
Ms Simons, who has been the council's chief executive since 2005, added: "There is going to be an independent serious case review which will look at the actions of all the agencies concerned... [but] my gut feeling is that I'm not going to resign because my determination is that we need to do all that we can to take action to stamp this out…These are devious crimes that are very complicated," she told BBC Radio 4's the Today Programme.
Outlining the scale of the problem, Ms Berelowitz, whose office more than halfway through a two-year investigation into child sex gangs, said: "During the course of year one [of that investigation], we were still encountering very senior people at more than one local authority and one chair of a Local Safeguarding Children Board saying 'this is not a child protection issue because it is risky behaviour on the part of the children."
She added: "The LSCB head said: 'yes, we have two girls like that who prostitute themselves'. [The girls in question] were 13 and 14 years old." But she refused to name the specific organisations involved and said that she thought many of those in question were realising that their attitudes are not in line with the public's desire to provide protection to society's most vulnerable.
And Prime Minister David Cameron piled more pressure on the authorities which failed to uncover the gang for years, saying that police and council chiefs in Oxfordshire face "very searching questions".
Mr Cameron expressed his horror over the targeting of girls as young as 11 when they were supposed to be in the safe keeping of Oxfordshire County Council.
Speaking in New York, he said: "The authorities - the police, social services, county council - everyone's going to have to ask some very searching questions about how this was allowed to continue for so long, and I know they are already doing that."
The scandal follows the Rochdale child sex abuse revelations and the exposure of Jimmy Savile's activities over decades.
Mr Cameron, who is an Oxfordshire MP, said Theresa May, the Home Secretary, and Michael Gove, the Education Secretary, were working to draw together the lessons of the various paedophile scandals.
He said: "As for the individual authorities in Oxfordshire and the Thames Valley, I'm sure they will have to respond for themselves in terms of what happened.
"But there will have to be some pretty searching questions asked about how this was allowed to go on for so long."
And one victim of the Oxford gang, seven members of which now face lengthy jail terms, has accused Oxfordshire county council of lying about the support it has offered to her and her family. The girl, known for legal reasons as "Girl C", said that her adoptive mother begged social services for help in 2004 but agencies just "passed the parcel between them".
Two years later the council agreed to put her in a temporary care home, but by then she had fallen under the control of the gang, who plied her with crack cocaine.
She said: "The council put out a press release claiming they had offered wraparound care to all the girls and their families, but the first we heard from them in five years was a letter on April 13 from [a senior council officer], where he says he's been 'closely involved in providing support' to me.
"That's a complete lie. My family have had no support or offers of help at all from Oxfordshire. Nothing. Not at any point. Not even a phone call. The last contact we had with the council was five whole years ago, when my mum was begging them to help her stop me go off the rails. They ignored her then and they've ignored us since," she told the Guardian.
Girl C told police she was attacked by Bassam Karrar in a guest house in Oxford in November 2006 while he was said to be high on cocaine. Officers found the girl in the basement "extremely distressed, crying and shaking".
She told police she had been held against her will, drugged, raped and repeatedly smacked in the face. The 14-year-old girl was taken to a police station where photographs were taken of her injuries. But she later dropped her complaint after pleas from another girl who was seeing Karrar at the time.
Thames Valley Police has also admitted its failings, saying that it was too reliant on the victims coming forward. However, the arrests which were finally made came after police began to fully understand the nature of a crime, about which most forces are still in the early stages of learning.
Officers began to forge closer relationships with the victims and with social services and other agencies in order to uncover and disrupt the abuse, rather than just work on cases which came to them.
"We have had to tread very, very carefully with the victims. You cannot build a relationship in a night, it takes months and months," said Simon Morton, a former acting detective chief inspector with Thames Valley Police.
He added: "They have been through extreme abuse, possibly the most traumatic thing a child can go through - some were 10 or 11 when they had only just stopped believing in the Easter Bunny."
Click here to watch videos of the defendants being interrogated by police
Register for free to continue reading
Registration is a free and easy way to support our truly independent journalism
By registering, you will also enjoy limited access to Premium articles, exclusive newsletters, commenting, and virtual events with our leading journalists
Already have an account? sign in