Volunteers top most wanted list for 'Britain's FBI' as National Crime Agency is launched
Britain's elite new police force launches today with appeal for private sector to fill its skills gap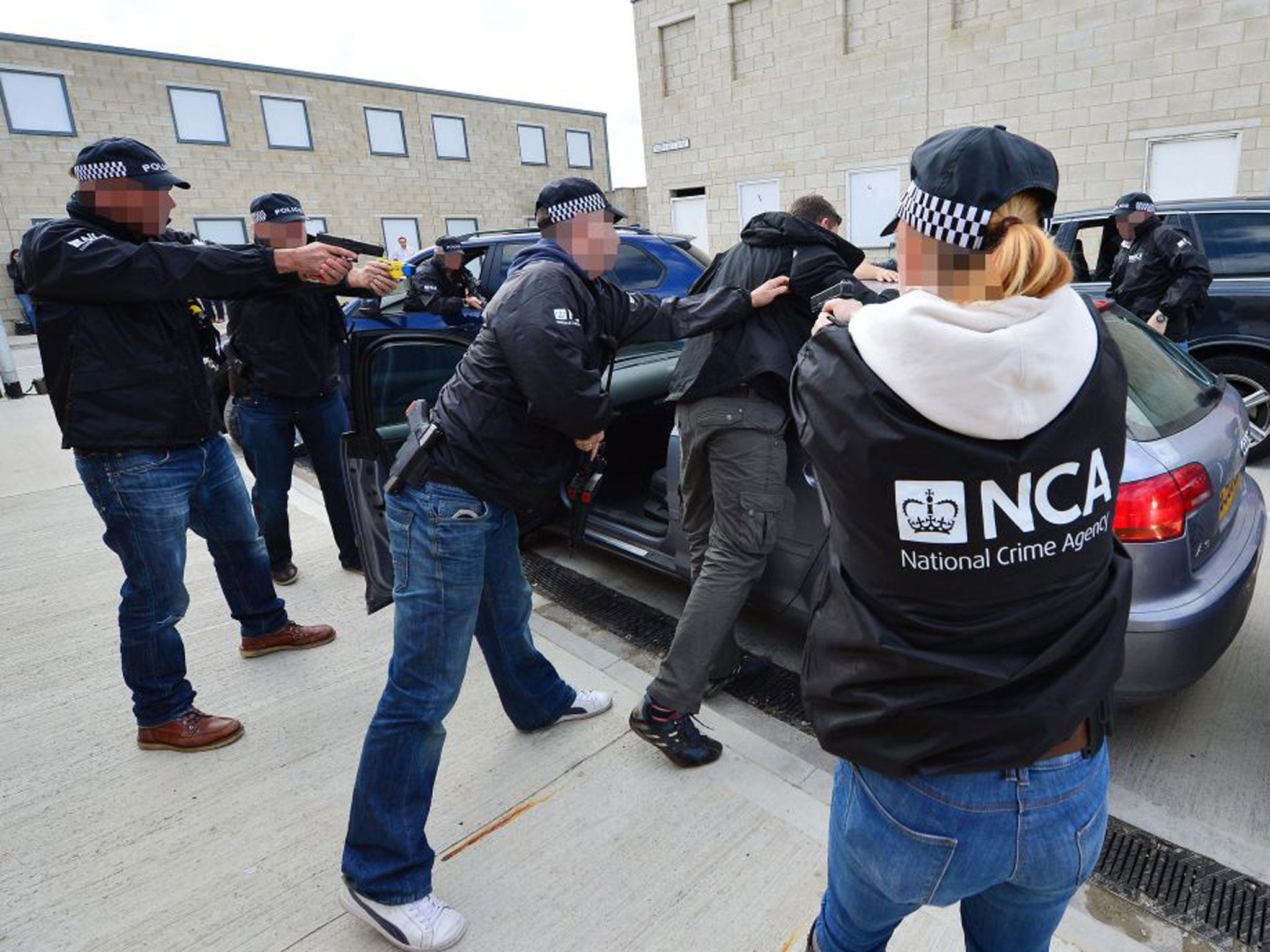 Britain's new elite police agency is to sign up a force of unpaid bankers, accountants and computer experts to help tackle the country's most serious criminals.
The private-sector recruitment drive is a central part of the National Crime Agency's strategy to disrupt gangs involved in drug trafficking, gun smuggling, child abuse, corruption, fraud and cyber crime.
The agency begins its work today with a pledge to target 37,000 criminals linked to 5,500 gangs. It replaces the discredited Serious Organised Crime Agency (Soca) – often dubbed Britain's FBI – which was criticised for its failure to put enough "Mr Bigs" behind bars and for not doing enough to claw back their criminal assets.
Critics questioned whether the new agency – which has few legal powers that were not granted to Soca – would be effective, with Labour saying yesterday that the NCA was merely a "rebranding" exercise. The plan to recruit industry experts to address a shortage of technical skills indicates the nature of emerging threats from organised crime and the sophisticated technology which allows them to be successful.
The agency has already recruited 10 volunteers, so-called "NCA Specials", and is now looking for accountants, computer experts and lawyers to help it locate hidden criminal assets, the organisation's director-general Keith Bristow said. The estimated cost of fraud from organised gangs has reached nearly £9bn a year.
Criminals with specific skills and who have served their sentences will not be allowed to volunteer and all those who are accepted will be vetted, Mr Bristow said. "We have people queuing up at the door… we are finding no shortage of people wanting to join us, but we have to be highly selective."
Labour said on Sunday that it would be asking questions in Parliament about the basis for taking on the volunteers and the level of expertise within the NCA. "The Government is not yet prepared to tackle the challenges of the 21st century," David Hanson, the shadow policing minister, said.
Steve Williams, chairman of the Police Federation of England and Wales, said the push for volunteers was likely a reflection of the Government's budget cuts. "This is symptomatic of what is happening across the service," he said. "We have lost around 14,000 police officers; it's a 'more for less' culture [and] you have to ask where it will stop."
Mr Bristow said that the NCA would be an "open, transparent and accountable" organisation but would not comply with freedom-of-information requests, unlike police forces. Labour has called for private sector involvement in policing to be subject to such scrutiny. "We rely on relationships with overseas law enforcement to assist in what we do," Mr Bristow said. "We're also going to increasingly rely on the relationship with the private sector. There's a very real danger that being required to operate in line with freedom of information could fracture some of those relationships."
The NCA is the third major overhaul of organised-crime policing since 1997 and represents a change in approach to tackling the most serious criminals. Tony Blair vowed to "make life hell" for criminals when he set up Soca in 2006, which brought together police, intelligence agencies, customs and immigration. But the agency was riven with in-fighting, according to former members.
The new organisation will take on many Soca staff but the police-led service is designed to be more visible than its predecessor and has a wider remit to tackle organised crime with a £463m budget. It will keep staff in 120 countries including Pakistan.
Witness protection has UK-wide remit
The first UK-wide witness protection scheme is to be launched today to help secure convictions and care for vulnerable witnesses. More than 3,000 people whose lives are at risk will get protection under the UK Protected Persons Service, said Helen Grant, the victims minister.
"People who put their lives at risk to bring dangerous criminals to justice are the unsung heroes of society. They deserve our thanks and protection. That's why the UK Protected Persons Service is so important," Ms Grant said.
Last year, just over a quarter of prosecutions that collapsed, did so because a witness or victim was reluctant to give evidence.
In 2009/10, 18 per cent of court witnesses said they or their family felt intimidated, and 40 per cent said they were worried about coming into contact with the defendant and their supporters.