Manchester racist bus rant: Shocking footage as gang 'target Hispanic men'
Passengers were verbally and physically assaulted by the gang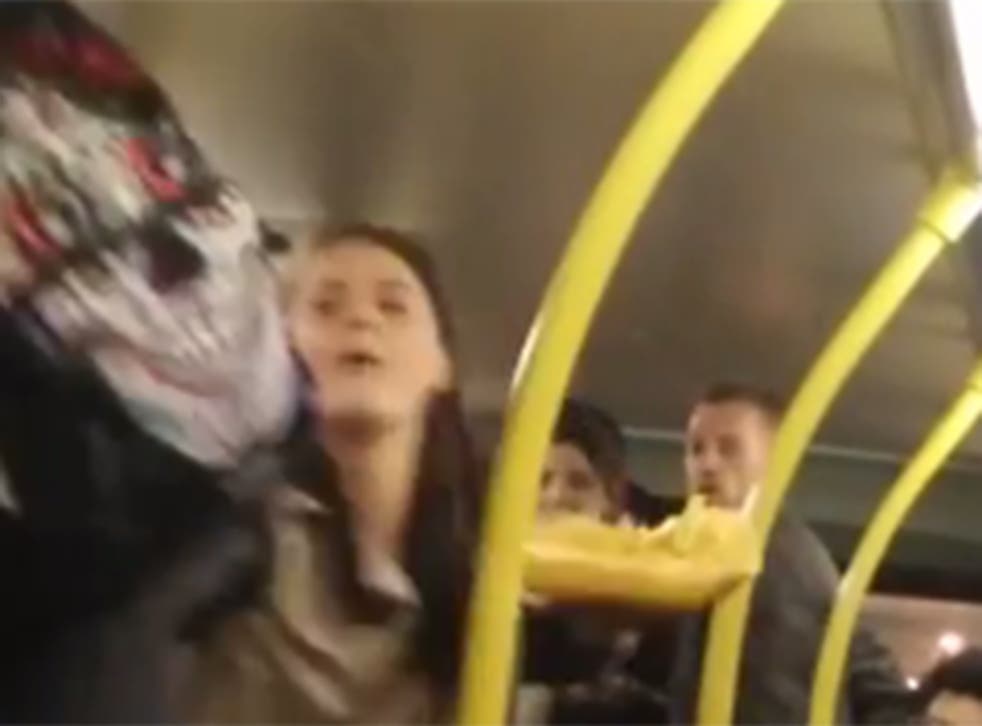 Video footage of an apparent racist attack on a double decker bus in Manchester has emerged, showing a group of people attacking to men who appear to be of Hispanic origin.
In the 56-second clip, a woman can be heard shouting, "Get off, get off, you f****ts, get off. You Spanish c**ts" before a man yells "Attack him, attack him."
As the two victims get up to leave the bus, they are physically assaulted by a woman who throws punches at them while holding a tray of takeaway chips.
After making it down the stairs, a man with a Mancunian accent can be heard shouting 'f**k off back to Spain' before spitting on the two men from the top of the stairwell.
Warning: Video contains strong language
The incident happened last Thursday (12 February) at around 5am and was caught on camera by passenger Ross Thompson, 23, who uploaded the video to YouTube.
According to Mr Thompson, other people on the bus were targeted. He said a man, unconnected to the first two men, was subjected to racial abuse by the group who believed that he was Spanish.
Mr Thompson too faced racial slurs from the gang, who thought he was Polish and told him to 'f**k off back to Poland'.

The group spotted Mr Thompson filming them and called him a "grass" before turning their attention to other passengers.
He said that this not the first time he has received such abuse during his four years living in Manchester.
"I'm sad to say that this kind of behaviour isn't really all that shocking any more. I've witnessed racial abuse numerous times and been the victim of misguided abuse on multiple occasions where people assumed I was Polish," he told Mancunian Matters.
"This gang were out for violence. The guy even had blood on his face before he got on the bus – it's just an average night out for them."
A spokesman for Greater Manchester Police told The Independent, "It's not been reported to police but if it is we will investigate."
Register for free to continue reading
Registration is a free and easy way to support our truly independent journalism
By registering, you will also enjoy limited access to Premium articles, exclusive newsletters, commenting, and virtual events with our leading journalists
Already have an account? sign in
Register for free to continue reading
Registration is a free and easy way to support our truly independent journalism
By registering, you will also enjoy limited access to Premium articles, exclusive newsletters, commenting, and virtual events with our leading journalists
Already have an account? sign in