Water cannon, round-ups and dye – MPs grapple over response to chaos
Conservatives consider tough measures during emergency debate as Labour targets Coalition plans to cut police budgets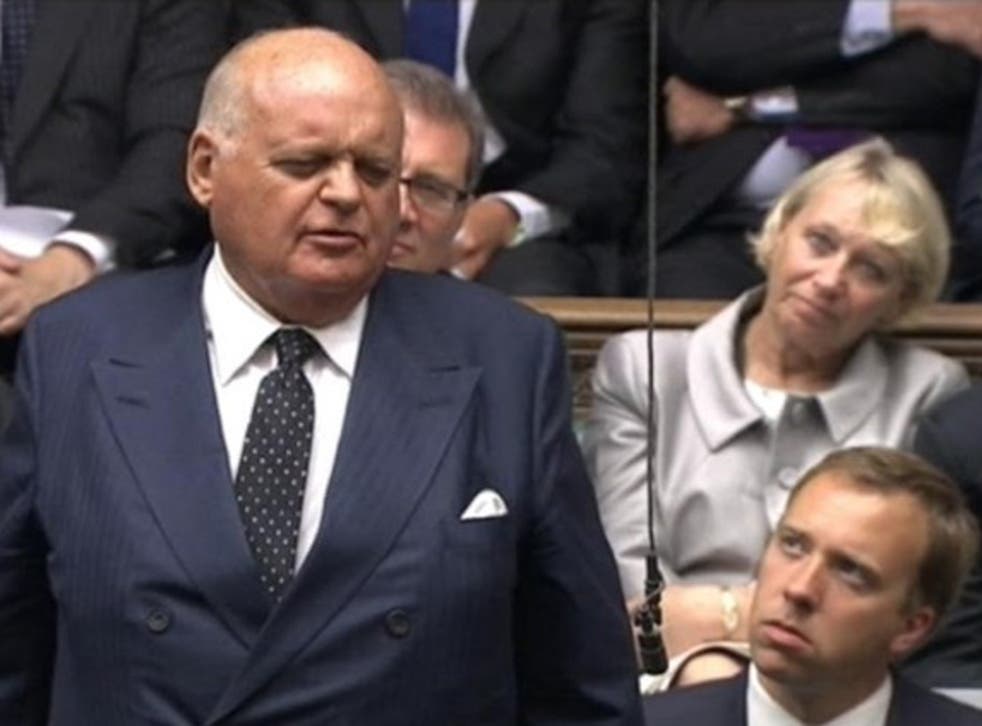 From detaining rioters in Wembley Stadium to spraying them with dye, MPs and peers queued up yesterday to spell out their solutions to this week's unprecedented wave of criminality.
The Palace of Westminster was packed with politicians summoned back from their sun-loungers as David Cameron faced their questions over the riots for nearly three hours during an emergency debate.
Labour MPs tore into the Coalition's plans to cut police budgets by 20 per cent, while many Conservatives demanded tougher police action.
The most unconventional suggestion came from the veteran Tory MP for Louth and Horncastle, Sir Peter Tapsell, who asked why the police were dispersing rioters rather than detaining them.
He recalled that in 1971, the American police corralled 40,000 rioters into a stadium one morning, and he inquired whether Wembley Stadium could be put to the same use. Mr Cameron replied that he wanted Wembley to be used for "great sporting events".
Andrea Leadsom, Tory MP for Northamptonshire South, said Uganda police recently covered protesters with pink dye. She asked: "Are the police considering other things like spraying indelible, chemical dye at rioters so they can identify them and pick them up the following day?"
The Prime Minister responded: "The police should look at all available technologies and keep abreast of all potential developments... to make sure they arrest as many people as possible."
The former Tory cabinet minister, Peter Lilley, demanded that ministers stick to plans to cut police budgets. He said: "They [the rioters] have one factor in common: a widespread belief that anyone can have anything they want without paying for it and without living within their means."
Nadine Dorries, the Tory MP for Mid-Bedfordshire, said: "If these riots had broken out in any city or town in Australia or America, the police would have had at their instant disposal water cannon, plastic bullets and tear gas."
The Labour former minister, Malcolm Wicks, whose Croydon North constituency was hit by riots, said cutting officer numbers would be "precisely the wrong policy at precisely the wrong time for our society". He added: "The people in that Croydon war zone ... were making the plea 'where were the police?' For hour after hour after hour, people were free to pillage and loot with no uniformed officers around."
David Lammy, the Labour MP for Tottenham, called for a public inquiry to consider "why initial skirmishes were allowed to lead to a situation in which the great Roman Road, Tottenham High Road, now lies in cinders?"
Heidi Alexander, Labour MP for Lewisham East, condemned the "popularity and accessibility of internet footage glorifying gangs and knives" and called for these "despicable videos" to be taken down.
In the Lords, the Archbishop of Canterbury, Rowan Williams, condemned the "criminality" but stressed it had a "context". He added: "Seeking explanations is not the same as seeking excuses." Dr Williams spoke of the need to rebuild parenting skills in some communities and also to "rebuild education itself" by focusing on "character, virtue and citizenship".
The crossbencher, Baroness Young of Hornsey, called for "really robust" prison sentences together with the use of restorative justice.
Cameron's remedy...
Police The bolstered police presence on the streets – up from 6,000 to 16,000 in London – will be maintained until the weekend. It is a short-term measure with relatively low cost, except to those officers who have had to cancel their summer holidays. But it is impossible to keep numbers at that level indefinitely.
Face masks At the moment, officers can ask people to remove masks, balacavas or hoods only in certain areas and for a limited period. Police are to be given the power to tell people to take them off "where there is reasonable suspicion that they are related to criminal activity". It might prove a deterrent for "hanger-on" rioters.
Social media Ministers are to explore whether social media such as Black-Berry Messenger, Twitter and Facebook could be shut down to prevent rioters swapping targets and tactics. But there are huge practical problems: how would it be done, and would it be done on a very localised basis? There are moral questions too: should the police have the authority to take such a step? Would it be an attack on freedom of communication?
The army Contingency plans are being drawn up to deploy troops if further disorder breaks out. David Cameron made clear soldiers would not be called in to tackle rioters, but to take over everyday police roles, such as guarding buildings. The police fiercely oppose the measure; bringing in the Army would send a grim signal of their inability to cope.
Curfews Police can disperse groups in authorised areas by creating "dispersal zones" and sending home children found in those areas at night. The Government is considering whether to extend that. There is little detail how that could happen. Presumably it would have little effect initially on riots, but could be used to stop them recurring in troublespots.
Gangs Adults involved in gang-related violence can be subject to "gang injunctions" which ban them from a certain place, with breaches treated as a criminal offence. The idea could now be extended to teenagers aged 14 to 17 who can form the hardcore of gangs. But would the possession of an injunction become a badge of honour? And could it lead to yet more teenagers in custody?
American gang lessons Ministers will take advice from Bill Bratton, the former New York and Los Angeles police commissioner, about his success in tackling gang culture. This could be helpful, with the proviso that it may be difficult to translate US police practice to the UK.
Evictions Councils and housing associations can already evict tenants who break the law or commit antisocial behaviour in their communities. Ministers want to strengthen their eviction powers to cover offences committed in other local authority areas. The move would be headline-friendly, but could risk simply transferring one area's "neighbour from hell" to another.
Courts Mr Cameron promised that sentences would be "kept under constant review" to ensure they are a deterrent to troublemakers. Any increase would not help in punishing this week's rioters.
Benefits Ministers are looking at stripping rioters of benefits. It won't apply to the teenagers who made up the bulk of rioters and it is hard to see how making adult rioters destitute would help to re-integrate them into society.
Shutters Mr Cameron promised to "weed out unnecessary planning regulations" that prevent businesses improving security, such as fitting protective shutters. Aesthetically unappealing, but otherwise uncontroversial.
Recovery help Businesses will have extra time to file insurance claims and the Government promises to underwrite valid claims (to prevent police authorities having to fork out). Affected companies could have their taxes deferred and business rates cut. A £20m high-street fund and a £10m recovery scheme are being established to help the worst-hit areas. The moves will be some relief to firms still livid the police could not protect them this week.
Nigel Morris