'Career criminal' Wayne Bradley jailed for coronavirus hospital thefts
'While the rest of the country was in lockdown, he was going out… to steal from the selfless members of the NHS'
Kate Ng
Friday 11 September 2020 17:30 BST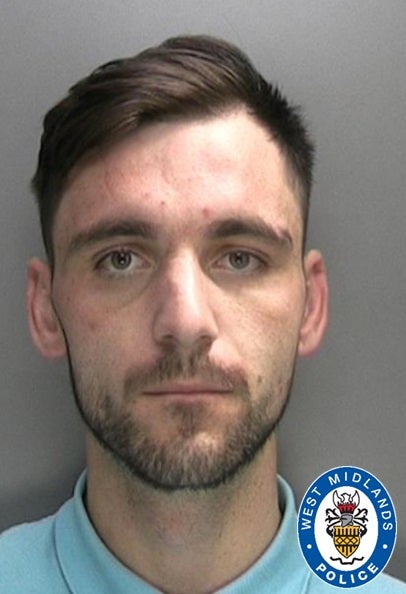 A prolific thief who breached lockdown to break into hospitals and care homes and steal from NHS staff has been sentenced to jail for four and a half years.
Wayne Bradley, 30, was arrested after carrying out a series of burglaries across Birmingham at the peak of the coronavirus pandemic.
West Midlands Police said he was found to have conned and tailgated staff to gain access into unauthorised areas in four different hospitals and care homes in April.
Bradley had previously been handed a Criminal Behaviour Order (CBO) by Birmingham Crown Court in September 2018 after he was found to have committed similar offences. He was banned from visiting any hospital unless it was for an emergency or pre-arranged treatment until 2021.
However, this did not stop him from stealing from multiple members of NHS staff as they worked. Between 11 and 15 April, he gained access into a care home in Bournville and stole two electronic tablets, entered restricted areas within Birmingham Children's Hospital and stole mobile phones and a laptop.
Police also found CCTV footage of him attending Solihull Hospital and stealing a staff member's purse, using the stolen card inside to pay for his shopping at nearby Tesco and Waitrose supermarkets.
Bradley pleaded guilty at Birmingham Crown Court on Wednesday and was sentenced to four and a half years in prison for six burglary offences, three fraud offences, six breaches of his CBO and six breaches of coronavirus regulations.
Sergeant Julia Slater from the city centre team said in a statement: "Bradley is a callous and uncaring career criminal who has gone out of his way to deliberately target the most vulnerable in society.
"While the rest of the country was in lockdown, doing all they could to stop the spread of the virus, he was going out to steal from those people most at risk, and most shocking of all, to steal from the selfless members of the NHS who were putting their own safety on the line to help save others.
"Stealing from these groups would be heinous enough, but Bradley chose to do this at the height of the largest crisis the world has had to face in a generation, not caring who he might endanger or how upsetting it might be to his victims.
"We are pleased to see the courts agreed with us about the seriousness of Bradley's offending and this sentence should keep the public safe for the foreseeable future."