Wembley stabbing: Sisters pictured dancing with fairy lights before double murder in London park
Police continue investigation into deaths of Nicole Smallman and Bibaa Henry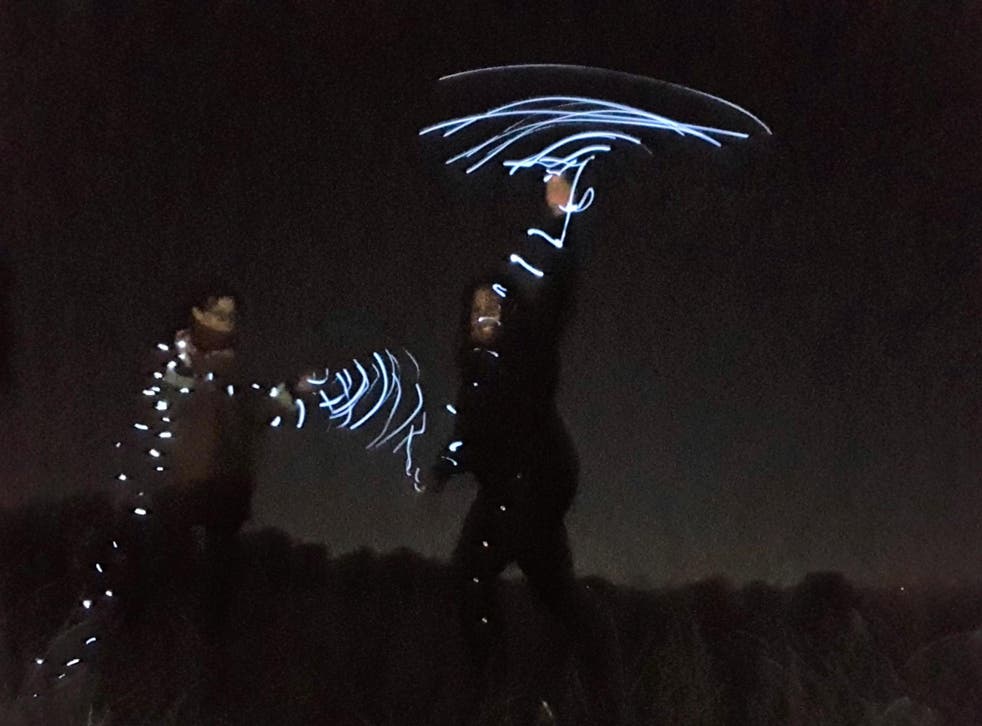 Police have released photos of two sisters stabbed to death by a stranger in north London which they believe could assist with appeals to identify their attacker.
Bibaa Henry, 46, and Nicole Smallman, 27, were pictured "in good spirits" listening to music and dancing with fairy lights in Fryent Country Park, off Slough Lane, in Wembley, on 6 June.
Detectives said the "distinctive patterns" created by the lights "may have been noticeable to local residents and other users of the park" and are urging anyone who saw the lights between 00.30am and 01.13am on Saturday night to remember if they saw anything suspicious.
The sisters were found dead at the scene just after 1pm on Sunday, 7 June, by officers and the London Ambulance Service who attended. Their bodies were discovered next to each other in a treeline.
A post-mortem examination gave the cause of death for both women as multiple stab wounds.
Ms Smallman and Ms Henry had been in the park on Friday evening with a group of friends to celebrate the latter's 46th birthday, and stayed there together till late after people had left. Officers believed they were murdered on the same night by a "complete stranger" who is now confirmed to be male.
Detective Chief Inspector Simon Harding, who is leading the investigation, said they have received over 100 calls from members of the public providing information following the most recent appeal.
"We are very thankful for this response and want it to continue," he said. "Extensive searches are ongoing at the scene and we are discovering more evidence all the time. Any motive for the murders remains unknown, and we are exploring all possibilities.
"The meticulous work carried out by our specialist search teams has led to the recovery of a number of items belonging to both Nicole and Bibaa. This includes both of their mobile phones, which were found in a pond some distance from where they were discovered.
"We have seized a considerable amount of CCTV from around the perimeter of the park and in surrounding roads, however if you have CCTV or dash cam footage and live locally or were out in the area and have not been contacted, I urge you to get in touch," added Mr Harding.
The parents of Ms Smallman and Ms Henry have made a statement through the Met Police, describing their daughters as "beautiful and talented".
"The greatest fear of any parent is that they will outlive their children. What makes our situation unique is that two adored sisters were murdered together on the same night," they said.

"The grief we feel is palpable, our beautiful and talented daughters gone. Although there was a large age gap between them they shared a lot of the same interests."
Ms Henry worked as a social worker and was "a passionate advocate for safeguarding vulnerable children and families", said her parents. Ms Smallman was the youngest of three sisters and was a "strong advocate for humanitarian causes and saving our planet".
"The pain we feel as a family is so deep no words can express how we are feeling. This has had a devastating impact on our lives and each day gets worse to think our daughters, Bibaa and Nicole, are not with us and that they have been brutally killed by someone.
"We are appealing to anyone who may have seen, heard or know something to please contact the police who are investigating what has happened to our daughters, Bibaa and Nicole," they added.
Register for free to continue reading
Registration is a free and easy way to support our truly independent journalism
By registering, you will also enjoy limited access to Premium articles, exclusive newsletters, commenting, and virtual events with our leading journalists
Already have an account? sign in