Westminster child abuse exclusive: Geoffrey Dickens also gave copy of file to top prosecutor Sir Thomas Hetherington - so why did DPP also fail to act on evidence of paedophile ring?
Home Secretary likely to come under pressure to explain how two government agencies were able to 'lose' the dossier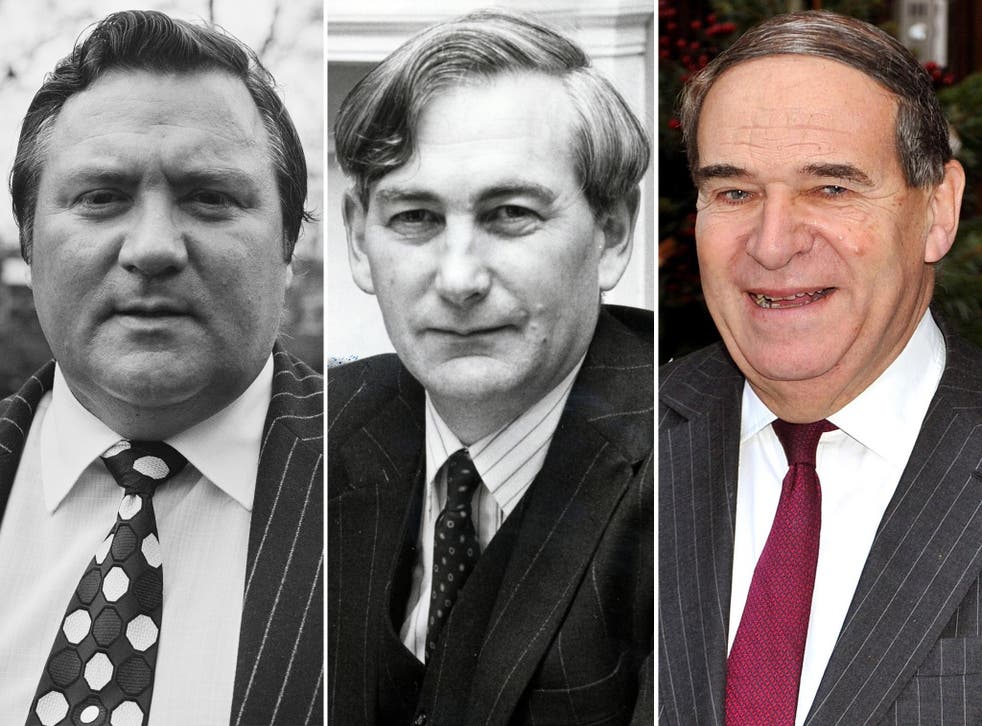 Fears over an establishment cover-up of an alleged Westminster paedophile ring in the 1980s deepened on Sunday night as it emerged that an "explosive" dossier of evidence lost by the Home Office was also handed to the Director of Public Prosecutions.
The file, believed to contain child abuse allegations relating to at least eight public figures, was compiled by the campaigning Conservative MP Geoffrey Dickens, who died in 1995.
Last week David Cameron ordered an investigation into how it came to be lost by the Home Office, which has since confirmed that 114 files relating to historical complaints of child abuse have either been misplaced or destroyed.
Two copies of the dossier were previously thought to have existed: one was handed to Leon Brittan, Home Secretary at the time, while the other was kept at Mr Dickens's family home and was later destroyed by his wife.
But in a newspaper interview in August 1983 – two months into Leon Brittan's term as Home Secretary under Margaret Thatcher – Mr Dickens revealed he had also sent a copy to the then Director of Public Prosecutions (DPP), Sir Thomas Hetherington.
On Monday the Home Secretary Theresa May is due to make a statement on the affair in the House of Commons. She is likely to come under pressure to explain how two government agencies were able to "lose" the dossier. She may also be asked to reveal whether a previous Home Office trawl of its records included files held by security services.
Lord Tebbit, the former Conservative cabinet minister, said on Sunday there "may well" have been a cover-up over a powerful child abuse ring. "At that time I think most people would have thought that the establishment, the system, was to be protected and if a few things had gone wrong it was more important to protect the system than to delve too far into it," he told the BBC's The Andrew Marr Show.
Asked if he thought there had been a "political cover-up" in the 1980s, he replied: "I think there may well have been. But it was almost unconscious. It was the thing that people did at that time."
The existence of a third copy of Mr Dickens's dossier is likely to intensify demands for a full national inquiry into allegations of organised child sex abuse, which Mr Cameron has previously dismissed. A public petition on the Change.org website organised by Labour MP Tom Watson had on Sunday evening attracted more than 21,000 signatures.
In the interview, published in the Daily Express, Mr Dickens said he had spent two years investigating high-profile paedophiles. "I've got eight names of big people, public figures. And I'm going to expose them in Parliament," he told the newspaper. "I have not enjoyed this crusade. It's been horrible. One of the people among those eight has been a friend of mine."
By that stage he had also passed the information he held to Sir Thomas. "Mr Dickens's own list of eight public figures involved in the sex scandal was handed to the director earlier this week … together with the warning that he would name them in Parliament if necessary," the article said.
Sir Thomas, who died in 2007, held the position of DPP from 1977 to 1987 and was the first head of the Crown Prosecution Service (CPS), which was founded in 1986. It is understood that the CPS searched its archives for the dossier last year when the Home Office conducted a review of information relating to "organised child sex abuse", but was unable to find anything – possibly because the file was handed to the DPP before it came into existence.
A CPS spokesman said: "Based on the details given, as far as we are able to ascertain from available records we hold no information."
Nick Clegg, the Deputy Prime Minister, who has previously backed Mr Cameron in rejecting calls for a full inquiry, appeared to soften his stance on the subject on Sunday. "I wouldn't rule anything out," he told the BBC's Sunday Politics programme.
On Saturday, the Home Office Permanent Secretary Mark Sedwill revealed that more than 100 documents relating to historic allegations of organised child abuse between 1979 and 1999 were "presumed destroyed, missing or not found". In a letter to Keith Vaz, the chairman of the Commons Home Affairs Committee, he said the review carried out last year had not found any documents provided by Mr Dickens in which he named public figures.
Mr Vaz said on Sunday that the number of files lost by the Home Office was of an "industrial scale", adding that his committee had called Mr Sedwill to give evidence on the missing documents tomorrow. He will also be told to name the "senior legal figure" he has appointed to investigate whether the Home Office's original review was sound.
David Mellor, who served under Leon Brittan as a Home Office minister, said the feeling at the time was that Mr Dickens's dossier did not contain the shocking revelations he suggested. "My only recollection of this from my time at the Home Office was the suggestion there wasn't much to it," he told Sky News.
"The real crunch point for me is if – and I don't believe this for a millisecond – Leon Brittan had not taken appropriate action, Geoffrey Dickens lived for another 11 years and there is no evidence he went back and followed it up."
Register for free to continue reading
Registration is a free and easy way to support our truly independent journalism
By registering, you will also enjoy limited access to Premium articles, exclusive newsletters, commenting, and virtual events with our leading journalists
Already have an account? sign in