Wikileaks founder Julian Assange faces arrest for breaching bail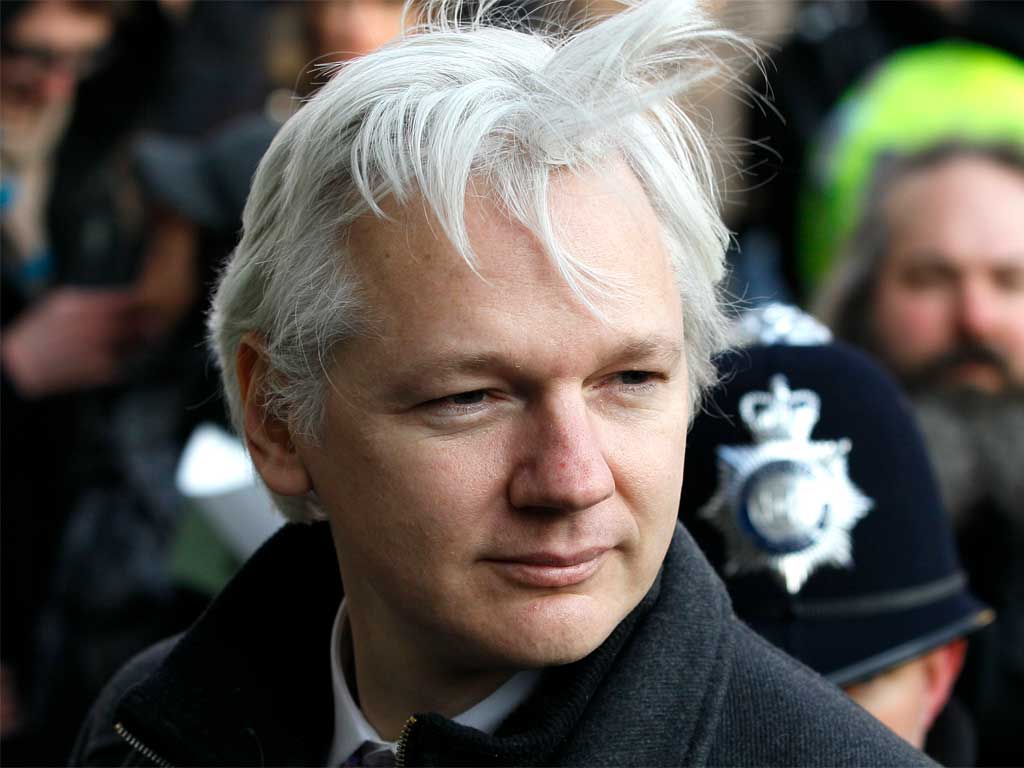 Wikileaks founder Julian Assange is subject to arrest after he breached his bail conditions while applying for political asylum at the Ecuadorian Embassy last night.
The High Court had granted the 40 year-old Australian £200,000 bail on the condition he stayed at a named address between the hours of 10pm and 8am, but the Metropolitan Police confirmed they were notified at 10.20pm last night that he had broken this agreement.
A police spokeswoman said: "He is now subject to arrest under the Bail Act for breach of these conditions…Officers are aware of his location at the Ecuador Embassy in Hans Crescent, London."
Assange is thought to have entered the Ecuadorian Embassy yesterday afternoon and requested political asylum under the United Nations Human Rights Declaration.
The move comes after his failed appeal against extradition to Sweden to face accusations of raping a woman and sexually molesting and coercing another while visiting Stockholm in August 2010 to give a lecture.
Assange, whose Wikileaks website has published thousands of diplomatic cables that have embarrassed governments around the world, claims the sex was consensual and says the allegations against him are politically motivated.
In a short statement last night, Mr Assange said: "I can confirm that today I arrived at the Ecuadorian Embassy and sought diplomatic sanctuary and political asylum.
"This application has been passed to the ministry of foreign affairs in the capital Quito.
"I am grateful to the Ecuadorian ambassador and the government of Ecuador for considering my application."
A statement issued on behalf of the Ecuadorian Embassy yesterday said Mr Assange would remain there while his request was considered.
"While the department assesses Mr Assange's application, Mr Assange will remain at the embassy, under the protection of the Ecuadorian government."
"The decision to consider Mr Assange's application for protective asylum should in no way be interpreted as the government of Ecuador interfering in the judicial processes of either the United Kingdom or Sweden."
It later added: "In order to reach a proper decision in line with international law on Mr Assange's application, the Ecuadorian government will be seeking the views of the governments of the United Kingdom, Sweden and the United States of America.
Assange's £200,000 bail was paid in part by celebrity supporters including film director Ken Loach and campaigner Jemima Khan, who each offered £20,000, and was supported by the likes of Bianca Jagger and veteran politician Tony Benn.
Writing on Twitter Ms Khan voiced her surprise at Assange's bid for political asylum saying: "I had expected him to face the allegations. I am as surprised as anyone by this."
Jagger also took to Twitter, saying: "I would like to set the record straight. I didn't post bail for Julian Assange."
Shortly after midday, a small group of protesters arrived at the embassy in Knightsbridge, waving placards that read "Free Assange, No Rendition" and "FreeAssange, No Extradition", and a large sign reading: "Free Assange! Free Manning! End The Wars."
Christian activist Roland Gianstefani, 49, from Melbourne, Australia, one of the protesters outside the embassy, said: "I am here because I identify with what Julian Assange has done, because he is challenging people and sharing truth.
"He has been unjustly persecuted because he has shed light on these issues.
"The US are trying to destroy him."
The move comes as the latest twist in a long and complicated legal battle that has attracted global attention.
Last November, the High Court upheld a ruling by District Judge Howard Riddle - sitting at Belmarsh Magistrates' Court in south London the previous February - that the computer expert should be extradited to face investigation.
The High Court declared that it would not be unfair or unlawful to extradite Mr Assange, a decision backed by the Supreme Court, which ruled by a 5-2 majority that his extradition was lawful and could go ahead.
He was given 14 days on June 14 to consider the Supreme Court judgment before making a final decision on his next move.
His lawyer, Dinah Rose QC, told the Supreme Court's justices that Mr Assange was considering an application for his case to be reopened on the basis that there had been a flawed hearing, in which case European judges had the power to issue a direction to the UK Government that he should not be surrendered to Sweden if it decides to consider his claim.