Woman given suspended sentence for having abortion in the UK
The 21-year-old's defence lawyer said she did 'would not have found herself before the court' if she lived anywhere else in the UK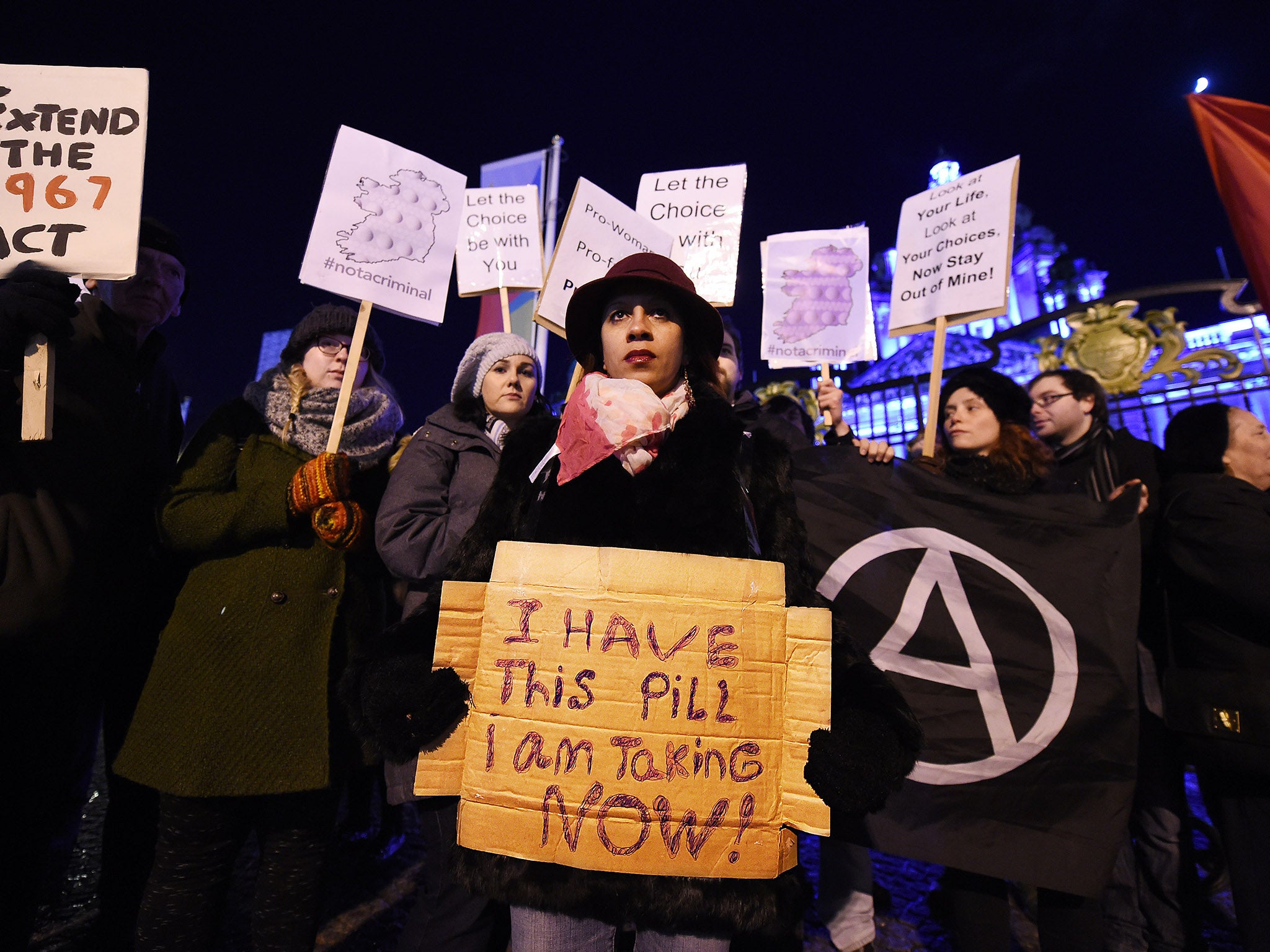 A Northern Irish woman has been given a suspended prison sentence for buying pills over the internet to induce an abortion.
The 21-year-old pleaded guilty to procuring her own abortion by using a poison and of supplying a poison with intent to procure a miscarriage at Belfast Crown Court.
She was given a three-month sentence suspended for two years.
Her flatmates reported her to the Police Service of Northern Ireland (PSNI) when they found the remains of a male foetus in the bin in July 2014.
In Northern Ireland, abortions can only be legally carried out when the life or mental health of the mother is believed to be in danger.
Many women are forced to travel to Britain to have the procedure but they are often not eligible for NHS treatment and have to pay for their own flights.
The court heard how the woman - who was 19 at the time of the incident - told her flatmates she had tried to get an abortion in England but could not cover the costs.
She contacted a clinic in England who told her she could take mifepristone and misoprostol - drugs available on the internet which will induce a miscarriage.
Her defence barrister Paul Bacon said his client's prosecution highlighted the difference in legislation between Northern Ireland and the rest of the UK.
He told the court "had she lived in any other jurisdiction, she would not have found herself before the court" and said she felt "victimised by the system".
Mr Bacon said at the time the woman was living with people in Belfast she did not know very well and felt "isolated and trapped...with no one to turn to".
The woman has now had a baby with her partner and is "trying to put her life back together".
She was convicted under the Offences Against the Person Act 1861 which carries a maximum sentence of life in prison.
Its rules on abortion were superseded in the rest of the UK by the Abortion Act of 1967.
Amnesty International condemned the conviction with its Northern Ireland Director Patrick Corrigan saying the country's government was "violating women and girls' human rights".
He said: "We're utterly appalled by the court's decision to impose a suspended prison sentence on this woman. A woman who needs an abortion is not a criminal. The law should not treat her as such.
"This tragic case reveals, yet again, that making abortion illegal does not stop women in Northern Ireland needing or seeking terminations.
"Those who can afford it travel to England for the treatment they need - over a thousand women make that journey from Northern Ireland every year.
"Those that can't afford it, as appears to be situation in this case, may take medication in an attempt to terminate their pregnancy – without medical supervision or support."
He called on Northern Ireland's government to stop "sanctioning women and girls for seeking the healthcare they need".