Woolwich backlash: Ten attacks on mosques since murder of Drummer Lee Rigby
As the number of Islamophobic incidents continues to increase, EDL raises temperature with London march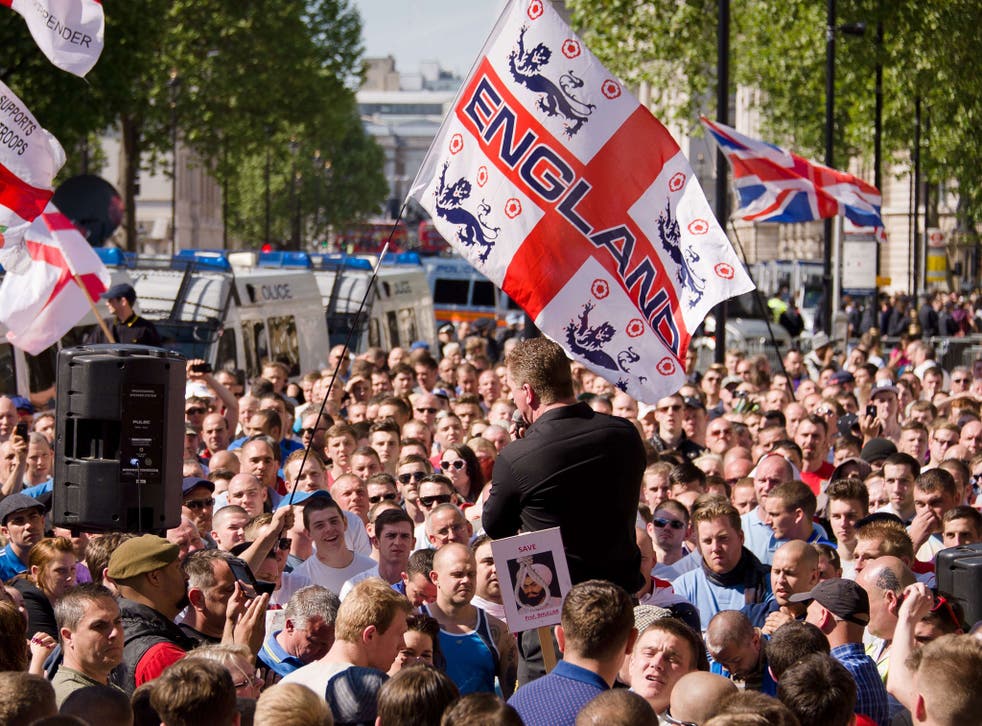 The number of reported Islamophobic attacks since the Woolwich murder has continued to rise dramatically amid warnings from Muslim community leaders that the backlash which has seen attempted firebombings of mosques is being fuelled by far right groups.
As participants in an English Defence League (EDL) march in Whitehall were recorded giving Nazi-style salutes, Faith Matters, which monitors anti-Muslim hatred, said the number of incidents in the past six days had risen to 193, including ten assaults on mosques. The figure compares to a total of 642 incidents in the previous 12 months – meaning the last week has seen a 15-fold increase on last year's average of 12 attacks per week.
The spike came as Scotland Yard said it had made a tenth arrest in the investigation into the murder of soldier Lee Rigby on Wednesday. A 50-year-old man was detained on suspicion of conspiracy to murder. Earlier, three men arrested on Saturday were released on police bail.
Fiyaz Mughal, director of Faith Matters, who has been targeted by extremists posting his home address on Twitter and inviting others to shoot him, told The Independent: "There is a significant scale of backlash going on and it is extremely important that it be highlighted. We have been told time and again that the EDL and its like are not a significant issue. But what we have seen in recent days is this sharp increase in rhetoric and then attacks. Our data shows that more than one in three of attacks last year were linked to far-right sympathisers."
The most serious attack yet took place on Sunday night with the attempted firebombing of a Grimsby mosque. Community elders said the incident, during which three petrol bombs were thrown at the Grimsby Islamic Cultural Centre while people were inside, amounted to "attempted murder". The attack took place despite an increased police presence following an attack four days ago by a group of teenagers. Humberside Police said it had arrested two men and was investigating messages posted on social media which appeared to incite violence at named locations.
Dr Ahmad Sabik, a member of the mosque committee, told Sky News: "I would say I can describe it as an attempt to murder because what we have got was really serious. It was a fire."
He added that the mosque's chairman, who went to extinguish the first petrol bomb, had a narrow escape. "The brother who was coming out of the door, it was just a part of seconds but, alhamdulillah, nothing happened and he was not injured."
The Yard said it was also investigating the daubing of graffiti overnight on Sunday on two London war memorials. The word "Islam" was sprayed in red paint and inscriptions defaced on the monuments to Bomber Command and animals in war but it was not clear if the perpetrators were Islamist extremists or if it was a further attempt to stir up anti-Muslim feeling.
Police mounted a massive operation as up to 1,000 supporters of the English Defence League staged a protest outside Downing Street.
EDL marchers chanting anti-Muslim slogans were confronted by anti-fascist demonstrators and bottles were thrown as lines of police officers separated the two groups. Police, some in riot gear, repeatedly had to intervene to stop the rival groups clashing as the EDL marched from Trafalgar Square to Downing Street. EDL leader Tommy Robinson told the demonstration: "They've had their Arab Spring. This is time for the English Spring."
Referring to the row over Prime Minister David Cameron's decision to take a holiday this week in Ibiza, the crowd repeatedly chanted "coward" after Mr Robinson said Mr Cameron had left the country "because he doesn't care". Scotland Yard said three arrests had been made.
EDL members congregated after their march. As one youth was taken away by police, the crowd began throwing bottles at them. One officer was hit on the head with a glass bottle and the mob followed the officers, chanting "who the f*** is Allah?".
Faith Matters said most of the incidents reported to its hotline since last Wednesday's murder consisted of "general abuse" at Muslims on the streets or over the internet. A further 47 consisted of threats of violence with another 35 minor assaults including eggs being thrown. Elsewhere it emerged that an attempt by the EDL to march on a mosque in York on Sunday had been met by a show of solidarity from the local community when 200 people arrived to show their support.
When only about seven EDL members turned up, they were approached by mosque members and four reportedly entered the mosque for tea and biscuits.
The response: Pros and cons
A fresh effort to combat the spread of violent ideology that leads to terrorism has been promised by David Cameron and Theresa May, the Home Secretary. A new Whitehall committee will draw up proposals for action. What is on the agenda?
Outlawing extremist groups
Proposed: Banning organisations which advocate extremist ideas – even if they fall short of preaching violence.
How it would work: Lowering the threshold at which a group can be proscribed. Currently the Home Secretary can only ban it if it backs, or glorifies, violence
Have we been here before? Yes. Both Tony Blair and David Cameron have floated the idea of outlawing extremist organisations, but balked at the legal problems.
Pros: Terrorists are often radicalised by hardline groups before graduating into a violent ideology.
Cons: How do you define extremism? And where do you draw the line between so-called extremism and the expression of unpalatable views?
Will it happen? It's hard to see how Ms May will be able to surmount the legal and practical difficulties encountered by the last Government.
Rabble-rousers banned from TV
Proposed: Stopping radical preachers from getting their message across on television.
How it could work: Ofcom could be given the authority to block extremists from getting screen time. Currently the watchdog can only intervene after a broadcast.
Have we been here before? Gerry Adams and Sinn Fein leaders were banned from TV and radio between 1988 and 1994 to, in Margaret Thatcher's words, "starve the terrorist and the hijacker of the oxygen of publicity on which they depend".
Pros: Television still remains the most immediate way to reach sympathisers.
Cons: The Sinn Fein ban is widely agreed to have been counterproductive by giving its targets victim status. Hard to enforce given the multiplicity of foreign and internet channels.
Will it happen? Floated because of anger over interviews last week with the cleric Anjem Choudary, it could founder over accusations of curbing free speech. Ofcom is unlikely to want to police what interviewees might say.
Snoopers' charter
Proposed: Requiring telecoms and internet firms to store details of customers' website visits, calls, text messages and emails. It would cover information about the time and recipients of contacts, but not their contents.
How it could work: Theresa May has legislation, the draft Communications Data Bill, ready to roll out. But it has been vetoed by the Liberal Democrats.
Have we been here before? The last government proposed a similar scheme, creating a vast central database of message and internet details. It was abandoned in the face of civil liberties objections.
Pros: Terrorist networks use sophisticated techniques to evade detection and the legislation would enable the security services to keep pace.
Cons: No suggestion the Woolwich murders could have been foiled using this legislation and detectives already have extensive powers to track terror suspects.
Will it happen? Both the Tories and Labour support the move in principle. Ms May might try to negotiate a compromise with the Lib Dems.
Tackling extremist websites
Proposed: Tougher scrutiny of internet sites with the aim of rapidly removing websites supporting violence or glorifying terrorism.
How it could work: Almost 5,700 separate items judged to be inflammatory have been removed from the internet in the last three years. It's not clear how Ms May envisages powers could be strengthened in this area. Internet companies could face legislation if they fail to act voluntarily.
Have we been here before? Extremist websites were first targeted by Tony Blair after the July 7 bombings in 2005.
Pros: Militant groups have proved adept at using the internet to influence followers and instruct them in terrorist techniques.
Cons: A daunting task given the scale of the internet and the ease with which extremists can set up a new website almost as soon as one is removed by the authorities.
Will it happen? It is happening already – the Home Office says police are "scaling up" operations against militant websites. However, further legislation could be complex and time-consuming.
Tackling radicalisation
Proposed: Further efforts to tackle recruitment by militants in campuses, prisons and on the streets.
How it could work: Requiring colleges to banish extremist preachers from the premises, extra work with susceptible prisoners and obliging mosque committees to monitor speakers.
Have we been here before? The last Government set up the Prevent programme to tackle radicalisation at its root; this administration has opted for more targeted work.
Pros: Helps divert people from violence before they become dangerous.
Cons: Expensive work, particularly given current austerity measures, and critics say it puts too much responsibility on universities and community leaders.
Will it happen? Yes. The Government will be under pressure to reverse recent cuts to the Prevent programme.
Nigel Morris
Suspect filmed praying before Paris attack
The man who attacked a French soldier in Paris was praying moments before slashing the neck of his victim with a knife or box cutter, according to video footage from the scene.
"He was filmed praying near the scene of the attack" at a shopping centre in La Défense business district, sources close to the investigation told Le Parisien. The suspect is being hunted by police who said yesterday that the investigation is progressing.
His victim, Cédric Cordiez, 23, was discharged from hospital today after telling journalists that he was "feeling fine".
Interior Minister Manuel Valls told the Canal+ pay-TV channel that the incident bore "similarities" to the Woolwich attack.
Anne Penketh
Register for free to continue reading
Registration is a free and easy way to support our truly independent journalism
By registering, you will also enjoy limited access to Premium articles, exclusive newsletters, commenting, and virtual events with our leading journalists
Already have an account? sign in
Register for free to continue reading
Registration is a free and easy way to support our truly independent journalism
By registering, you will also enjoy limited access to Premium articles, exclusive newsletters, commenting, and virtual events with our leading journalists
Already have an account? sign in