Woolwich: Suspect was known to banned Islamist group and MI5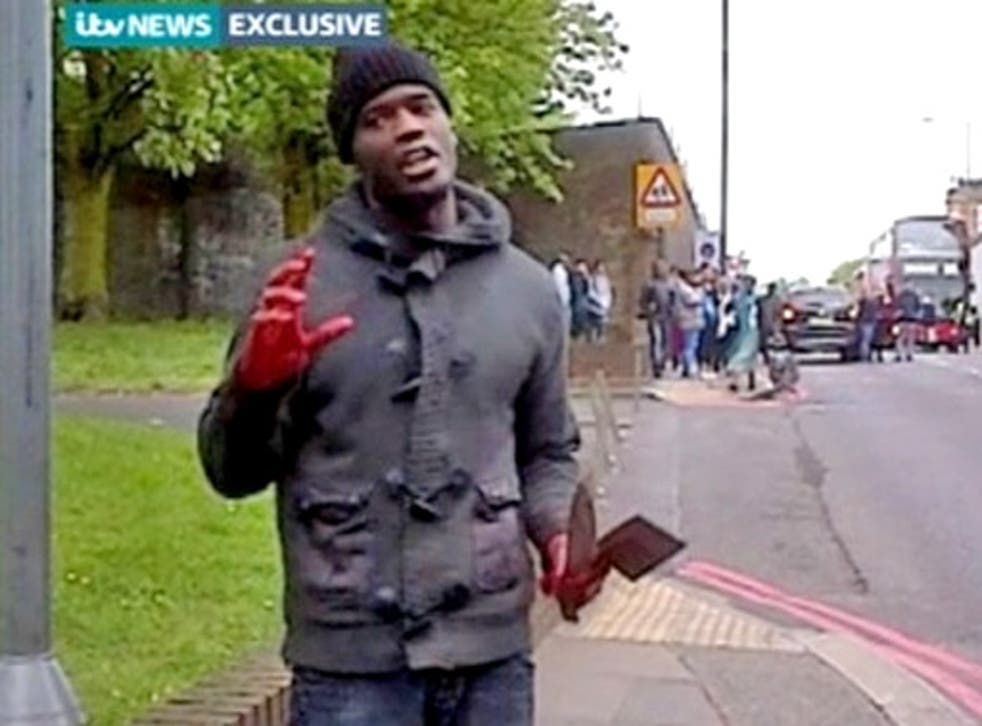 One of the two men involved in the Woolwich terror attack was known to a banned Islamist organisation and went by the name of Mujahid,The Independent has learned.
It was also reported today that the alleged killers, who are under armed guard in different London hospitals, were both known to security services.
Anjem Choudary, the former leader of the group, Al Muhajiroun, confirmed that he had known the man who was seen on video in the immediate aftermath of yesterday's horrific killing waving a cleaver with bloodied hands and making political statements.
Mr Choudary said Mujahid, who he said had converted to Islam in 2003 and was a British-born Nigerian, had stopped attending meetings of Al Muhajiroun and its successor organisations two years ago. The former solicitor said he had also known "Mujahid" as Michael.
Sources today named one of the suspects as 28-year-old Michael Adebolajo.
Mr Choudary told The Independent: "I knew him as Mujahid. He attended our meetings and my lectures. I wouldn't describe him as a member [of Al Muhajiroun]. There were lots of people who came to our activities who weren't necessarily members.
"He was a pleasant, quiet guy. He reverted to Islam in about 2003. He was just a completely normal guy. He was interested in Islam, in memorising the Koran. He disappeared about two years ago. I don't know what influences he has been under since then."
Founded in 1983 by Islamist Omar Bakri Muhammad, Al Muhajiroun became notorious for attempting to justify the 9/11 attacks and fomenting Islamist rhetoric in Britain.
Mr Choudary, who has long been a controversial figures in Britain's Islamist circles, has been an outspoken critic of British military involvement in Iraq and Afghanistan.
But he insisted that he had never preached that attacks on British troops or security personnel in Britain were justified.
Mr Choudary said: "My position is clear. There is a covenant which says that in return for Muslims being allowed to live peacefully and practice their faith in Britain, then it is forbidden to attack the British authorities, soldiers, in the UK.
"When people go abroad then the inhabitants of those countries have a right to defend themselves. The biggest aggravating factor we have today is British foreign policy."
He denied that Mujahid could have been radicalised by his teachings, adding that more extremist material, including the sermons of Yemen-based cleric Anwar Al Awlaki and the Al Qaeda-linked magazine Inspire, have been easily available via the internet.
He said: "If you are saying that you are radicalised by saying that British foreign policy is wrong then there are whole load of other organisations and anti-war groups who have said the same.
"Mujahid left us two years ago. There is plenty of material out there that does not observe the covenant we do that there can be no attacks in Europe. There is Al Awlaki and Inspire. I do not know what sort of material Mujahid could have seen."
Police said a property in Lincolnshire has been searched in connection with the murder.
The attack yesterday was greeted with anger, outrage and condemnation.
Sources told The Independent yesterday that the dead man was a member of the Royal Regiment of Fusiliers, which is currently based overseas.
The soldier, who has not yet been named, was killed by two suspected Islamists who attempted to behead and disembowel him as he left a barracks.
It is the first deadly attack since the 2005 London bombings.
One of the suspected killers, who addressed an onlooker who had a camera, said the pair had carried out the attack "because David Cameron, [the] British government sent troops in Arabic country".
Video footage of him speaking to camera was published by ITV News yesterday evening.
In response to the attack security at the barracks has been increased and according to Sky News members of the British armed forces have been warned not to wear their uniforms in public until further notice.
Former chairman of the Joint Intelligence Committee Baroness Neville-Jones said the security services would today be exploring whether the attack was carried out by a "lone wolf" or by someone with further connections, either at home or abroad.
"Clearly, as in this case the perpetrators are still alive they are going to be questioned. There is going to be a great deal of information available," she said on the BBC Radio 4 Today programme.
"There is a much bigger problem, potentially.
"Isolated attacks of the kind we have just seen, of this kind of attack, I'm inclined to think is possibly more in the nature of a lone wolf, is particularly hard to deal with because there are very few outward signs beforehand of the nature the intelligence services can pick up."
Register for free to continue reading
Registration is a free and easy way to support our truly independent journalism
By registering, you will also enjoy limited access to Premium articles, exclusive newsletters, commenting, and virtual events with our leading journalists
Already have an account? sign in