Woolwich terror attack: Michael Adebowale appears in court
Adebowale was shot by armed police after a British army soldier was hacked to death outside the Woolwich barracks last week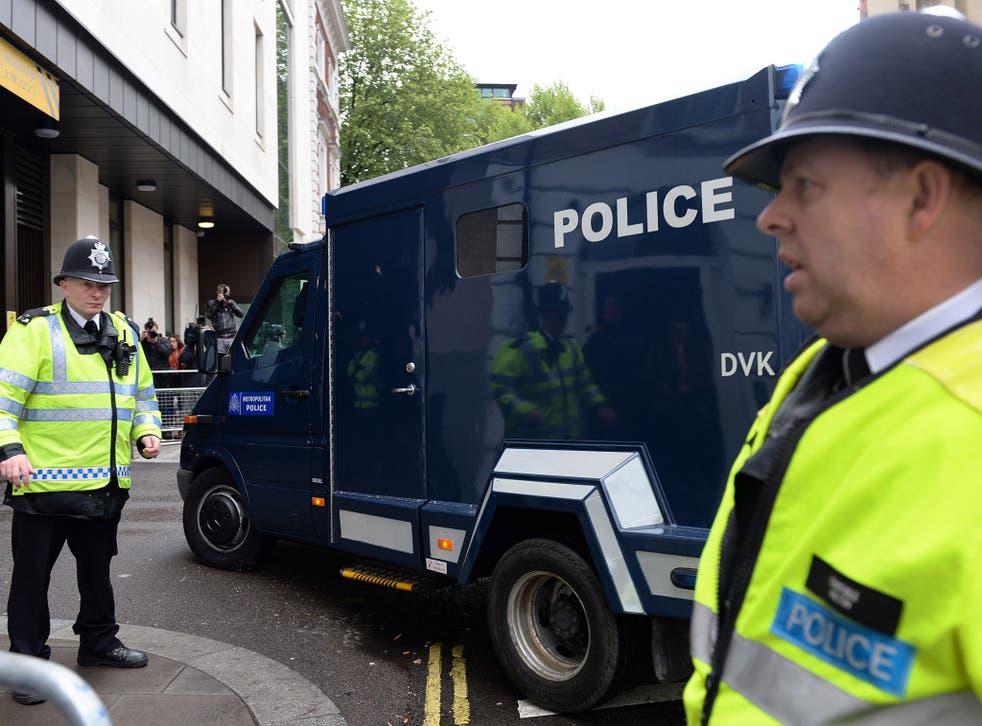 Michael Adebowale, the man accused of the murder of soldier Lee Rigby, made his first appearance in court today while restrained in handcuffs.
The 22-year-old sat flanked by two plainclothes police officers as he entered the glass-fronted dock at Westminster Magistrates' Court in central London amid tight security.
Adebowale, who was released into police custody on Tuesday after undergoing treatment for injuries suffered during the incident in Woolwich last week, appeared to walk without a pronounced limp but carried a bandaged right hand as he entered court.
The Muslim convert sat quietly during the brief hearing, answering "yes" when asked to confirm his name, date of birth and address in Greenwich, south east London. He glanced briefly towards the media crowded inside the modern court room but remained expressionless throughout proceedings.
The defendant is believed to have lost at least one finger during the incident and was shot by armed police following the death of Drummer Rigby last Wednesday. Adebowale was discharged from hospital into police custody following six days of treatment.
Howard Riddle, the chief magistrate, told Adebowale, who arrived and departed from court in an armoured Metropolitan Police van with an escort of police Range Rovers and BMWs, that he was excused from standing because of his injuries.
Mr Riddle said: "There's no need to stand, Mr Adebowale. I understand you have been injured."
The former student, dressed in a grey sweatshirt and baggy white cotton trousers, is charged with murdering Drummer Rigby and possession of an illegal firearm, a 9.4mm KNIL Model 91 revolver, "to cause persons to believe that unlawful violence would be used".
Michael Adebolajo, 28, the second suspect in the killing, remains in hospital. He is believed to have sustained more serious injuries than Adebowale.
A post-mortem examination found that Drummer Rigby, 25, a father of one, died of "multiple incised wounds" after the attack on a street close to the barracks where he was based.
An inquest into his death is due to be formally opened tomorrow at Southwark Coroner's Court in central London.
Adebowale, who was told the charges against him are being treated as alleged terrorism offences, will appear at the Old Bailey on Monday. There will be further hearing on 28 June.
Police this week issued a renewed appeal for witnesses and footage of the attack in which Drummer Rigby was hacked to death. Eight other people have so far been arrested in connection with the incident, all of whom have been released either on bail or with no further action.
Register for free to continue reading
Registration is a free and easy way to support our truly independent journalism
By registering, you will also enjoy limited access to Premium articles, exclusive newsletters, commenting, and virtual events with our leading journalists
Already have an account? sign in
Register for free to continue reading
Registration is a free and easy way to support our truly independent journalism
By registering, you will also enjoy limited access to Premium articles, exclusive newsletters, commenting, and virtual events with our leading journalists
Already have an account? sign in