Yvette Cooper: Tory candidate jailed over threatening messages claiming he would pay 'crackheads' to harm Labour MP
Pro-Brexit Conservative defends giving character reference to activist after conviction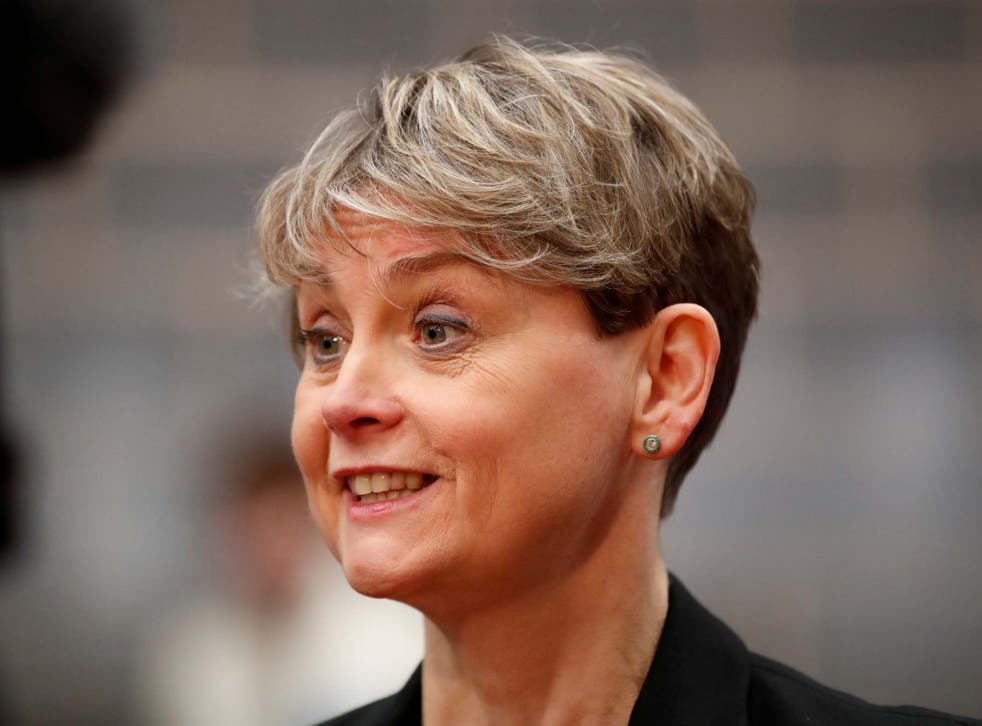 A former Conservative council candidate has been jailed for sending a message claiming he would pay "crackheads" to harm Labour MP Yvette Cooper.
Joshua Spencer was sentenced to nine weeks' imprisonment and handed a 10-year restraining order at Leeds Magistrates' Court on Friday over messages he sent in April last year.
The 25-year-old, from Ms Cooper's consistency in West Yorkshire, wrote that he was working to "hurt" the Labour MP over her efforts to block a no-deal Brexit.
Tory MP Andrea Jenkyns has defended her decision to give the Conservative activist a character reference which was read in court, describing him as a "decent and honest person".
"I have known Joshua for a number of years. I stand by my decision to have given him a personal reference," Ms Jenkyns said.
Brexit timeline: How did we get here?

Show all 20
"Josh has bipolar and had mental health issues since his father's suicide in 2015 and I was, and remain, concerned about his emotional and mental wellbeing and wanted to make absolutely sure it was taken into consideration as part of the judicial process," she added.
Spencer was a Conservative candidate for the Wakefield Council elections in May, despite being arrested in April.
He admitted to a charge of sending an offensive, indecent, obscene or menacing message by a public communication network in January.
Ms Cooper has written to the Conservative Party to ask why Spencer was allowed to attend her election count in December as a Tory representative despite being under investigation by West Yorkshire police.
"As a result of his political role he will have known my movements for campaign events such as hustings as well as the count," the Labour MP said.
"My office had to inform the police about any event he might be present at, including the general election count, as we had no idea whether or what kind of threat he might pose."
She added: "It is only three-and-a-half years since my friend and colleague Jo Cox was killed while in her constituency. Threats of violence cannot be dismissed as banter between friends. Intimidation and violence has no place in our politics."​
The Tory activist sent a message to a man he met on a dating website saying Ms Cooper should "pay" for her opposition to a no-deal Brexit, according to The Guardian.
"We should have left no deal on the 29th [of March] before the whore Yvette got her hands on to it and voted to revoke democracy. She will pay. I'm already organising... to hurt her," he wrote.
"Amazing what crackheads will do for £100. I'm going to get her beat up."
In another message, he reportedly said: "If you make peaceful revolution difficult you make a violent one inevitable."
Court staff have said Spencer's restraining order demands he does not contact Ms Cooper, including on social media, or go near her constituency office for 10 years.
In April last year, Brexit supporter Jarod Kirkman was jailed for sending death threats and racist messages to seven MPs, including Ms Cooper.
Additional reporting by Press Association
Register for free to continue reading
Registration is a free and easy way to support our truly independent journalism
By registering, you will also enjoy limited access to Premium articles, exclusive newsletters, commenting, and virtual events with our leading journalists
Already have an account? sign in
Register for free to continue reading
Registration is a free and easy way to support our truly independent journalism
By registering, you will also enjoy limited access to Premium articles, exclusive newsletters, commenting, and virtual events with our leading journalists
Already have an account? sign in