Labour MP suggests cyclists could be making congestion and pollution in UK cities worse
Drivers are not part of an 'evil, diesel fume-belching demonic brotherhood, intent on choking our streets and our children's lungs', Rob Flello says
Tom Batchelor
Tuesday 17 January 2017 16:40 Comments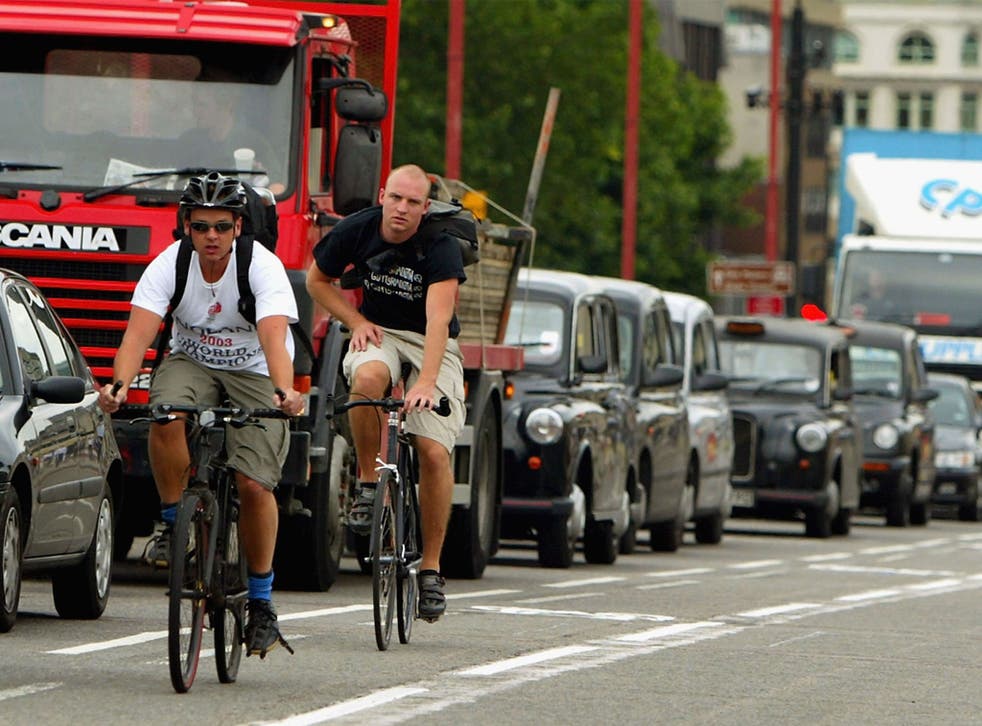 Cyclists could be making congestion and pollution in UK cities worse, a Labour MP has suggested.
Rob Flello, who describes himself as a "cycle lane-sceptic", said he was concerned that "if tarmac formerly used by vehicles is underused by bikes" might that as a consequence cause greater congestion and pollution?
"The point is that while bikes may be an element of the solution to the congestion problem they're not an answer on their own," Mr Flello said.
The Stoke-On-Trent South MP, who sits on the Transport Select Committee, continued: "Make no mistake, congestion is incredibly closely related to pollution. Idling vehicles, stuck in traffic produce far more noxious outpourings than free-flowing ones."
He went on to argue that he was not "against bikes" and said he was "supportive of the idea that using bikes can make a meaningful, albeit probably far from decisive, contribution".
But, using the example of Cambridge, where around half of residents cycle at least once a week but where congestion can be severe, he made the point that a high rate of cycling does not in itself equate to faster-moving motorised traffic.
He also criticised those who treated drivers as an "evil, diesel fume-belching demonic brotherhood, intent on choking our streets and our children's lungs".
Man balances canister on head while cycling - London Live
His comments have angered cycling campaigners who argue converting car drivers to bicycle riders is the only way to tackle poor air quality and gridlocked roads.
Roger Geffen OBE, policy director at Cycling UK, encouraged Mr Flello to visit cities in Denmark and the Netherlands to see how cycling can cut congestion.
Mr Geffen told The Independent: "Cycling is a highly efficient way to use road-space – a typical traffic lane can accommodate 2,000 cars per hour, or 14,000 bicycles.
"Cycle lanes won't be used all the time, in the same way that outbound traffic lanes and outbound public transport services aren't heavily used during the morning.
"That doesn't mean they are inefficient: far from it. Nor are they adding to congestion and pollution.
"On the contrary, congestion and pollution are both greatly reduced compared to what we'd have if all those people were travelling by cars, taxis or buses."
Mr Flello's latest comments follow remarks he made during an evidence session at the transport committee last week when he appeared to call for existing bike lanes to be ripped up.
He told MPs and traffic experts gathered for an inquiry into urban traffic congestion on 9 January: "Surely if traffic is being slowed down because some of the available tarmac is being removed and put to other purposes, or some of the tarmac is not available because of roadworks or because it has been blocked off while some work is being done on pavements—whatever it might be—surely one of the answers is to reinstate some of the tarmac that has been removed.
"It speeds up the traffic and perhaps does more for air pollution in places such as London than getting people on to pushbikes."
Update. An earlier version of this article reported that Mr Flello had claimed, without caveat, that cycle lanes "make congestion and pollution worse". In fact, Mr Flello had set out several "concerns" about cycle lanes, including by asking the following question: "If tarmac formerly used by vehicles is underused by bikes does that in turn cause greater congestion and pollution?" He has previously noted that congestion in London has worsened despite a decrease in the number of cars travelling in the capital. The article has been updated to better reflect his view. His full blog post on the subject can be seen here.
Register for free to continue reading
Registration is a free and easy way to support our truly independent journalism
By registering, you will also enjoy limited access to Premium articles, exclusive newsletters, commenting, and virtual events with our leading journalists
Already have an account? sign in
Register for free to continue reading
Registration is a free and easy way to support our truly independent journalism
By registering, you will also enjoy limited access to Premium articles, exclusive newsletters, commenting, and virtual events with our leading journalists
Already have an account? sign in
Join our new commenting forum
Join thought-provoking conversations, follow other Independent readers and see their replies