David Cameron makes the case for air strikes on Isis in Syria and Iraq and warns: 'Assad is part of the problem'
Barack Obama and British PM insist they will not be 'cowed by terrorists'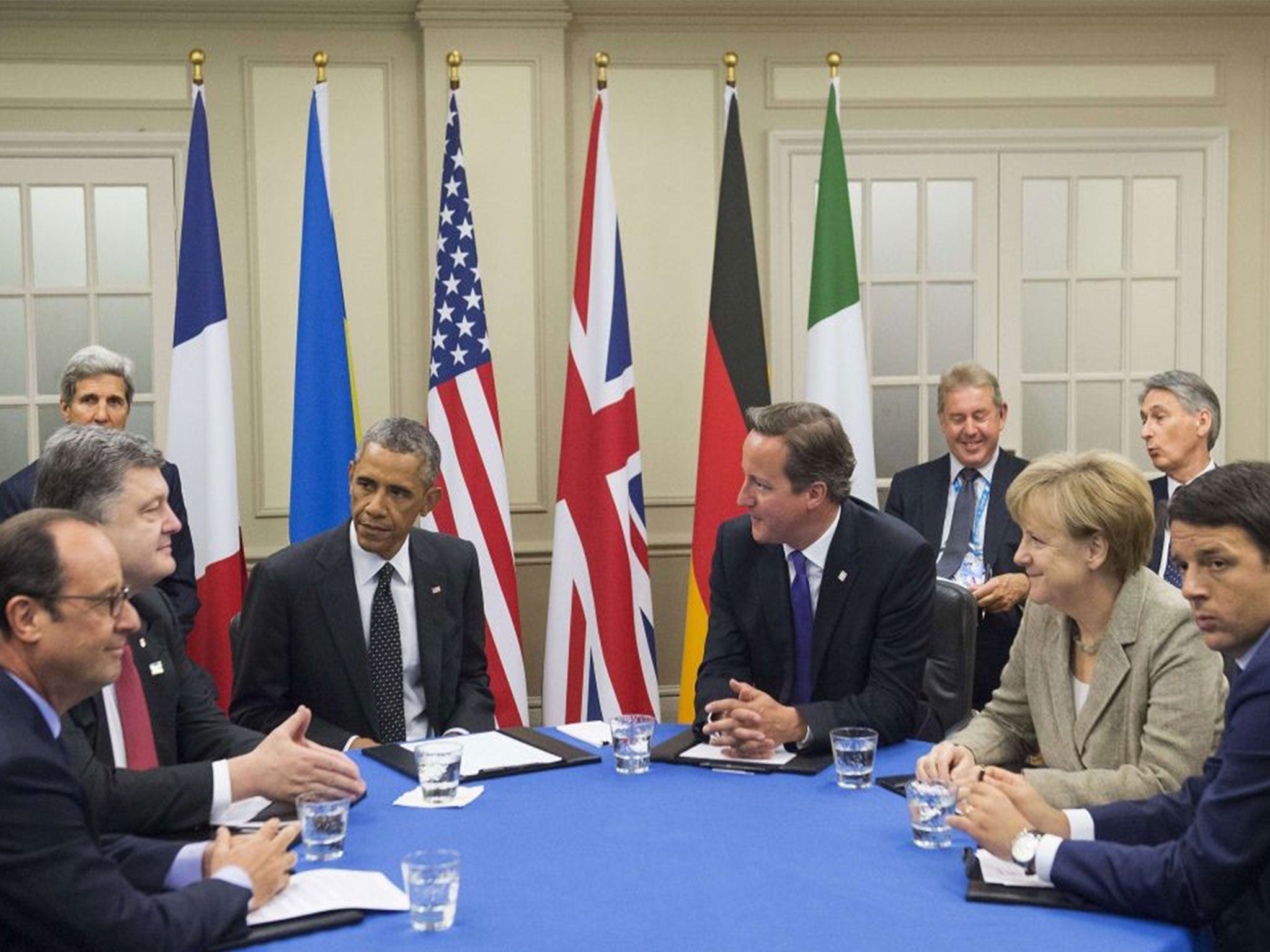 David Cameron has ramped up the case for air strikes in Syria and Iraq to counter the growing threat of the Islamic State (Isis) as he labelled Syrian President Bashar al-Assad "part of the problem".
The Prime Minister dismissed suggestions that bombing raids on Isis positions in Syria would need the permission of President Assad's government.
"My view is that President Assad is part of the problem, rather than part of the solution," he said during a round of interviews ahead of the start of the Nato summit in South Wales.
"We have got to understand that Assad has been part of the creation of IS, rather than part of its answer."
Mr Cameron seemingly rejected out of hand proposals from some quarters of an alliance with the Syrian government, saying that the West had often found itself in "all sorts of moral quagmires" by simply saying "my enemy's enemy is my friend".
"I don't think it's that complicated because obviously the Iraqi government is a legitimate government ... whereas President Assad has committed war crimes on his own people and is therefore illegitimate."
He repeated that the Islamist fighters sweeping across Syria and northern Iraq posed a direct threat to the UK – and added that strikes against them would be launched if they were considered in the national interest.
He also insisted Britain will not pay ransoms to terrorists. Speaking on BBC Radio 4's Today programme this morning, Mr Cameron said ransoms went "directly" into terrorist activity and insisted the UK will not pay a ransom for the British hostage being held by Isis.
"I know that is difficult for the families concerned on some occasions," he said. "But I am absolutely convinced from all I have seen that when these ransoms have been paid - and tragically they have been paid in some cases that money goes directly into kidnapping more people, into getting arms and weapons, and plotting terrorist outrages including here in the UK."
Mr Cameron signalled Britain is ready to send UK weapons directly to Kurdistan for the first time and to help train its forces to resist Isis militants in northern Iraq.
A senior military officer, Lt Gen Sir Simon Mayall, has been authorised by Mr Cameron to hold talks with Kurdish leaders over what military support they need.
The Prime Minister said: "We're prepared to do more and we're considering actively whether to give them arms ourselves and whether we can more directly to train Kurdish militia, we're already playing a role there but we can do more."
Britain has so far sent non-lethal equipment to Kurdistan, including a consignment of ten tonnes of body armour and helmet delivered earlier today, as well as carrying out surveillance operations in the area.
In pictures: The rise of Isis
Show all 74
The Prime Minister has come under increasing pressure to address the growing Islamist threat following the identification of a British hostage in a video entitled 'A Second Message to America' that also showed the beheading of US journalist Steven Sotloff by an Islamic State militant.
David Haines was forced to kneel in the desert next to his fellow captive as the executioner, who has been dubbed 'Jihadi John', warned he would be the next to be beheaded.
The video has led to a growing clamour for more direct action from Britain and the United States. Mr Obama in particular has come under increased scrutiny over his approach, which has been criticised as lacking in focus.
After publicly responding to the murder two weeks ago of the first journalist, James Foley, he was widely rebuked for returning to his holiday. Last week, he said he didn't "have a strategy yet" for dealing with Isis.
There is concern that Obama's previous commitments to ending US engagement in Afghanistan and Iraq has clouded his judgement and made him appear impotent to the growing threat emanating from Syria and Iraq.
Ahead of the summit, which starts today, Mr Cameron and Mr Obama vowed not to be "cowed" by the barbaric murders.
The US has launched bombing raids on the militants' positions, but has yet to formally request that other nations join the attacks.
There is some frustration in Whitehall over Mr Obama's failure to be more explicit about his intentions, but Mr Cameron will hope to get a clear signal of the President's plans in a meeting this morning. Both Labour and the Liberal Democrats have indicated support for limited air strikes if no diplomatic alternative can be found.
In a joint article in the Times today, Mr Cameron and Mr Obama accused the militants of "brutal and poisonous extremism."
"If terrorists think we will weaken in the face of their threats they could not be more wrong. Countries like Britain and America will not be cowed by barbaric killers," they wrote.
"We will be more forthright in the defence of our values, not least because a world of greater freedom is a fundamental part of how we keep our own people safe."
Join our commenting forum
Join thought-provoking conversations, follow other Independent readers and see their replies