Dissidents' fury at Hammond's 'secret' Bahrain visit
The Foreign Secretary was challenged at hustings over 'secret' meeting with Crown Prince
Jamie Merrill
Saturday 02 May 2015 21:18 Comments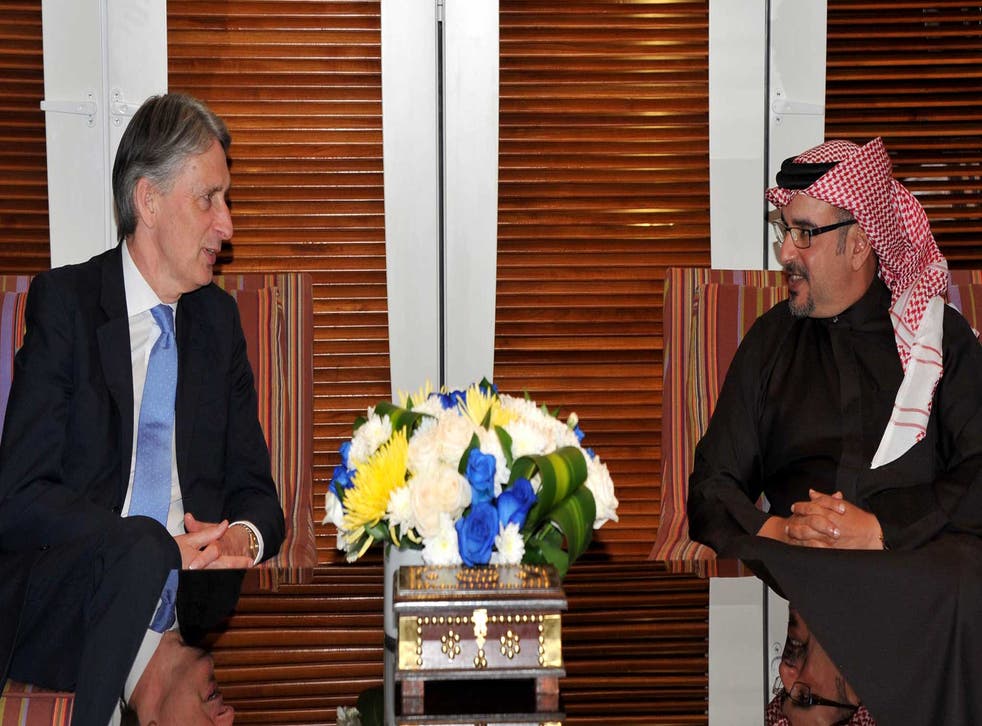 Bahraini dissidents, human rights activists and Labour have condemned Foreign Secretary Philip Hammond for secretly visiting the repressive Gulf state's leaders on the same day that Bahrain extended the detention of its most prominent critic.
Amid attempts by the UK to sell BAE Typhoon fighter jets to Bahrain, a Western ally in the region, Mr Hammond paid what a Whitehall source described as a "courtesy call" to the Bahraini Crown Prince last Sunday. Nothing was said publicly about the trip at the time, although the Foreign Office has now confirmed it took place.
While Mr Hammond exchanged pleasantries with Prince Salman al-Khalifa, Nabeel Rajab was remanded in custody for a further two weeks on charges of spreading "false news" on Twitter.
Mr Rajab was arrested last month after detailing allegations of torture at Jaw prison, where many anti-regime protesters are held. He is also accused of spreading "tendentious rumours" about the Sunni-dominated regime's role in the recent air offensive against rebels in Yemen.
The United States Ambassador to the United Nations has called for his immediate release, while human rights groups have insisted he is a "prisoner of conscience".
On his return to the UK, the Foreign Secretary was challenged by several Bahraini exiles at an election hustings in his ultra-safe seat of Runnymede and Weybridge on Thursday. He told the campaigners, including Sayed Alwadaei, director of advocacy at the Bahrain Institute for Rights & Democracy, that he had "very frank conversations" with the regime but that he regards "Bahrain as a very friendly country that is moving in the right direction".
Mr Alwadaei, who was stripped of his Bahraini citizenship in a clampdown by the regime this year, said: "It's clear that the UK policy has failed in Bahrain and only serves to whitewash violations.
"We're seeing the US publicly urging for Nabeel's release while Hammond rubs shoulders with members of Bahrain's ruling family about further military and economic cooperation. What message does that send?"
The Foreign Office (FCO) refused to say if Mr Hammond raised Mr Rajab's case at the meeting. A damming report about the regime by Amnesty International USA claimed the UK's policy of "quiet engagement" had "yet to produce real and sustained improvement and now warrants review". The report said that human rights abuses continued "unabated" and detailed dozens of allegations of detainees being beaten, deprived of sleep, burned with cigarettes, sexually assaulted, subjected to electric shocks and burned with an iron. One prisoner claimed he was raped by having a plastic pipe inserted in his anus.
Bahrain has said it is "reviewing" the contents of the report, while insisting the report "fundamentally misreports" the human rights situation. A spokesman for the Bahraini government said it was "committed to the protection of human rights and fundamental freedoms". But he added that "no country can allow illegal speech that affects national security to go unchecked".
Allan Hogarth, Amnesty head of policy and government affairs, dismissed Mr Hammond's claim that the situation was improving. "It's hard to see what's right about a direction of travel which is leading to the jailing of government critics, the holding of prisoners of conscience, and persistent reports of torture in detention. Mr Hammond needs to urgently revise his rose-tinted view of Bahrain," he said.
And Kerry McCarthy, shadow foreign minister for human rights, questioned why the trip had not been made public sooner. "People will rightly ask why, unlike other international trips he has undertaken since Parliament rose, he has so far made no public statement on the visit," she said. "In recent months the Government has failed to explain why Bahrain is not classified as a 'country of concern' by the FCO's annual human rights report, and it is in this context that questions will now be asked about his visit."
An FCO spokesperson said: "The Foreign Secretary met his Bahraini counterpart last week for discussions on regional and bilateral issues, during a stop-over following a visit to Baghdad. We are following Mr Rajab's arrest closely. Our Embassy has raised the case with the Bahraini authorities and we encourage the government of Bahrain to ensure due process is followed and international norms of justice, including freedom of expression, are upheld."
Register for free to continue reading
Registration is a free and easy way to support our truly independent journalism
By registering, you will also enjoy limited access to Premium articles, exclusive newsletters, commenting, and virtual events with our leading journalists
Already have an account? sign in
Join our new commenting forum
Join thought-provoking conversations, follow other Independent readers and see their replies