Donald Trump says EU will break up within a decade due to immigration
Republican presidential nominee believes refugee crisis will make Europe 'unrecognisable'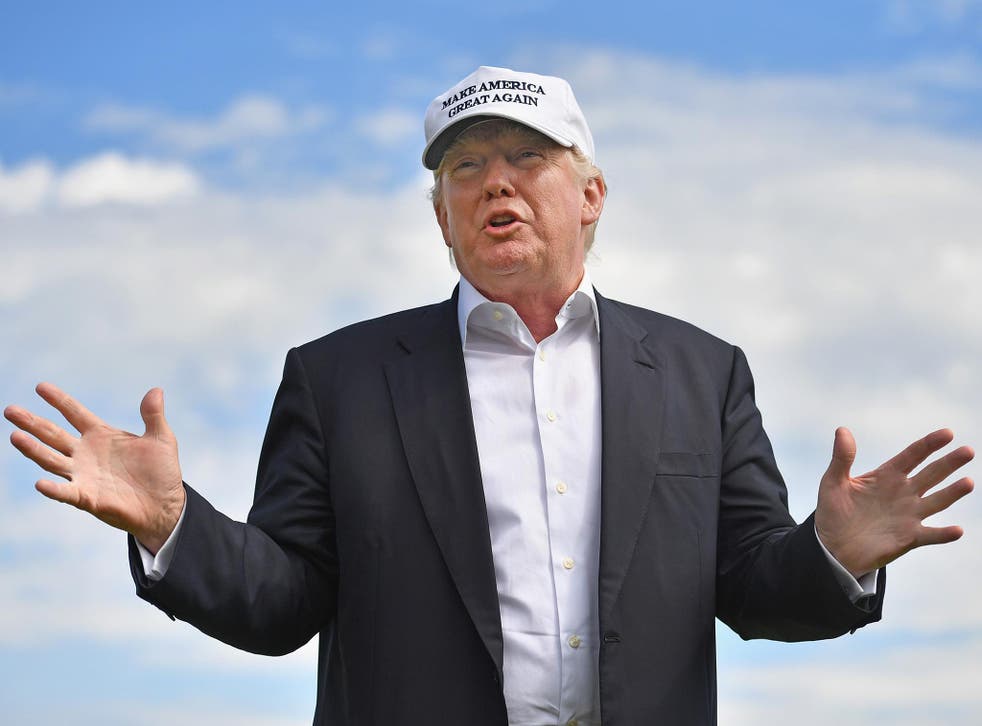 Donald Trump has predicted immigration will cause the EU to disintegrate within the next decade, and warned Scotland to be "careful" when considering a second independence referendum in the wake of Brexit.
During a visit to his Turnberry golf resort, the presumptive Republican presidential nominee said: "I think the EU is going to break up. I think the EU might break up before anybody thinks in terms of Scotland."
Mr Trump argued it was inevitable that "other countries will follow" Britain's lead by voting to quit the union and predicted Europe "is not going to be recognisable in 10 years" due to immigration, during an interview with The Times.
He also reiterated his promise that Britain's relationship with the United States would remain "special" if he were elected president, and would stay "right at the top" of the trade queue even if broken into its constituent parts.
He continued: "I really think that without the immigration issue [the EU] wouldn't have had a chance of breaking up… the people are fed up, whether it's here or whether it's in other countries."
"One thing I have to say about Scotland is they have to be careful. The oil price is down and those [Scottish revenue] numbers are a lot different when the oil prices are down."
Giving his view on the refugee crisis, Mr Trump said: "You cannot allow this to happen to Europe. It would be so much easier for me to tell you 'Oh I'd accept them with open arms'."
He additionally drew parallels between the Brexit decision and his campaign to limit immigration by building a wall on the US-Mexico border.
Donald Trump's most controversial quotes

Show all 14
The billionaire businessman went on to tell a press conference the "will of the people" in the UK had won out, while dismissing Barack Obama's intervention in the referendum campaign as "negative".
He said it was good the value of the pound had crashed in the wake of Brexit, as it would be better for his own business concerns.
On Friday morning, shortly after the results of the vote were announced, Mr Trump tweeted: "Just arrived in Scotland. Place is going wild over the vote. They took their country back, just like we will take America back. No games!"
In early May Mr Trump announced his support for the Brexit campaign, stating Britain was "having a lot of problems" due to its involvement in the European Union.
Register for free to continue reading
Registration is a free and easy way to support our truly independent journalism
By registering, you will also enjoy limited access to Premium articles, exclusive newsletters, commenting, and virtual events with our leading journalists
Already have an account? sign in
Register for free to continue reading
Registration is a free and easy way to support our truly independent journalism
By registering, you will also enjoy limited access to Premium articles, exclusive newsletters, commenting, and virtual events with our leading journalists
Already have an account? sign in
Join our new commenting forum
Join thought-provoking conversations, follow other Independent readers and see their replies