Should I be worried about a drone hitting a passenger plane?
The Big Questions: Concerns have been raised about the use of drones after a suspected drone collided with a British Airways passenger jet
Samuel Osborne
Monday 18 April 2016 14:37 Comments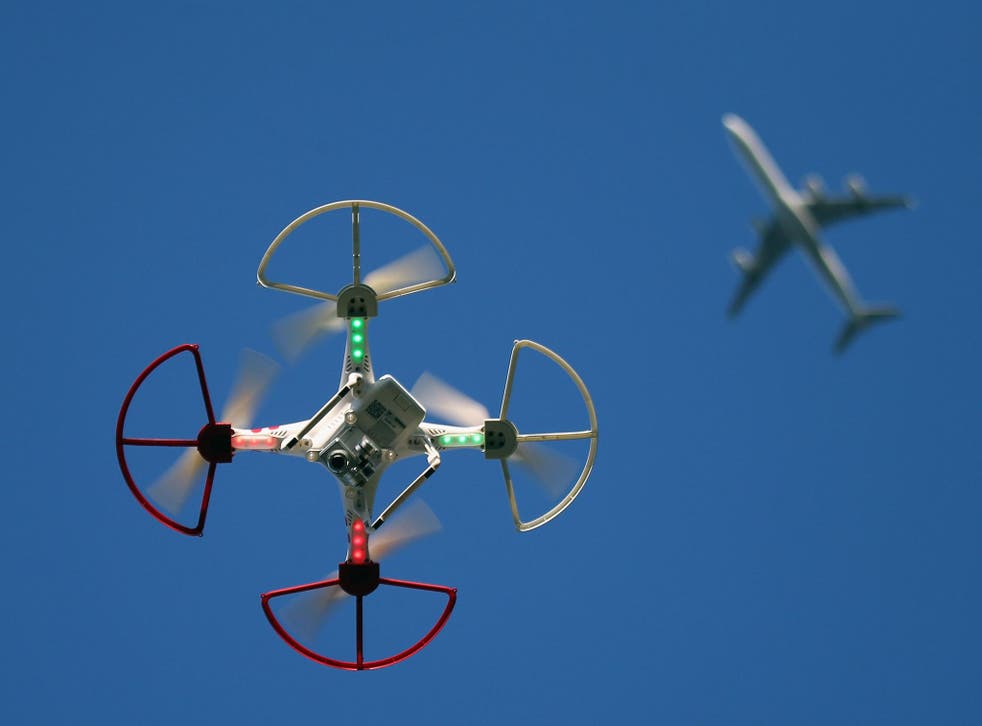 Why are we asking this now?
A British Airways pilot has revealed his flight was struck by a suspected drone as it came in to land at Heathrow Airport.
Flight BA727 landed safety with 132 passengers and five crew on board. After being examined by engineers, it was cleared for its next flight.
However, the collision has raised concern about the use of drones, especially around sensitive areas such as airports.
Why are people worried?
The most stunning drone pictures of 2015

Show all 12
The number of near misses involving drones and aeroplanes has quadrupled in the last year, a report released by the UK Airprox Board in March found.
Of 23 near misses recorded between April and October last year, 12 were given an A rating of "a serious risk of collision".
The aviation industry is fastidious about eliminating so-called FODs (Foreign Object Debris) from the "airside" area at airports. The dangers from debris were highlighted most tragically in the Air France Concorde crash in 2000, when a thin titanium strip left behind on the runway by a previously departing aircraft precipitated a fire on the supersonic jet that killed 113 people.
With such evidence of tragic accidents involving small pieces of debris, it is understandable that pilots and airlines are calling for existing laws to be more effectively implemented.
The Air Navigation Order 2009 stipulates: "The person in charge of a small unmanned aircraft must maintain direct, unaided visual contact with the aircraft sufficient to monitor its flight path in relation to other aircraft, persons, vehicles, vessels and structures for the purpose of avoiding collisions." In other words, it must always be in the line of sight. In addition, unauthorised drones are supposed to be kept well clear of airports.
The maximum penalty for acting "in a manner likely to endanger an aircraft, or any person therein" is life imprisonment.

How much damage could a drone do to a plane?
While extensive research has been carried out on the impact of bird strikes on aircraft, no one knows for sure how much damage a drone could do if it collided with a passenger jet.
Stephen Landells, flight safety specialist at the British Airline Pilots Association, said people flying drones irresponsibly are "putting lives in danger".
"If yesterday's incident does prove to be a collision," Mr Landells told BBC Radio 4's Today Programme, "then I think we're very fortunate that it didn't hit a critical part of the aircraft, otherwise we'd be having a very different conversation."
What is being done?
Airline pilots want tests to be carried out, though initial estimates suggest this could cost around £250,000.
Mr Landells added: "Of course birds are very different in that they don't have these solid metal battery packs. And that's what we're concerned about.
"What will happen if one of those battery packs hits a windscreen? Will it just bounce off as a bird does, or will it penetrate the cockpit? We just don't know."
Could drones be used by terrorists?
Dutch police train eagles to take down drones
Other than the potential damage drones can cause if they collide with aeroplanes, there is concern they could be used by terrorists.
A Government counter-terrorism adviser warned terrorists could use commercially available drones to attack passenger planes.
Detective Chief Inspector Colin Smith warned small quadcopter drones could be flown into an aircraft's engine or loaded with explosives in an attempt to bring down a passenger airliner.
In January this year, a security thinktank warned drones could be converted to carry explosives.
The report listed several potential targets, such as foreign embassies, nuclear power stations and the prime minister's car.
It said: "The UK government, police, military and security services will need to introduce countermeasures to reduce or mitigate the risk of commercially available drones being used for attack."
Register for free to continue reading
Registration is a free and easy way to support our truly independent journalism
By registering, you will also enjoy limited access to Premium articles, exclusive newsletters, commenting, and virtual events with our leading journalists
Already have an account? sign in
Join our new commenting forum
Join thought-provoking conversations, follow other Independent readers and see their replies