Spiraling drug deaths blamed on swingeing funding cuts to services
New figures suggest £117m less being spent on treatment now than five years ago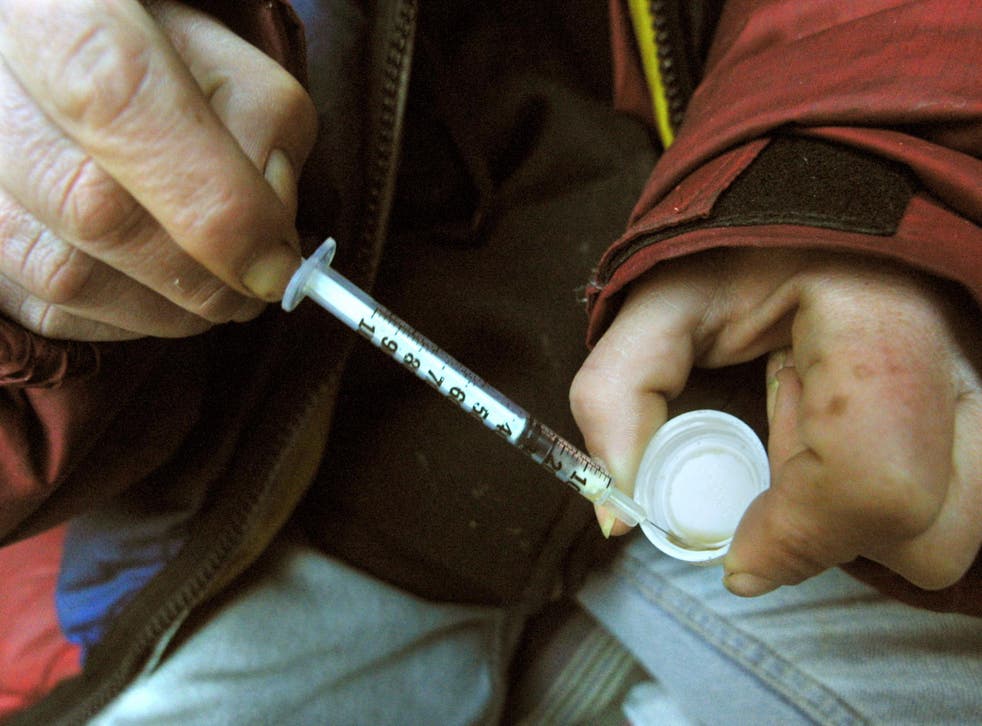 Spiralling numbers of drug deaths across England are being blamed on swingeing budget cuts to addiction services – as new figures suggest spending on treatment has been slashed by £117m in just five years.
Councils have reduced drug and alcohol schemes as their own health budgets have been squeezed by government cuts, according to the Office for National Statistics.
It estimates that just £631m will be spent on such services in 2018-19 compared with £749m in 2013-14. In a similar period, drug-related deaths increased from 2,734 in 2013 to 3,450 in 2016.
The spending reductions were revealed in a Freedom of Information request made by UK Addiction Treatment, a private rehab firm.
Some 81 out of 152 local authorities declared their treatment budgets with UKAT then projecting a national figure.
"These cuts are killing people," said founder Eytan Alexander. "Councils used to be able to fund places in long-term residential treatment centres but money is now being spent on cheaper community based services.
"This means addicts receive treatment during the day, but when they return home, they're on their own and are more likely to relapse. The worst bit is that these cuts are only going to get worse."
A similar BBC study, which analysed public data, suggests the reduction could be as high as £162m
Areas which have seen some of the biggest cuts include Islington, in London, where £4m less was spent on drug and alcohol treatment, and Manchester where the reduction was £3.5m. In Lancashire – which includes Blackpool, the town with the highest rates of heroin-related deaths in the country – some £3.6m less will be spent on treatment this year than in 2013-14.
Former addict Mel Curtis says she has been directly affected.
The 38-year-old from Hertfordshire said: "I've watched people close to me die because of their addictions. They've asked for help but it's just not been there."
She added: "Two years ago my drug abuse led me to the point where I was trying to kill myself and my mum effectively had to put me under house arrest. All my GP could do for me was give me some anti-depressants and a phone number for the local drug treatment team. When I rang that number nobody answered. I rang the drug treatment service repeatedly but got nowhere."
UK news in pictures

Show all 50
The new figures come just two weeks after doctors warned public health spending cuts meant they had nowhere to send patients struggling with weight loss, smoking addiction or sexual health issues.
And they appear to contradict the government's own 2017 drug strategy which states: "Investing in treatment services to reduce drug misuse and dependency will not only help to save lives but will also substantially reduce the economic and social costs of drug-related harm."
Izzi Seccombe, chairman of the Local Government Association's community wellbeing board, said: "Councils are committed to ensuring that those that need help get the right support and treatment. However, cuts to councils' public health grant by central government means effective outreach work is being restricted to only a small proportion of those that need support."
A spokeswoman for the Department of Health and Social Care said: "While drug misuse is lower than 10 years ago, we remain committed to reducing it. Addiction treatment services remain free for all with minimal waiting times.
"We are investing £16 billion in local public health services and our comprehensive drug strategy brings together police, health and global partners to help those with drug dependency recover and turn their lives around."
Register for free to continue reading
Registration is a free and easy way to support our truly independent journalism
By registering, you will also enjoy limited access to Premium articles, exclusive newsletters, commenting, and virtual events with our leading journalists
Already have an account? sign in
Register for free to continue reading
Registration is a free and easy way to support our truly independent journalism
By registering, you will also enjoy limited access to Premium articles, exclusive newsletters, commenting, and virtual events with our leading journalists
Already have an account? sign in
Join our new commenting forum
Join thought-provoking conversations, follow other Independent readers and see their replies