Greenpeace activists install giant polar bear outside Shell's London headquarters
Emma Thompson joined campaigners outside the energy firm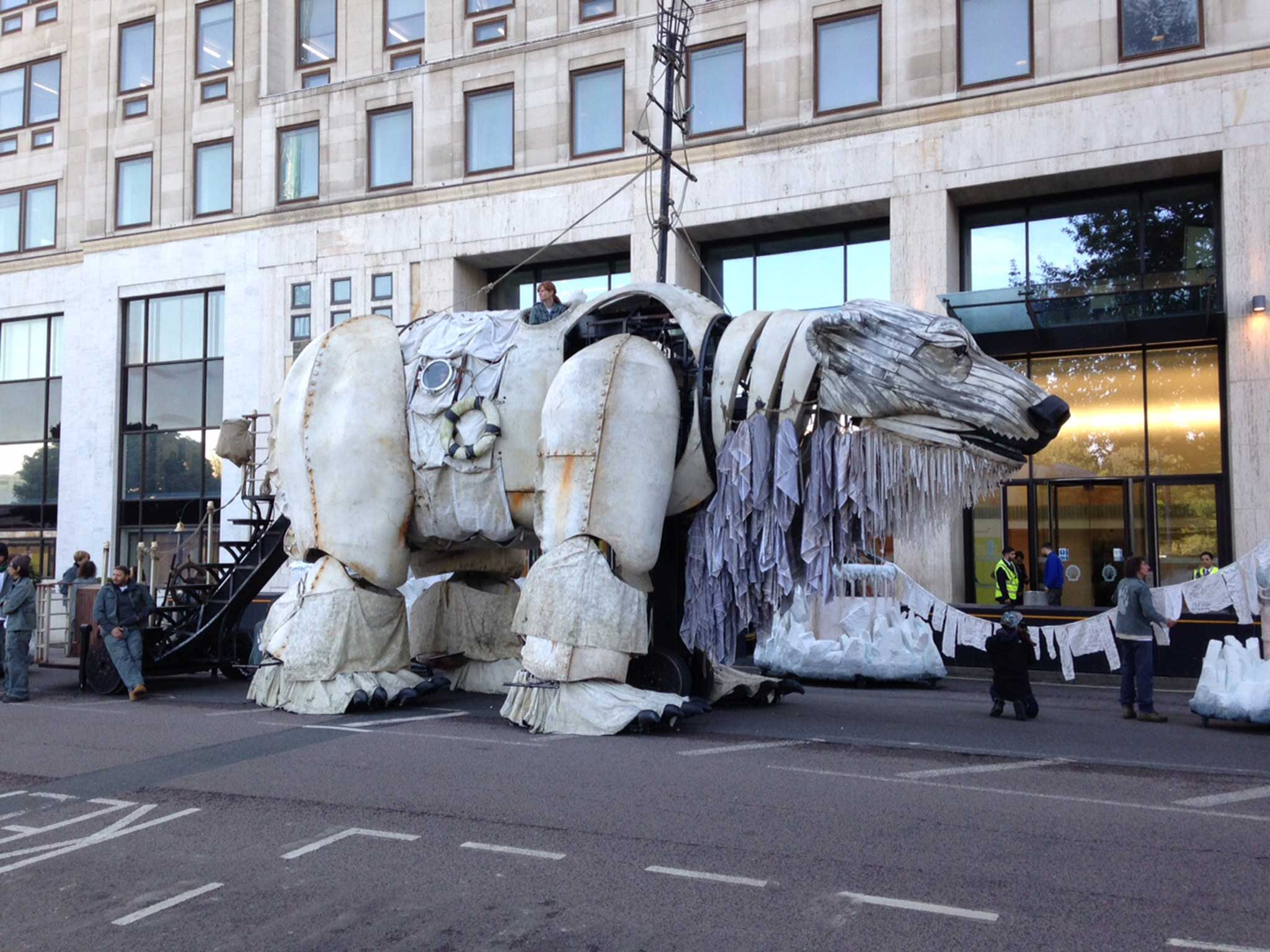 Greenpeace campaigners, including actress Emma Thompson, installed a animatronic polar bear the size of a double-decker bus outside Shell's London headquarters to demonstrate against the company's drilling in the Arctic on Wednesday.
The sixty-odd activists, six of who are attached to the three-tonne bear named Aurora, moved into place at around 4am this morning. The bear will "roar" throughout the morning.
Greenpeace is demanding Shell halt drilling in Arctic, which the environmental group says is placing the area at extreme risk of an oil spill. Researchers claim the company's drilling is incompatible with limiting global warming to no more than two degrees above pre-industrial levels.
Emma Thompson, who will read an original poem penned for Shell bosses, said Shell's drilling "breaks" her heart and that their actions "threatens not only their habitat but ours."
Watch her performance below.
"Make no mistake about it, we're next. That's why I've come to their HQ. I'm here to say no. I'm here to say this has to end. I'm one of millions of people demanding that this company pulls out of the Arctic, and this huge polar bear is roaring with our voices."
Activist Patrick Earls, among those demonstrating on Wednesday, said Shell's actions were "outrageous".
Aproximately 1,000 people work in the Southbank building, which is presently undergoing refurbishment.
The demonstration comes as a leading US environmentalist criticised Barack Obama's apparent volte face on drilling in the Arctic.
Bill McKibben, winner of the Right Livelihood prize in 2014 (often referred to as the alternative Nobel Prize), claimed the US president's decision to allow Shell to drill in the Artic until 28 September was a "bad contradiction".
The Arctic contains roughly 25 per cent of the world's total reserves of oil and gas – only recently made accessible due to global warming. In 2015 scientists recorded the lowest sea ice maximum ever: as the ice recedes it becomes easier for companies to drill.
A Shell spokeswoman told The Independent: "Shell respects the right of people to protest against the activities we undertake to ensure the world's energy needs are met.
They claimed it was "disappointing that Greenpeace continually chooses to focus on mounting publicity stunts rather than engage constructively in the debate about how to meet the world's growing demand for energy while reducing CO2 emissions."
"We believe we can play an important role in developing the Arctic's energy resources. We choose to explore there because we have the expertise and experience to operate responsibly and be profitable at the same time," the company added in a statement.
Join our commenting forum
Join thought-provoking conversations, follow other Independent readers and see their replies