Escape artist Antony Britton 'just seconds from death' after attempting to emulate Harry Houdini's famous buried alive stunt
Yorkshire artist was buried under six feet of soil on Saturday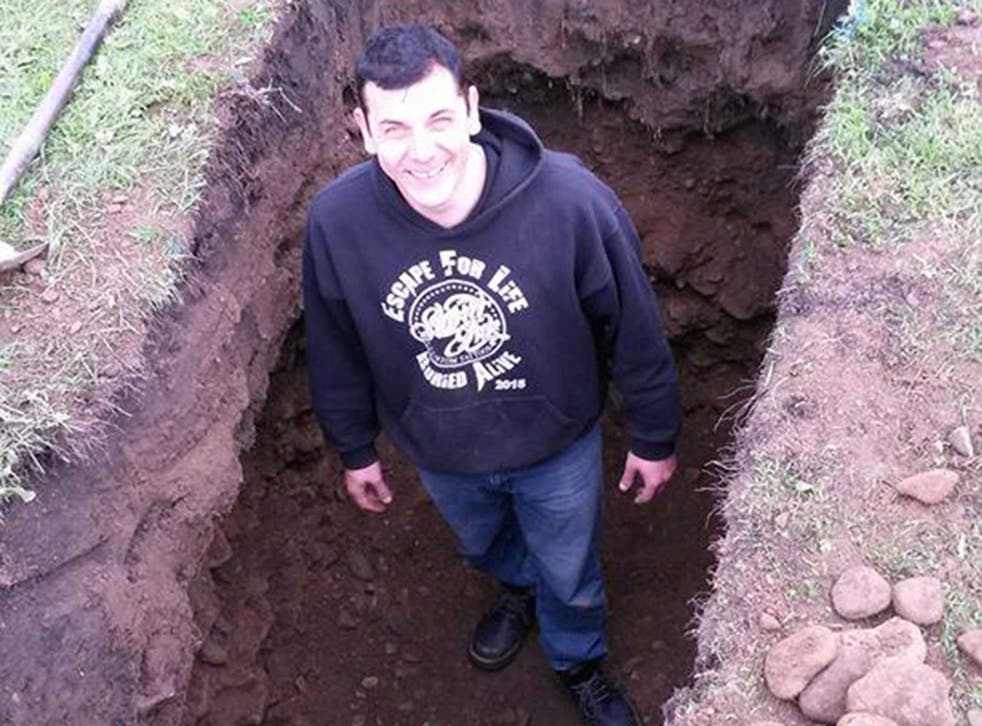 An escape artist failed to successfully emulate one of Harry Houdini's most famous stunts after paramedics had to intervene when he was buried alive.
Emergency crews were forced into action nine minutes into Antony Britton's attempt to escape from a six by four grave unaided.
The escapologist, who cracked a rib during the stunt, admitted on Tuesday he had been "just seconds from death."
Mr Britton had hoped to raise money for Bloodwise, a leukemia charity, at the Escape for Life event on Saturday. Copying Mr Houdini's failed 1915 attempt, the escape artist from Linthwaite, Yorkshire, was buried under six feet of soil, without a coffin and minus any masks, pipes or oxygen tanks.
"I almost died," Mr Britton told The Daily Telegraph. "It was scary. The pressure of the soil was crushing around me."
Despite finding an air pocket, Mr Britton told the newspaper the weight of the soil around him was "crushing".
"I could feel myself losing consciousness and there was nothing I could do. I was pretty much dying."
He credits his survival to his "well-drilled" emergency team who swung into action after Mr Britton failed to appear, frantically digging away the soil to uncover the escape artist just two feet from the surface.
Aghast onlookers watched as Mr Britton – who is only the third person to attempt the stunt in 100 years – was taken to waiting paramedics and given oxygen. He later admitted he won't be trying the stunt again in a hurry. But, he told reporters, he was "in the best company possible".
Mr Houdini's attempt in 1915 also ended in partial failure. Although the master escapist's hand reportedly broke the soil's surface, he panicked and lost consciousness on the way to the surface and had to be rescued by assistants after he lost consciousness.
The only other attempt in 1949 also ended in failure: 22-year-old Alan Alan passed out underground and had to be rescued by assistants.
Join our new commenting forum
Join thought-provoking conversations, follow other Independent readers and see their replies