Fathers 4 Justice launches campaign to get JK Rowling to abandon charity she presides over after claiming it's "anti-father"
The author has supported the single parent charity Gingerbread since 2000
Natasha Culzac
Monday 16 June 2014 09:46 Comments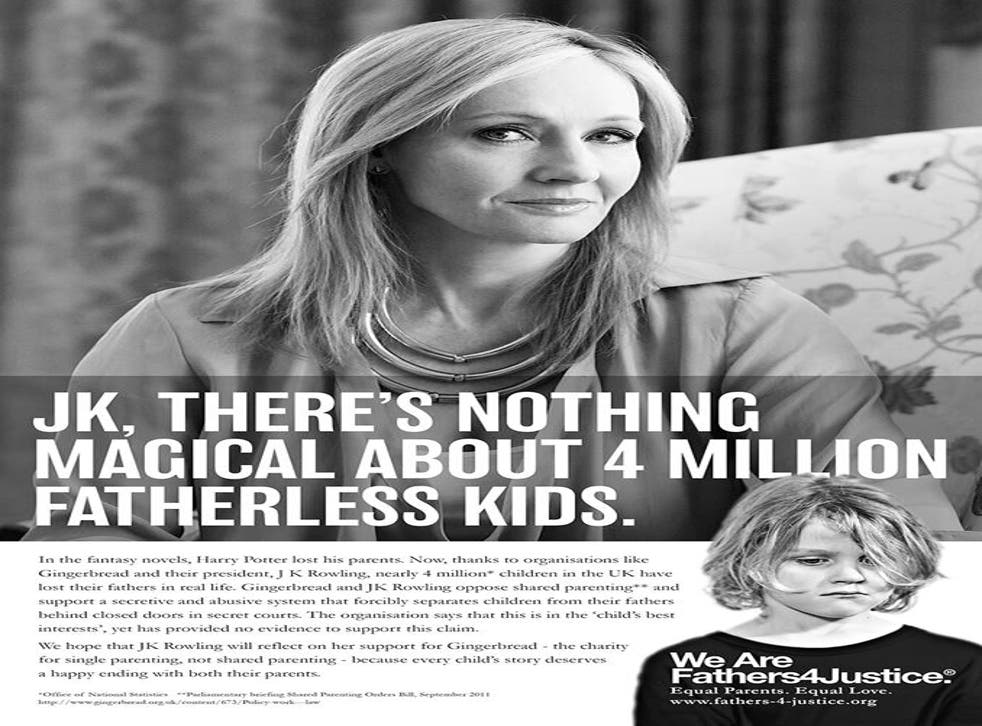 Fathers 4 Justice has called on JK Rowling to renege on her presidency of single parent charity Gingerbread, claiming that it supports the separation of four million children from their fathers.
With the campaign launched on the eve of Father's Day, the activist group made a plea to the Harry Potter author on its Facebook page stating: "In the fantasy novels, Harry Potter lost his parents. Now, thanks to organisations like Gingerbread and their president, JK Rowling, nearly four million children in the UK have lost their fathers in real life."
It comes as two members of the group scale Exeter Cathedral in protest at the family courts, which it says are "evil."
JK Rowling has backed Gingerbread since 2000, a campaigning charity that says it provides advice and support for single parent families, as well as lobbying the government for law reform. She became president in 2007.
Gingerbread counts actress Arabella Weir, author Martina Cole and former basketball player John Amaechi OBE among its ambassadors, as well as a number of donors including Barclaycard and Marks and Spencer.
The Fathers 4 Justice campaign poster continued: "Gingerbread and JK Rowling oppose shared parenting and support a secretive and abusive system that forcibly separates children from their fathers behind closed doors in secret courts.
"The organisation says that this is in the 'child's best interests', yet has provided no evidence to support this claim."
Fathers 4 Justice has taken aim at Gingerbread's response to a government bill that looked at shared parenting orders, which would have required, by law, the full involvement of both parents in a child's upbringing.
Gingerbread, in a 2011 statement available on its website, said the bill, if passed, would "undermine the welfare paramount principle enshrined in the Children Act (1989)."
It said the proposed orders would be "the wrong intervention at the wrong time for these families," and a "redundant tool" in the encouragement of shared parental responsibilities following a separation.
The Fathers 4 Justice appeal ended: "We hope that JK Rowling will reflect on her support for Gingerbread - the charity for single parenting, not shared parenting - because every child's story deserves a happy ending with both their parents."
The fathers' rights group has also called for its followers to contact the writer and the charity, after what it claims has been a wall of silence since they began trying to make contact on 2 April.
JK Rowling's management has declined to comment to The Independent. Gingerbread has been contacted.
It says there is "nothing magical about four million fatherless kids," and has called on Ms Rowling to abandon her support for the "anti-father, anti-shared parenting organisation Gingerbread and her position as their President."
A quote on the Gingerbread website, attributed to JK Rowling, says: "It is gratifying to be a part of a charity which works so hard to support single parents at ground level, while giving them a voice in the national arena."
It comes as two members from a separate group called New Fathers 4 Justice, Jolly Stanesby, 44, from Devon, and Archit Ssan, 53, from Croydon, today climbed on top of Exeter Cathedral and unveiled a banner reading: "Family Courts Do Evil."
Spokesman, Rich Adams, said: "We are campaigning for a change in the law so fathers are afforded the same rights as mothers and transparent family courts are more open to scrutiny and David Cameron and the judiciary must listen."
Devon and Cornwall Police have confirmed that they are attending the scene "to protect life and property, and facilitate a peaceful protest where it doesn't impinge on the civil liberties of others."
Fathers 4 Justice has also criticised a psychologist for claiming that young children, following their parents' separation, should not sleep with their fathers as it could "reduce brain development" and encourage "unhealthy attachment issues."
The group called Penelope Leach's advice "poison."
Register for free to continue reading
Registration is a free and easy way to support our truly independent journalism
By registering, you will also enjoy limited access to Premium articles, exclusive newsletters, commenting, and virtual events with our leading journalists
Already have an account? sign in
Join our new commenting forum
Join thought-provoking conversations, follow other Independent readers and see their replies