Fiona Woolf, lawyer who quit sex abuse inquiry, makes New Year Honours list amid fury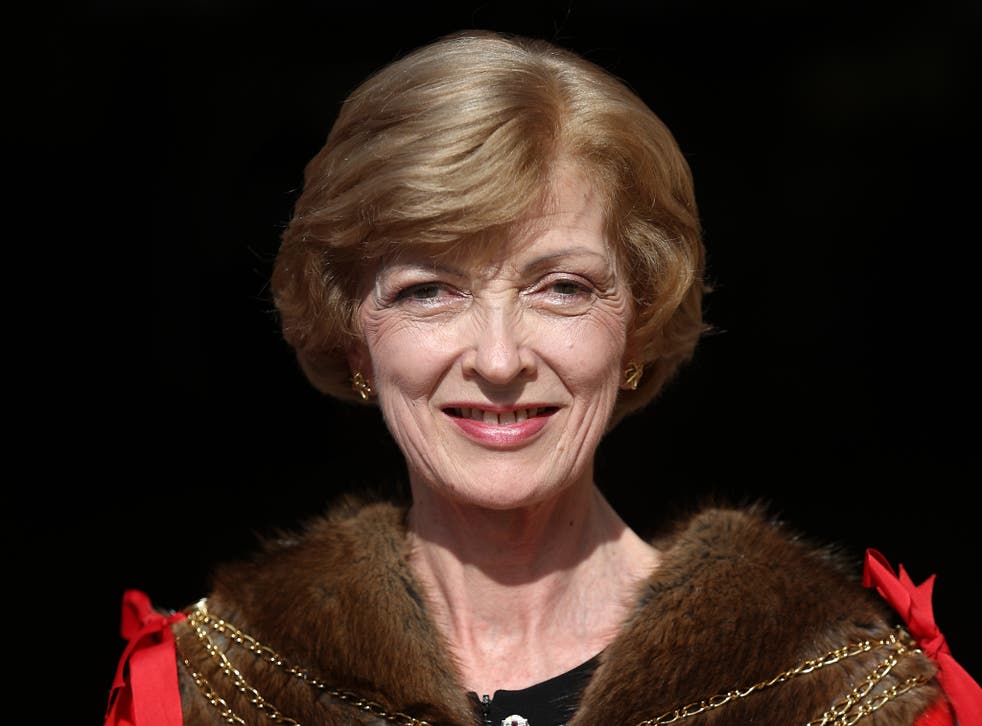 Sex-abuse campaigners reacted with dismay last night after Fiona Woolf was created a dame in the New Year Honours list despite the controversy that forced her to step down as head of the inquiry into historical abuse just two months ago.
The lawyer's honour provoked immediate controversy with MPs criticising its timing and claiming that it smacked of the Establishment closing ranks.
New Year Honours 2015

Show all 19
Ms Woolf became the second woman to step down as chair of the ill-fated inquiry panel after it emerged she had dined several times with Lord Brittan, who himself faces scrutiny over his role in the alleged cover-up of abuse within government.
Ms Woolf, who served as Lord Mayor of the City of London in 2013-14, was honoured for her services to the legal profession, diversity and the City. The outgoing head of the Civil Service, Sir Bob Kerslake, who unveiled the list, acknowledged the potential controversy, saying: "Obviously we were aware of the issues around the inquiry at the time we were considering the award."
But he added: "We felt the grounds were there in their own right for Fiona to receive an honour. Her honour reflects what she has achieved throughout her career."
However, its timing was criticised by an anti-abuse campaigner who had called for Ms Woolf to be removed from the inquiry.
Ian McFadyen, who was abused by a teacher, said she probably deserved her award for her work promoting British interests abroad and as Lord Mayor, but criticised the decision to give it to her in this year's list. "It's unacceptable and it's almost like them thumbing their noses at us, the survivors," he said.
Simon Danczuk, the Labour MP who led calls for an inquiry into allegations of abuse, said: "This will confirm for a good number of survivors that she is a member of the Establishment. She put herself forward as chair of this inquiry and then had to step away, so the timing couldn't be worse.
"It does beg the question – has she received this honour as part of some deal for her to go quietly from the inquiry after she caused the Home Secretary and the Government so much embarrassment?"
The timing was also condemned by the Labour MP John Mann, who has passed allegations of the sexual abuse of children by politicians in the 1980s. He said: "It will create a lot of anger among those who have been leading the charge on historic sex abuse.
"Once again it looks like the Establishment looking after itself instead of sorting out the issues of sex abuse."
Sir Bob stressed that two major honours had gone to people in recognition of their work connected to the protection of young people.
The television presenter and campaigner Esther Rantzen has been made a Dame in recognition of her work to help children and older people. She has established telephone helplines for young people in distress or danger as well as for older people suffering loneliness and isolation.
Kate Lampard, the barrister appointed by the Government to oversee investigations into Jimmy Savile's behaviour at hospitals where he worked as a volunteer, is created CBE.
Two awards to Network Rail executives also risk controversy following the severe delays over Christmas. David Ward, route managing director for the South-east of England, is created OBE, while Patrick Hallgate, route managing director for western England, is appointed MBE.
Register for free to continue reading
Registration is a free and easy way to support our truly independent journalism
By registering, you will also enjoy limited access to Premium articles, exclusive newsletters, commenting, and virtual events with our leading journalists
Already have an account? sign in
Register for free to continue reading
Registration is a free and easy way to support our truly independent journalism
By registering, you will also enjoy limited access to Premium articles, exclusive newsletters, commenting, and virtual events with our leading journalists
Already have an account? sign in
Join our new commenting forum
Join thought-provoking conversations, follow other Independent readers and see their replies