Britain's busiest food bank helps 50,000 people every year. And it's about to run out of money
'The overarching reason people come to us is they don't have sufficient money to buy food. Often that's because of changes to the welfare system'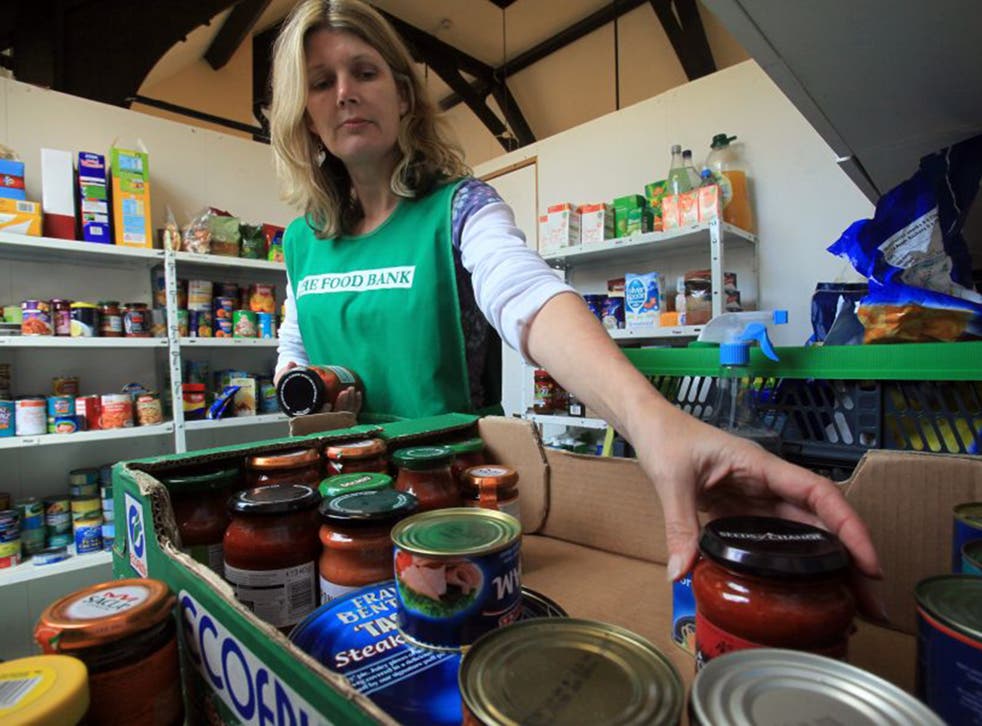 Britain's busiest food bank, which has provided 50,000 people with emergency food parcels over the past year, has warned it is on the brink of being forced to shut down amid a funding crisis.
Newcastle West End food bank believes they could run out of such packages in the next three months if they lose £75,000 in vital funding they rely on.
Until recently the charity received money from a local trust for a large share of its funding. But, after a couple of years, the local trust – which the food bank did not name – focused their resources elsewhere.
Between April and September last year, 10,026 children received three days' worth of emergency food from the centre.
Matthew King, operations manager at the centre, told The Independent that cuts to welfare by the current Government was to blame for the number of people needing help. "It is government cuts," he said. "Whether that's to the people who receive benefits but also cuts to local authorities that no longer have the money to be able to offer grants.
"It stems from the decisions made in Whitehall.
"The overarching reason people come to us is that they don't have sufficient money to purchase food. Often that is because of changes to the welfare system. We have people who walk three of four miles to actually come to our distribution centre."
And Mr King said he was worried about the future state of services with further cuts to come. He said: "The fact that Employment Support Allowance [ESA] is going to be cut. How many of us would be able to survive if we lost 30 per cent of our income?"
Around 300 to 400 local residents, and their families, rely on the Newcastle West End food bank every week for three days' emergency food. Asked about a potential closure of the food bank centre, Mr King said: "There would be a lot of people in need who would go hungry. It would be as stark as that."
In order to stay open, the Newcastle branch is trying to scramble together the funds. Staff have taken voluntary cuts in hours and in pay and the food bank will no longer be able to fund regular food collections from other parts of the country.
The Newcastle West End centre is an independent organisation within the Trussell Trust's 400 strong-network of food banks. Nationwide, in the last financial year, they provided 1,084,604 packages to people in crisis.
In more than 40 per cent of cases, the main reason for people needing food parcels is related to delays or changes to their benefits, says the charity.
In January the trust's chairman Chris Mould claimed that the Department for Work and Pensions (DWP) viewed Britons drive to food banks by poverty as "collateral damage".
A spokesperson for the Trussell Trust said: "Whilst the majority of foodbanks in The Trussell Trust network don't receive government funding and are still seeing strong support through public donations, some do get help from charities or local authorities who offer them grants or in-kind support, such as free warehouse space.
"Reductions in local authority funding, either to charities that work with the foodbank, or in some cases to the foodbank itself, could put pressure on some foodbanks and we will continue to monitor this. We always encourage foodbanks to talk to us when they're experiencing financial difficulty so we can work with them to help resolve the issue."
Join our new commenting forum
Join thought-provoking conversations, follow other Independent readers and see their replies