Former Britain First member denounces group as 'disgusting' as leader Paul Golding attacks construction of Birmingham mosque
Golding said his remarks, claiming the group would 'bury a pig' on the grounds, were 'helpful' and denounced former member as 'not one of us'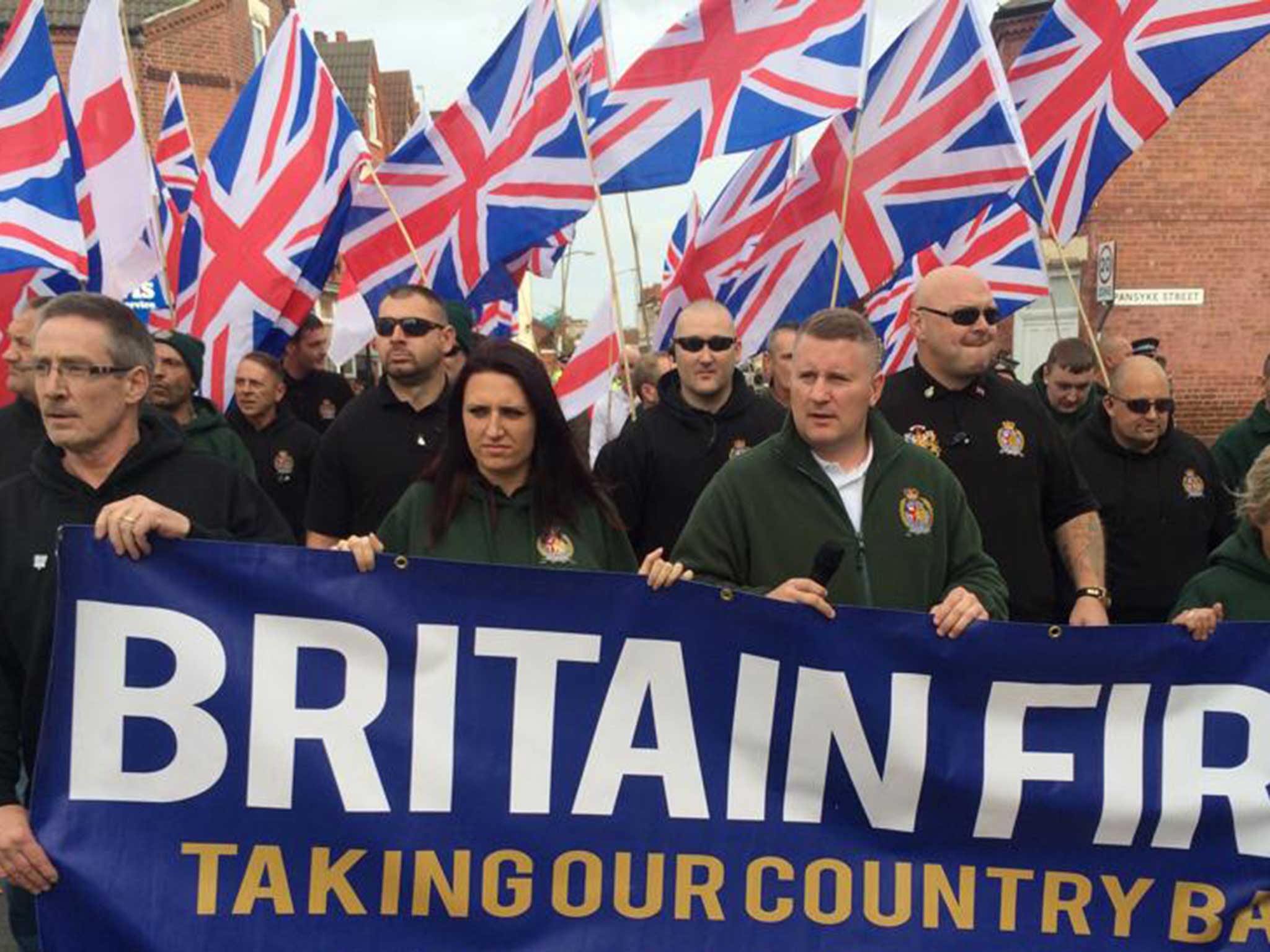 A former member of extreme right-wing group Britain First who had a change of heart and left has branded the organisation's latest actions "disgusting" - and visited two mosques to apologise.
Matthew Lester, 26, who joined Britain First six months ago, spoke out to The Independent and condemned Paul Golding's actions yesterday when he threatened to bury a pig in the ground designated for a mosque in Birmingham.
"It wasn't the sort of thing I joined to be a part of - I joined because I wanted to attack Islamic extremists and corrupt politicians - not so that I could go up somewhere like Bricklane and incite hatred."
Mr Lester, who is originally from Birmingham but moved to south-east London two years ago, said: "Their kind of behaviour, it's disgusting and aggressive and pointless."
Speaking about Mr Golding's attack on a planned mosque just outside Birmingham, the former member said: "He's outed himself as being just like that and it is only going to harm him in the long run," he claimed.
Speaking about the notorious mosque raids, of which Mr Lester said he had never joined, he noted: "They are making tensions even higher by doing what they are doing. It's not the right way to go about it."
Britain First's social media presence is growing, expanding their reach and highlighting their events. The right-wing group now has more than half a million likes on their Facebook campaign page – more than the British Prime Minister David Cameron.
The former member, who claims his doubts about the group were solidified when they started using the Poppy Appeal to campaign, visited a mosque in Crayford two days ago to apologise.
"They were very surprised to see me at first but then they were very welcoming when I told someone why I was there," he said. "I just had a chat with a few people and hung around, seeing what they do. "It was a very cosy and warm place - I was surprised how welcoming it was."
Since then, Mr Lester has also visited another mosque in Brentcross yesterday.
Mr Golding claimed to The Independent that Mr Lester had resigned once before - citing personal reasons - and added: "There is a feeling among us that he's not one of us. He's not a patriot and we're all pretty fed up with him."
In a video posted online Mr Golding, who is protesting the construction of a mosque in Dudley said: "We will find out where this mega mosque is and we will bury a pig right in the ground [there]. We'll do that: We'll bury the pig and that's the whole thing scrapped".
He defended his actions: "The locals don't want the mosque, but it is the Labour councillors who are forcing it thorough."
"It's not about racism," he said - claiming there were "black people" and "two Indian ladies" present who also were against the construction of the religious building - but "it is about the fact that we are not a democracy anymore."
"It is not about hatred," Mr Golding said, adding: "I think my comments are very helpful because we're standing up for what the local people want. They don't want the mosque."
Join our commenting forum
Join thought-provoking conversations, follow other Independent readers and see their replies