Asad Shah: Fundraising page for Muslim shopkeeper killed in 'religiously prejudiced' murder receives £22,000 in donations
Victim described as 'a warm and friendly man who always went out of his way to make time to talk to you'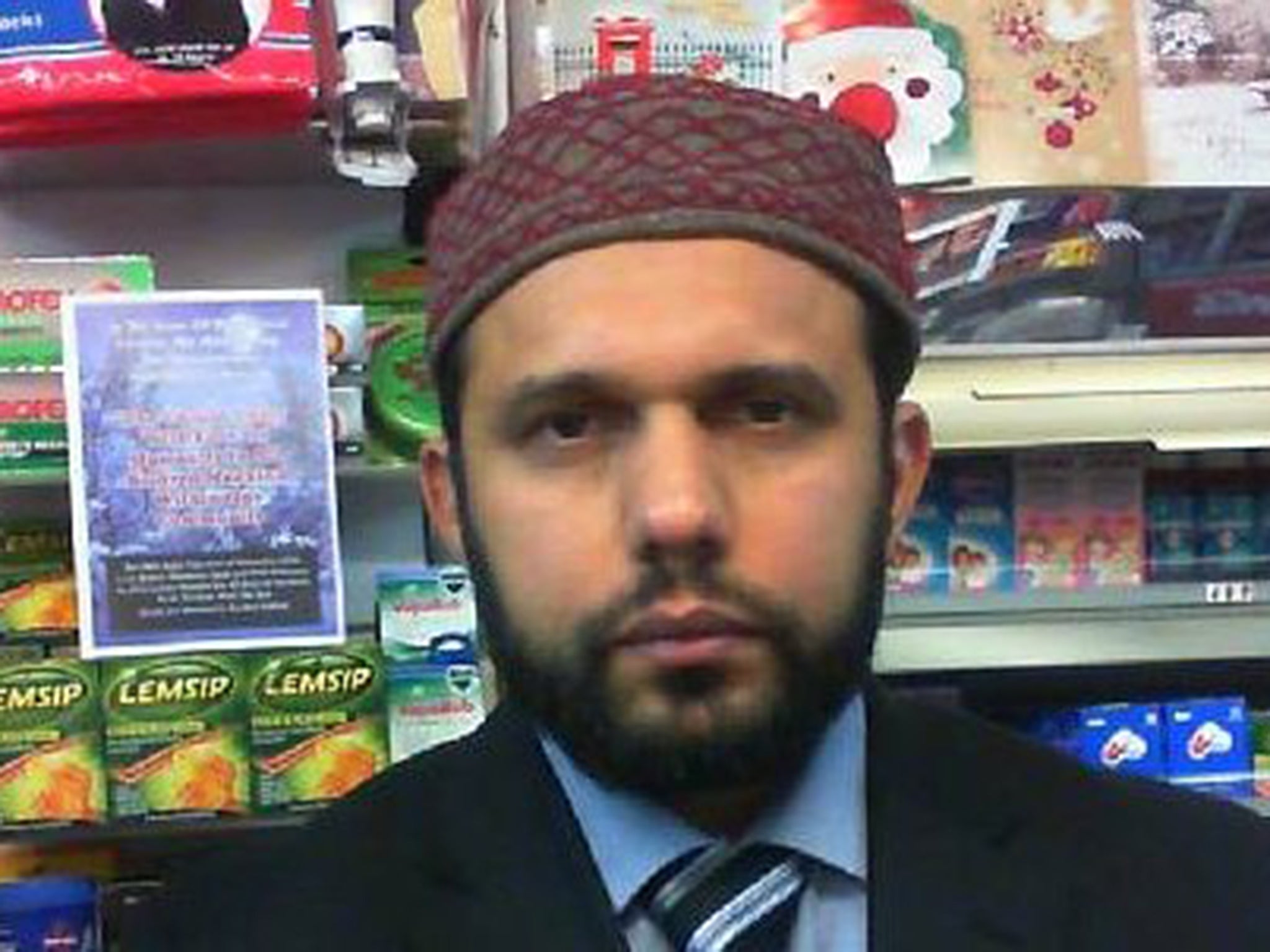 A fundraising page set up by the devastated customers of a much-loved Muslim shopkeeper who was killed in a "religiously prejudiced" attack has so far received more than £22,000 in donations to support his family.
Asad Shah, 40, was found seriously injured in the street outside his shop in Shawlands, Glasgow, just after 9pm on Thursday, and later died in hospital.
He is believed to have been stabbed and stamped to death.
Four of his regular customers said they decided to set up a 'Support for Mr Shah' fundraising page on the Go Fund Me website to contribute towards the cost of his funeral and to provide financial support to his family in the coming months.
The customers wrote on the page: "Mr Shah was a popular, well-respected and much-loved member of our community and his death has devastated many.
"He was a warm and friendly man and he always went out of his way to make time to talk to you – he was more than just our local shopkeeper. He was a friend to many.
"It quickly became clear to us in the aftermath of this tragedy that the people of Shawlands were looking for a way to show their support to Asad's family and we thought this would be a fitting way to do so."
Shopkeeper dies after being attacked outside his store
The page will remain open until the end of the Easter weekend for people to contribute.
Hundreds of people also gathered for a silent vigil to honour the devout Muslim on Friday evening, which was attended by Scotland's First Minister Nicola Sturgeon, whose constituency covers the area.
Eildon Dyer, 85, one of the organisers of the vigil, said: "Everybody has said he was the nicest man. He was clearly much-loved. Everybody had nice stories to tell about him. It's just very, very sad.
"We felt the potential for something like this could be to divide a community and really what we wanted to show was a community standing together, which is, in fact, what happened because there were people from all different backgrounds who were there."
People have been laying tributes to Mr Shah outside his family-run shop, Shah's Newsagent and Convenience Store.
Isabella Graham, 64, said Mr Shah had employed her daughter at the shop when she was younger and that she had cried when she called and told her of his death.
Placing flowers at the scene, Mrs Graham said: "He was an amazing, wonderful man, he couldn't do enough for you.
"He wouldn't hurt anybody. Nobody in Shawlands would have a bad word to say about him. I can't believe he's gone."
Police Scotland said they have arrested a 32-year-old Muslim man in connection with the attack, which they are treating as "religiously prejudiced".
In the hours before he died, Mr Shah posted on Facebook: "Good Friday and a very Happy Easter, especially to my beloved Christian nation… Let's follow the real footstep of beloved holy Jesus Christ (PBUH) [peace be upon him], and get the real success in both worlds xxxx."