Ministers 'ignored warnings on fire safety' before Grenfell Tower inferno
'They always seem to need a significant loss of life before things are changed,' a former chief fire officer says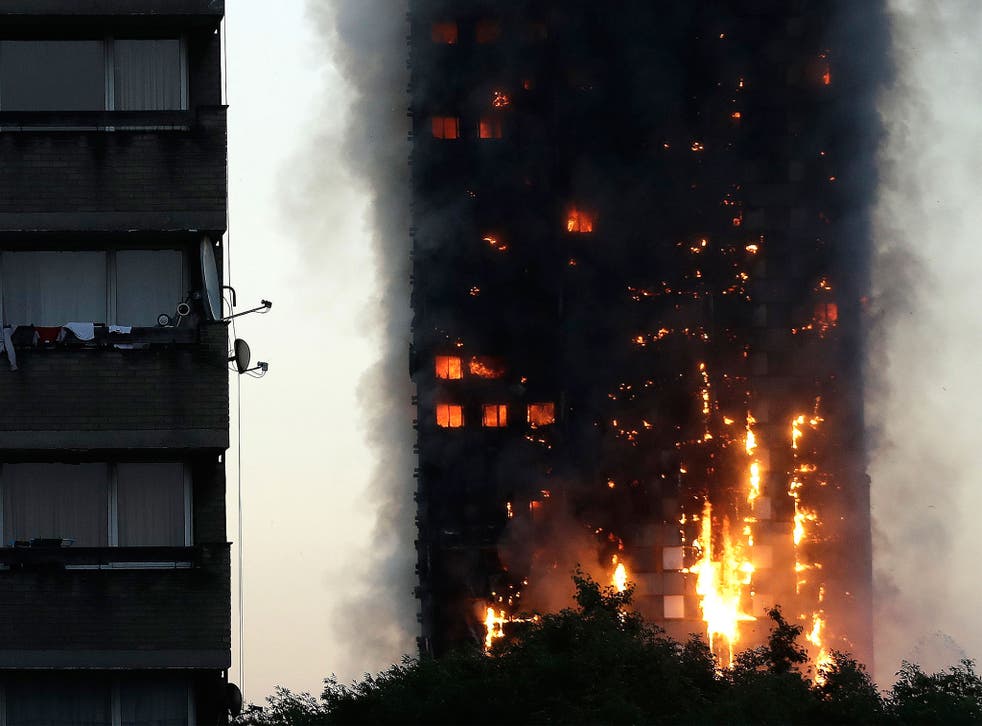 Government ministers failed to act on expert warnings and refused urgent requests for meetings about fire safety before the Grenfell Tower inferno, a former chief fire officer has said.
Ronnie King said politicians stonewalled action to tighten building regulations, adding: "They always seem to need a significant loss of life before things are changed."
The Government has yet to act on recommendations made by the All-Party Parliamentary Fire Safety and Rescue Group in 2013 in the wake of a deadly blaze at Lakanal House, Camberwell, four years earlier, he said.
Mr King, the group's secretary and chief fire officer at Mid and West Wales Fire and Rescue Service for 20 years, said former housing minister Gavin Barwell repeatedly turned down requests for meetings to discuss a reviewing housing rules.
Mr King told The Observer: "They seem to need a disaster to change regulations, rather than evidence and experience. It was the same with the King's Cross fire and the Bradford City football club fire. They always seem to need a significant loss of life before things are changed."
Earlier this week Mr Barwell, now Theresa May's Chief of Staff, refused to answer questions on his role in the delayed safety review.
He was one of a succession of ministers accused of failing to act on the all-party group's report, which Mr King said looked at fire suppression measures in tower blocks with designs similar to Grenfell and noted that there were around 4,000 buildings with no fire sprinklers fitted.
Former Housing Minister Gavin Barwell refuses to comment on Grenfell Tower fire
Mr King said he repeatedly pressed Mr Barwell on the review.
He added: "We have had replies, but the replies were to the effect that you have met my predecessor [previous Conservative housing minister James Wharton] and there were a number of matters that we are looking at and we are still looking at it."
Mr King said Mr Barwell was considering the proposals and had been preparing to meet the all-party group when Theresa May called the election, in which he lost his Croydon Central seat.
Last year, in answer to a parliamentary question from a Labour MP, Mr Barwell said: "We have not set out any formal plans to review the building regulations as a whole, but we have publicly committed ourselves to reviewing [fire safety regulations] following the Lakanal House fire."
But little progress had been made on the review before Wednesday morning's devastating blaze in north Kensington, which police said killed at least 58 people.
A sprinkler system would have "undoubtedly" saved lives at the Grenfell Tower blaze, the Fire Protection Association has said.
Mr King also said ministers had failed to make life-saving sprinkler systems mandatory in new schools, despite the clear recommendations of government-commissioned reports.
Join our new commenting forum
Join thought-provoking conversations, follow other Independent readers and see their replies