'18th century' Asian sword discovered on Welsh riverbed by local boatman
An investigation is underway to determine how it reached the river and how long it had been there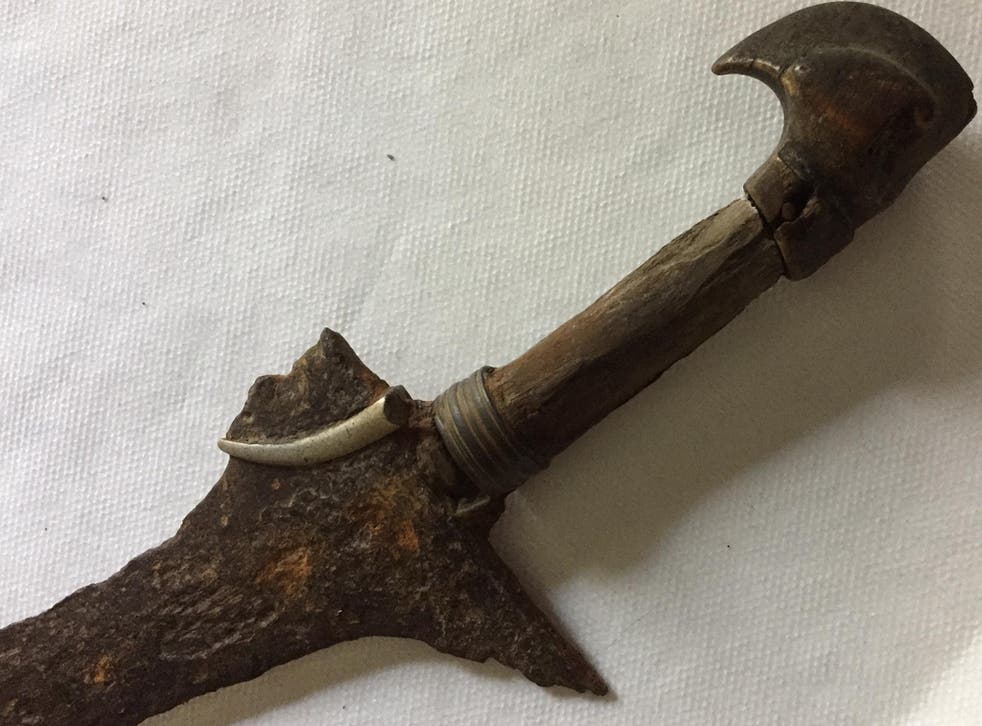 An 18th century sword from Malaysia has been found on a Welsh riverbed, sparking speculation as to how it got there.
Andrew Davies, a coracleman from Carmarthen made the unexpected catch while night fishing for salmon and trout on the River Towy.
He said he was shocked to find the Kris sword.
"I'd never seen anything like that in years of fishing, to be honest," he told The Independent. "It was in very good condition too. I took it straight up to the museum and they said it's a fascinating discovery."
The Carmarthenshire County Museum examined the sword and told Mr Davies it appeared to be of Malaysian origin.
An investigation is still underway to determine how it reached the river and how long it had been there.
The kris dagger has a distinctive wavy blade-patterning that can be used to identify it.
It is most strongly associated with Indonesian culture, but also indigenous to Malaysia, Thailand, Singapore and the Philippines.
Mr Davies, who is chairman of the Carmarthen Coracle and Netsman Association, said he was surprised to learn of the sword's origins.
"I originally had thought it might be a Roman sword," he said.
Curator at Carmarthenshire museum Gavin Evans said he has sent photos of the rusted blade to a museum in London, but has received any feedback yet.
He said the sword was well-preserved in the mud of the riverbed.
"The wooden handle has survived, which would normally be expected to rot away and there is bone or ivory, I'm not sure which, that would have expected to decay," he added.
UK news in pictures

Show all 50
As for how the Malaysian blade ended up in the Towy, the curator said there are many possibilities.
Carmarthen was once a well-known port, so it could have been dropped or fallen overboard at some point.
He also said there could be a more "sinister" explanation saying the sword could have been a weapon tossed into the river.
"To pull a sword out of the river, it makes you wonder, doesn't it," Mr Evans said.
He added: "It really puts Carmarthen's history as a port into perspective. We have so many more international connections than we might actually think of."
The sword is now back in Mr Davies possession, though the coracleman said he is not yet sure what he plans to do with it.
"It's a funny sort of thing really. I haven't really thought about what I'm going to do with it yet," he said. "It's not the sort of thing you stick on the wall in the house, is it?"
Join our new commenting forum
Join thought-provoking conversations, follow other Independent readers and see their replies