4/20 Hyde Park: Marijuana users descend on London park for annual smoke-in
Tokers and jokers gather for serious talk on drug laws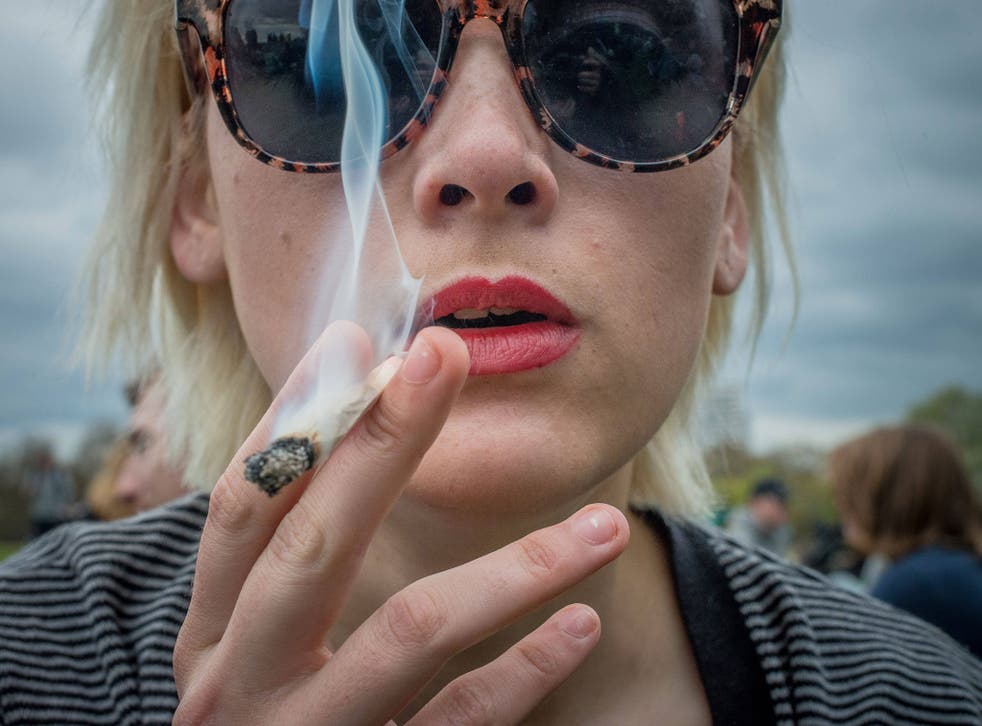 If it hadn't been for the poor weather – and the distinct odour – you could have been forgiven for thinking it was steam rising from the crowd. It was, in fact, a cloud of cannabis smoke that billowed up from the 1,000 people gathered at Hyde Park in London at 4.20pm.
The numbers 4/20 hold a special place in cannabis culture. They are, according to one apocryphal story, the US police code for a person found in possession of marijuana. In any case, stoners around the world mark 20 April – 4/20 in the US-form calendar – by getting together, getting high and calling for legislative change.
With hardline drugs policies from Portugal to Uruguay – as well as in some US states – giving way like the knees of someone who has smoked too much, this year's event came with the hope of real change. No one cared that it was, in a concession to those who had work on Monday, "4/19".
"Solidarity," was the answer given by one dreadlocked 18-year-old when asked why he was there. He was one of a group of four, who gave their names as Nick, Tim, Henry and Barry. And then laughed.
"I want cannabis to be legal and this is the best way we can all demonstrate that," said Nick, spliff in hand.
But the four were sceptical about whether change would come. "Not in the UK," Nick added. "Primarily because the media and newspapers like yours won't talk about cannabis in a positive way."
Where cannabis is and isn't legal

Show all 10
Throughout the day, talk of "vested interests" and "power structures" was as thick in the air as the smoke itself while, on the ground, an array of pipes, bongs and expert-level paraphernalia were on display.
Police stood at the edges, along with a handful of bemused tourists, and let the event roll on until just after 5pm. While these officers took a visibly relaxed approach, their colleagues at the Speakers' Corner entrance to the park carried out searches – mainly of sheepish, bleary-eyed teenagers. You couldn't help wondering what they had tell their mums.
Holding a sign calling for "Legal cannabis for all adults" and wearing a T-shirt emblazoned with a lion smoking a spliff, Phil Walsh, 55, from London, was also sceptical. He asked: "When you have politicians like Ken Clarke taking money from the tobacco industry, how is there going to be any change?"
Edouard Desforges, a 29-year-old Old Etonian and a parliamentary candidate for the Cannabis Is Safer Than Alcohol party, manned a table at the side of the fray offering leaflets for the pro-drug reform party that has put forward 32 candidates at the election. He said his attitude was informed by the chronic back pain he has suffered since having spinal surgery after a car crash.
"Mine is a message of hope," he said. "Sick people worldwide are healing themselves with a plant that has been used for over 5,000 years."
From 3,000BC to 4/20: those in Hyde Park today viewed weed's future in the UK with cautious optimism.
Join our new commenting forum
Join thought-provoking conversations, follow other Independent readers and see their replies