40% of electronic toys sold in Britain fail toxin safety tests, raising fears that internet shopping is allowing low-quality goods on to the market
Two thirds of the suspect items were supplied by small online retailers
Chris Green
Sunday 01 March 2015 01:00 Comments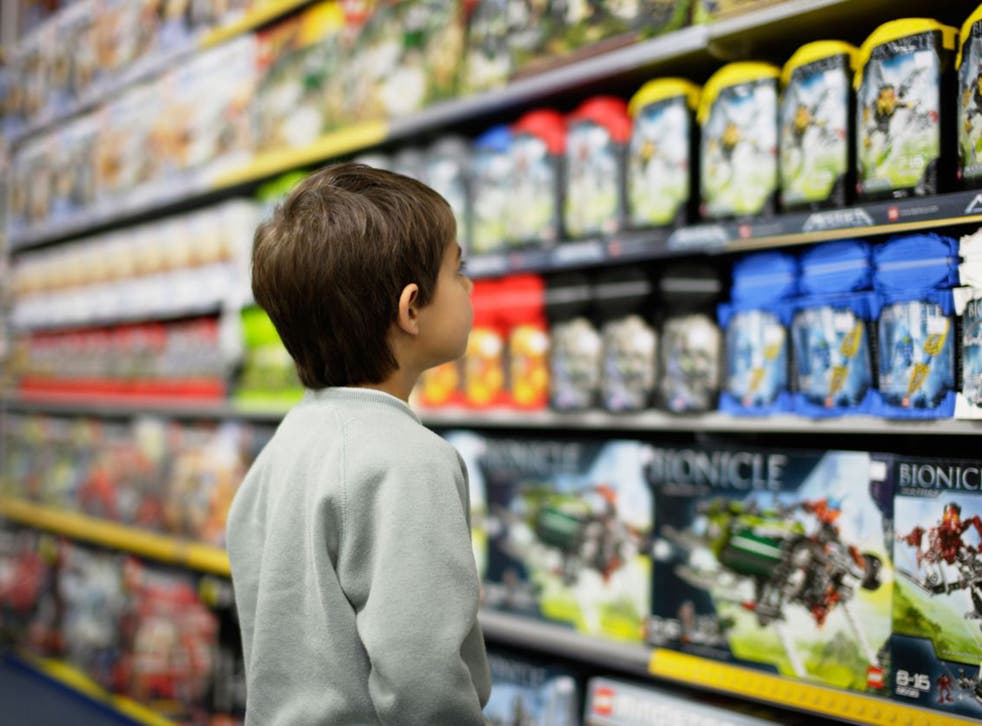 Forty per cent of children's electronic toys breach safety rules on the levels of hazardous substances they contain, research has found. Two thirds of the toys that failed government tests were supplied by small retailers selling their products over the internet, often through larger companies such as Amazon.
An investigation carried out by the National Measurement Office (NMO) – a government body responsible for ensuring electronic goods and batteries sold in the UK contain only minimal traces of hazardous materials such as lead, mercury and cadmium – resulted in 40 per cent of toys tested failing safety standards.
Researchers purchased 15 electronic toys costing £30 or more from various retailers. Educational, musical and outdoor toys were all tested, as well as those aimed at very young babies and toddlers. Six failed to comply with rules on chemical content, safety markings or batteries.
"As the 40 per cent failure rate indicates, the level of compliance… within the toy industry is highlighted as an area of concern," the report said. "Further market surveillance should be carried out in 2016/17."
The nation's favourite toys

Show all 20
Although none of the products or the retailers that sold them were named in the report, half of the toys that failed were described as "ride-on type". Future research should focus on similar products, the report's authors advised.
"Obviously these substances are restricted for a reason, and that reason is that they may cause harm to the environment and to health," said Huw Jones, of the NMO. "As the report points out, the landscape for these kind of products is rapidly changing in line with changes to technology. We've moved far beyond wooden toys and we're now into 'smart' devices."
He added that none of the toys which failed the tests were deemed unsafe enough to be withdrawn from sale, but the manufacturers had been informed to ensure the problems were "put right".
The report noted that an increasingly popular way for toy makers to sell their products was through bigger online retailers such as Amazon, which allow smaller firms to sell relatively large volumes very quickly.
"Four out of the six products identified as failures within this project were supplied to the market by SMEs [Small and Medium Enterprises] and small online retailers. This signalled an area of concern," the report said.
Mr Jones said the NMO was contacting small businesses to make sure they are aware of European safety rules. "We work very closely with all manufacturers, large or small, but we're very aware that SMEs [Small and Medium Enterprises] might not have the resources that larger ones will have," he said.
Gillian Guy, the chief executive of Citizens Advice, warned parents to be vigilant when buying products for their children over the internet. "As shoppers move from the store to online, so have scammers and dodgy products," she said.
"People are facing real challenges when it comes to online marketplaces because it is not always clear the type of firm you're buying from and its credentials. It could be an established company, a new firm or simply a private seller."
A spokesman for the Toy Retailers Association, whose members include Toys R Us, Early Learning Centre, Mothercare and Hamleys, said parents should buy toys made by "brands they know and from retailers they trust".
Toy ranges have been removed from the market in the past for containing potentially harmful levels of hazardous substances. In 2010, McDonald's recalled 12 million drinking glasses promoting the film Shrek Forever After in the US after their painted designs were found to contain the toxic metal cadmium.
Register for free to continue reading
Registration is a free and easy way to support our truly independent journalism
By registering, you will also enjoy limited access to Premium articles, exclusive newsletters, commenting, and virtual events with our leading journalists
Already have an account? sign in
Join our new commenting forum
Join thought-provoking conversations, follow other Independent readers and see their replies