7/7 bombings: Profiles of the four bombers who killed 52 people in the London attacks
The men responsible for the carnage all grew up in Britain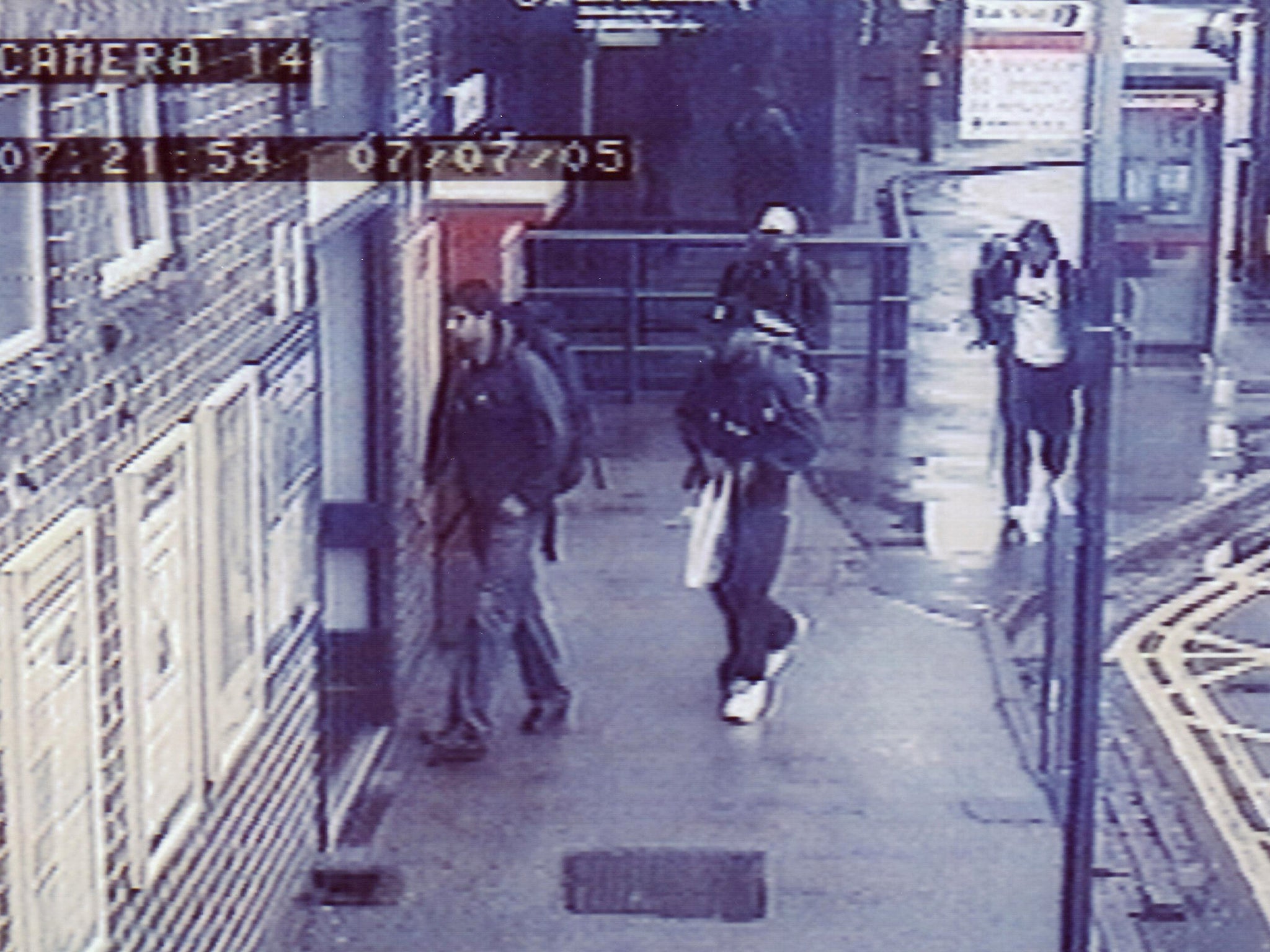 The four 7/7 bombers led extraordinary double lives as they finalised their plot to cause mass carnage on London's transport network.
Mohammad Sidique Khan, who killed six people at Edgware Road on the Circle Line
The ringleader, recruiting sergeant and main financier of the 7/7 plot grew up in the Beeston area of Leeds.
The 30-year-old appeared to be a pillar of the community, steering local youths away from crime and drugs by organising outdoor activities and helping to set up a gym in a mosque basement.
In 2001 he became a learning mentor at Hillside Primary School in Beeston, where he worked with disaffected and vulnerable pupils with behavioural problems.
He was highly respected by the teachers and young people who knew him, with some children from single-parent families regarding him as a "father figure".
The bomber's own path to extremism began with a flirtation with hardline Islamist group al-Muhajiroun, linked to hate preacher Abu Hamza, and continued with trips to jihadist training camps in Pakistan and Afghanistan.
He also had brushes with British police in 1986, when he was arrested aged just 11 for receiving stolen goods, and 1993, when he received a caution for an assault committed the previous Boxing Day.
The terrorist returned to Pakistan in November 2004 having made a home video in which he said goodbye to his baby daughter forever, seemingly because he was planning to die fighting.
But there was a change of plan and he returned home, apparently having been ordered by a senior jihadist to carry out an attack in Britain.
Before killing himself and six innocent people, Khan left a will in which he apologised to his wife for lying to her and said leaving his baby daughter behind was "the most difficult thing in my life".
Shehzad Tanweer, who killed seven people at Aldgate on the Circle Line
Tanweer was Khan's right-hand man in planning and executing the London bombings. Outwardly he seemed assimilated into British life, working in his father's fish and chip shop and regularly playing cricket.
However, he underwent a transformation after the 9/11 attacks on the United States.
Tanweer, 22, came from a relatively well-off family in Beeston and excelled both in his school work and on the sports field.
He lived near Khan and became friends with him in 1999 when he was about 17. By 2004 the pair were jointly involved in Islamist extremism.
They made long round trips to meet British terrorists plotting a fertiliser bomb attack and travelled to Pakistan together at the end of that year.
Tanweer too had a minor criminal record. He was arrested on suspicion of burglary but not charged in 1995 and received a caution for a public order offence in 2004.
In the weeks before the London attacks friends noticed orange streaks in his hair - apparently caused by the peroxide he was using to make the bombs - but otherwise there were no signs of what he was planning.
On the evening before he murdered seven fellow passengers on a Circle Line train, his family recalled that he played cricket and his only worry seemed to be that he had lost his mobile phone.
Germaine Lindsay, who killed 26 people between King's Cross and Russell Square on the Piccadilly line
Lindsay was a Jamaican-born Muslim convert who never made a secret of his extremist views. He was brought up by his mother in Huddersfield, West Yorkshire, where he alarmed his teachers by attempting to radicalise impressionable younger pupils.
Lindsay, 19, handed out leaflets in support of al-Qaida and Osama bin Laden and downloaded inflammatory material about the Taliban and the 9/11 attacks in the school library.
He told one teacher he wanted to fight in Afghanistan and even boasted of planning to join the British Army so he could kill his fellow soldiers.
Lindsay met his future wife, Samantha Lewthwaite, in an internet chat room before they got together face-to-face at a Stop The War march in London.
They married in October 2002, moved to Aylesbury, Buckinghamshire, in September 2003, and had a son in April 2004.
Lindsay was the only one of the bombers who did not have a criminal record. He carried out the deadliest of the attacks, killing 26 people on a Piccadilly Line train packed with commuters trying to get to work after earlier disruption on the line.
Lewthwaite later fled the UK, reportedly linking up with the al Qaida-linked Somali Islamic extremist group al-Shabab.
Dubbed the "white widow", she is now one of the world's most wanted women and has been linked in reports to various terror attacks, including a 2011 plot to bomb holiday resorts in Kenya.
Hasib Hussain, who killed 13 people on a number 30 bus in Tavistock Square
The youngest member of the terror cell at 18, he was an unexceptional teenager who had an ordinary upbringing in the Holbeck area of Leeds.
He raised concern among his teachers when shortly after the 9/11 attacks he passed two fellow pupils a note which said "You're next" in a reference to the terrorist atrocities in the US.
Hussain met Khan in around 2001 through a mosque in Beeston and became visibly more religious after carrying out the Hajj pilgrimage to Saudi Arabia with his family in early 2002.
He received a caution for shoplifting in October 2004 after trying to steal a hat and a pair of gloves.
In pictures: The 10th anniversary of the 7/7 London bombings
Show all 26
Press Association
Join our commenting forum
Join thought-provoking conversations, follow other Independent readers and see their replies