89-year-old posts job advert in local paper to stop him 'dying of boredom'
'You feel more individual and you're meeting people, making friends'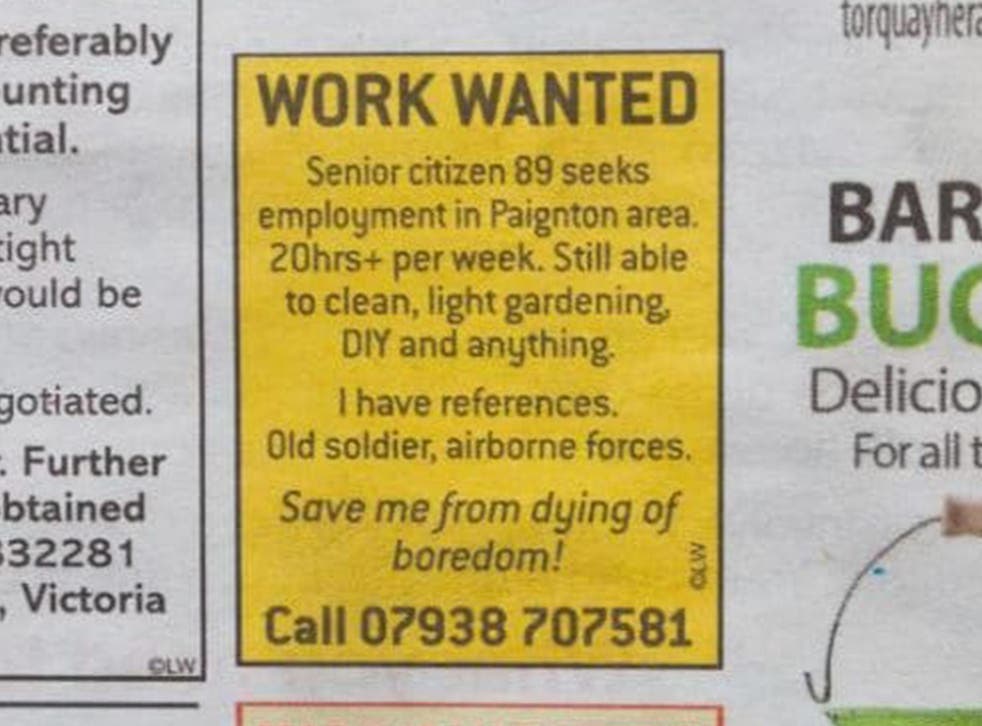 An 89-year-old man has placed an advert in a newspaper seeking a new job to stop him "dying of boredom".
Joe Bartley, an army veteran from Paignton in south Devon, received various offers after posting the advert in the Herald Express asking for work.
The advert read: "Senior citizen 89 seeks employment in Paignton area. 20hrs+ per week. Still able to clean, light gardening, DIY and anything. I have references. Old soldier, airborne forces. Save me from dying of boredom!"
Shortly after the post went viral, Mr Bartley received job offers from various bars and cafes, and a local branch of Tesco offered him seasonal work over the Christmas period.
The veteran served as a signalman and wireless operator in the 1940s, and later worked as a coach painter. He said he had never expected his advert would grant him "celebrity status".
"I would feel more like Joe [if I was working] - now I don't feel like Joe because I've got to depend on the Council for rent and everything else," Mr Bartley told ITV News.
UK news in pictures

Show all 50
"You see, when you're working for yourself you're more or less self contained. I don't know how to explain it any better really, you feel more individual and you're meeting people, making friends."
Mr Bartley said he enjoyed watching television but "there's a lot of guff on these days" and admitted he was "bored stiff with nothing to do".
The pensioner said he was flattered by the offers he had received so far and would be reviewing his options before making a decision.
Join our new commenting forum
Join thought-provoking conversations, follow other Independent readers and see their replies