A&E waiting times: Huge spike in patients forced to wait more than 12 hours
Rise branded 'catastrophic' after 1,597 patients waited more than 12 to be admitted between January and March this year, compared with just 15 patients in 2012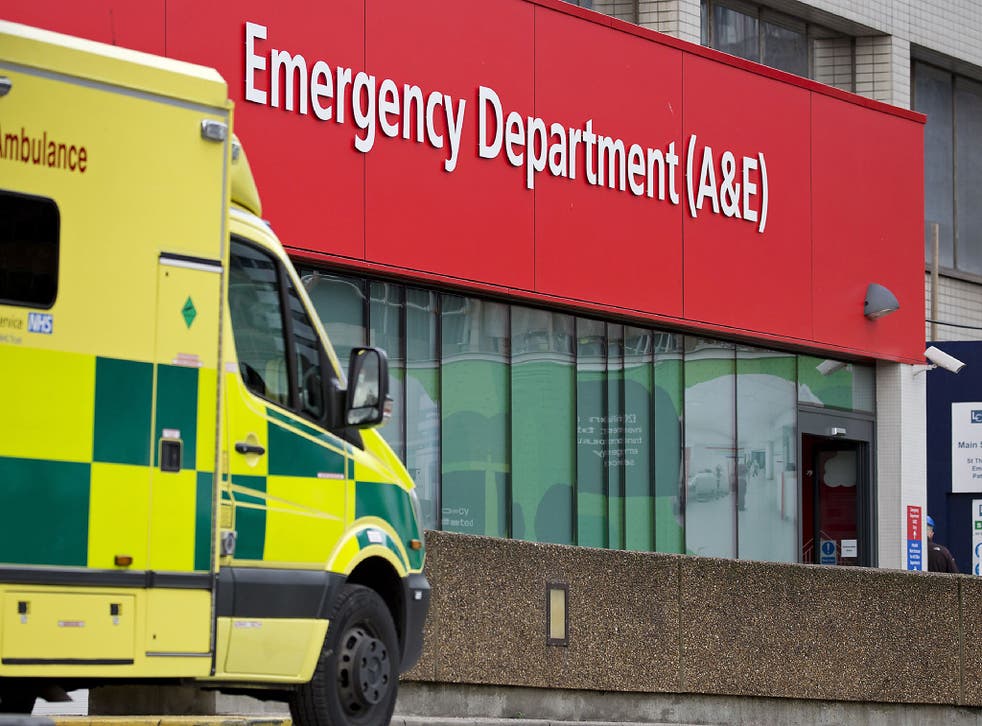 The number of patients who have been kept waiting in A&E for more than 12 hours in England has soared by 10,546 per cent in five years, figures show.
Quarterly performance figures from NHS England show that in January to March of this year, 1,597 patients waited for over 12 hours to be admitted, compared with just 15 patients in 2012.
The rise has been branded "catastrophic" by opposition politicians, who have urged the Government to take action and address the "chronic" under-funding of the NHS in the Autumn Budget.
Doctors have issued several warnings over the past year of worsening conditions in overstretched hospitals, saying they are at breaking point due to overwhelming demand and bed shortages.
The latest figures also show an increase in 12 hour waits in the spring months – a time when pressures traditionally start to ease.
From April to June 2012, just two patients were kept waiting for more than 12 hours, while in the same period in 2017, the figure was 311 – an increase of 15,450 per cent.
Responding to the figures, Liberal Democrat health spokesman Norman Lamb said: "This catastrophic rise in 12-hour waits at A&E is another sign the NHS is at breaking point.
"Patients risk facing even longer waits this winter unless the Government takes urgent action. The Chancellor must use the Autumn Budget to address the chronic under-funding of the NHS that is undermining patient care.
"It's time to accept we will all need to chip in a little more to stop the NHS and care going from crisis to crisis."
Waiting times have been creeping up in recent years, with figures released earlier this year showing January was the worst month on record for hospital A&E departments, with more patients than ever waiting for more than four hours to be seen.
Dr Taj Hassan, president of the Royal College of Emergency Medicine, warned that long waiting times were "unacceptable" and reflected how services had "consistently failed" to do enough to provide adequate care to vulnerable patients.
"The figures show just how bad waiting times have become for patients in the depths of winter. Patients should not have to endure such long waits, particularly in colder conditions when frail patients are more vulnerable," he said.
"This huge increase is unacceptable and shows that despite planning for winter every year, we have consistently failed to do enough."
Dr Hassan added that, amid concern the flu vaccine will not be as successful this year, the NHS is anticipating conditions to be "even more difficult" over winter without appropriate resources.
He said in order to improve conditions, an extra 5,000 beds would be needed to help reduce bed occupancy levels and enable patients to be admitted more swiftly.
"Over the last five years there has been a continued reduction in bed numbers yet an increase in patients needing to be admitted," he added.
"As a result, bed occupancy is now at 92 per cent – significantly higher than the safe level of 85 per cent – which is having a knock-on effect on waiting times.
Health news in pictures

Show all 40
"There can be little doubt that patients are suffering the consequences of this reduction. Along with more doctors, we desperately need more beds to stop the system from grinding to a halt."
Pauline Philip, the NHS's national director for Urgent and Emergency Care, said the delay was "regrettable", but claimed the number of people being affected was not considerable.
She said: "NHS staff work hard to see every patient as swiftly as they can and any delay is regrettable, but those waiting for 12 hours or more represent just 0.028 per cent of the 5,646,725 people who attended A&E departments in the first three months of the year."
Register for free to continue reading
Registration is a free and easy way to support our truly independent journalism
By registering, you will also enjoy limited access to Premium articles, exclusive newsletters, commenting, and virtual events with our leading journalists
Already have an account? sign in
Register for free to continue reading
Registration is a free and easy way to support our truly independent journalism
By registering, you will also enjoy limited access to Premium articles, exclusive newsletters, commenting, and virtual events with our leading journalists
Already have an account? sign in
Join our new commenting forum
Join thought-provoking conversations, follow other Independent readers and see their replies