Floods breach home-made defences of £1m 'island fortress' owned by Somerset's King Canute
Images have come to represent a particularly British type of defiance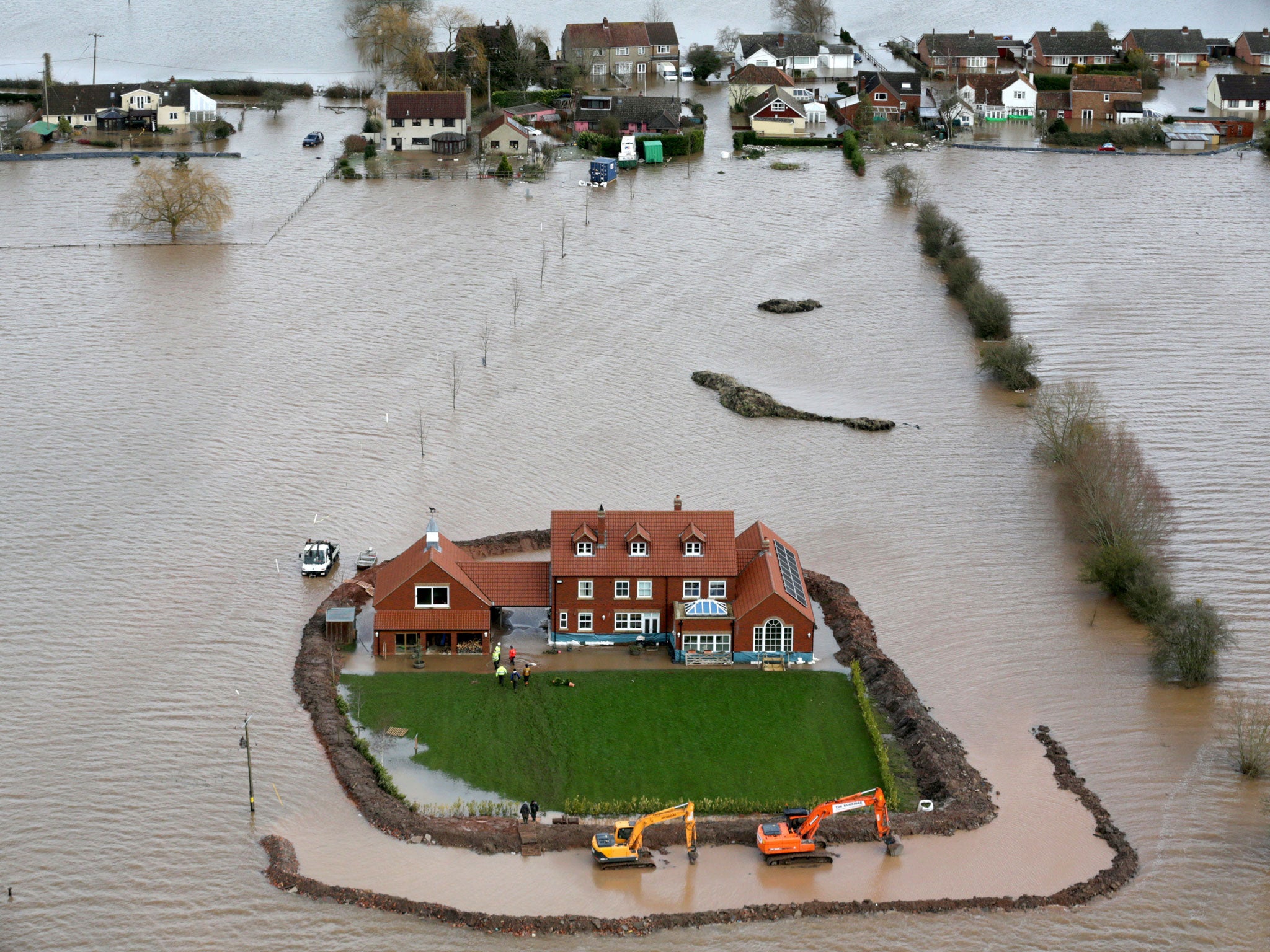 A house appears like an island amid acres of flooded land engulfed by a seemingly neverending flow of icy cold brown water.
It's a set of images that has come to represent a particularly British type of defiance when faced with the floods wreaking havoc across the country, deluging homes and destroying businesses and livelihoods.
The building in the images is Sam Notaro's house on the edge of the village of Moorland - which was evacuated amid rising flood waters on Friday.
And today, despite his best efforts, Mr Notaro's £1m new build home seemed set to succumb to the floods as so many other homes have.
A makeshift barricade constructed hastily from mud and clay appeared to be failing as overhead pictures showed water seeping beneath Mr Notaro's defences.
The house had until yesterday been protected by the wall which was constructed as the waters rose.
In pictures: Flooding in Somerset
Show all 45
Mr Notaro, who has been variously compared to King Canute and Noah, has so far remained in his home in Moorland despite emergency services urging him to leave.
He has spent £10,000 so far, erecting a 5ft-tall dyke to protect the house he built himself. Initially the plan appeared to be working turning his property into a tiny island amid the acres of dirty flood water.
The house is built on the highest point in Moorland, Somerset, where floods have never been recorded but despite this Mr Notaro originally wanted to build his property higher but was denied planning permission on aesthetic grounds.
The under-fire Environment Agency, whose handling of the floods has been widely and angrily criticised by many, reportedly slowed down Mr Notaro's attempts to bring in the soil and start building defences earlier.
"We wanted to start bringing the soil in on Tuesday," the 40-year-old builder said.
"But the agency said we had to apply for permission, and that would take six weeks."
After hurried negotiations the agency gave way and Mr Notaro, with his firm's diggers, began work three days ago.
Visiting Chesil Beach in the south-west today, Prime Minister David Cameron said he backed an apology issued by Eric Pickles on behalf of the government for 'mistakes' made over the floods.
He also, however, hailed the work of the Environment Agency staff who"do an amazing job and deserve our support and our thanks".
Last night he chaired a meeting of the Government's Cobra emergency committee. Appearing afterwards, the Prime Minister said he had "made clear again that every resource is available to the local communities affected".
---
Join our commenting forum
Join thought-provoking conversations, follow other Independent readers and see their replies