A lorra, lorra lashes - why Scouse girls are the picture of glamour
Harvey Nichols comes to Liverpool – but can it make its mark in Britain's best-groomed city?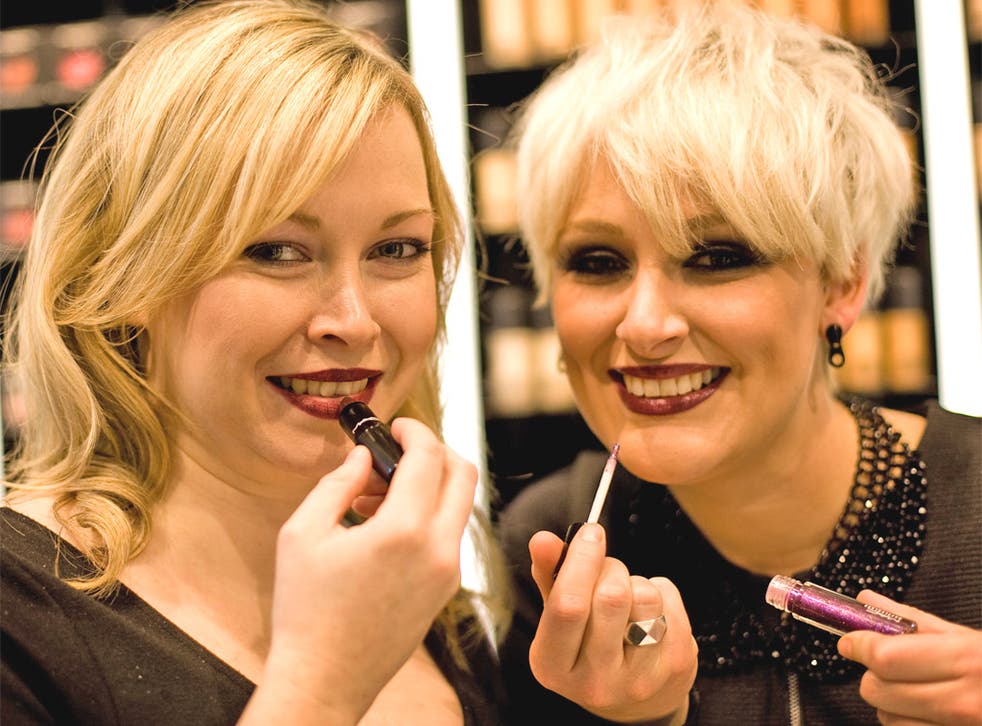 The crowd of shoppers that descended upon Harvey Nichols' new outpost in Liverpool was all of the same opinion: there's no such thing as gilding the lily. For Scouse stylists, hair can come big, heels are high, and skin comes in a perennial peaches-and-cream hue regardless of whether the sun has been shining or not.
In recent years, the city has become Britain's most glamorous, boasting the highest per capita spend on beauty and grooming in the country, more than three times the national average. Small wonder then, that it should be home to the luxury retailer's first standalone cosmetics store, housing make-up, fragrance, a hairdressing salon and champagne bar, even a spray-tan studio that looks like a 1970s nightclub.
"Women in Liverpool would starve all week and then spend a lot of money on beauty," claims Mouna Wade, store manager at the newly opened Beauty Bazaar, a highly attractive destination for cosmetics addicts. "The spray tan, the blow-dry, lashes – they're iconic when it comes to beauty. It's about planning all week for Saturday night."
At the weekends, young women out shopping in the city centre can be seen wearing pyjamas and rollers in their hair. There are more than 300 tanning salons within the city limits – six times more than the national average – and sun-deprived Scousers are 35 per cent more likely to buy tanning products than any other demographic.
"There's a real celebration of how women look in this city," says Anna-Marie Solowij, the former beauty director at Vogue and co-founder of the website Beautymart.
"It's that working-class Northern thing of wearing your wealth – it's more like a European look: a lorra, lorra lashes; everything is done; nothing is left to chance. I feel completely underdone compared with these girls," she says, glancing around at the floorful of swishing manes, strutting stilettos and gleaming teeth.
Despite the extreme regimes some Liverpudlian women put themselves through, the look is, at heart, classically beautiful, with an emphasis on lustrous locks and blooming skin. Once characterised as "the Wag look", it's simply that perfection, when practised so consciously, can err on the side of caricature: the "scousebrow", for example, a particularly heavy-handed technique made famous by the reality series Desperate Scousewives, or eyelashes that would put Bambi to shame. In the Blinkfairy lash extension area of Beauty Bazaar, one technician is astonished at the lengths (literally) that Liverpudlian women will go to. "You normally use 11 and 12s," Kathleen says, referring to the flutteriness of the silk lash inserts. "Here they all want 15. You never use 15s in London."
Kesene Goodwin, 30, a spa manager, is similarly fascinated. "I've lived in Manchester and Liverpool and here, without blusher, you're practically a man. You feel like you have to have a blow-dry, otherwise people will think you're ill. Without make-up, you feel like you've been dug up."
Daniela Rinaldi, the beauty director at Harvey Nichols, says: "The girls and boys of Liverpool have flown the banner for glamour for such a long time. We've already been inundated, and we only published the phone number last week."
Alongside the traditional beauty and fragrance counters, reimagined so the space feels like a super-chic souk of slap, Beauty Bazaar also has a non-surgical medispa, offering procedures such as "fat-freezing" and lymphatic drainage, as well as the Accent facelift, billed as a perfect "Friday night treatment".
To an extent Liverpool's beauty culture symbolises its rise to become the cultural and cosmopolitan capital of the North-west. Bordering wealthy Cheshire and home to the television series Hollyoaks, it hosts a branch of the Tate and draws top footballers. More than 3,000 millionaires live in and around Liverpool, and it has become customary among the city's young women to make a play for some of them. Which means perfect hair, of course.
"I'd never go out without my face on," laughs Jade Norton, 19, a model. "But it's fun doing all this. You go with your friends and you enjoy it. And it makes you feel better, and stronger."
You can't argue with the confidence-boosting power warpaint can bring. And you wouldn't want to argue with the painted ladies of the 'pool, either.
Register for free to continue reading
Registration is a free and easy way to support our truly independent journalism
By registering, you will also enjoy limited access to Premium articles, exclusive newsletters, commenting, and virtual events with our leading journalists
Already have an account? sign in
Register for free to continue reading
Registration is a free and easy way to support our truly independent journalism
By registering, you will also enjoy limited access to Premium articles, exclusive newsletters, commenting, and virtual events with our leading journalists
Already have an account? sign in
Join our new commenting forum
Join thought-provoking conversations, follow other Independent readers and see their replies