A nail in the coffin of old funeral ways
Traditional burials are becoming a thing of the past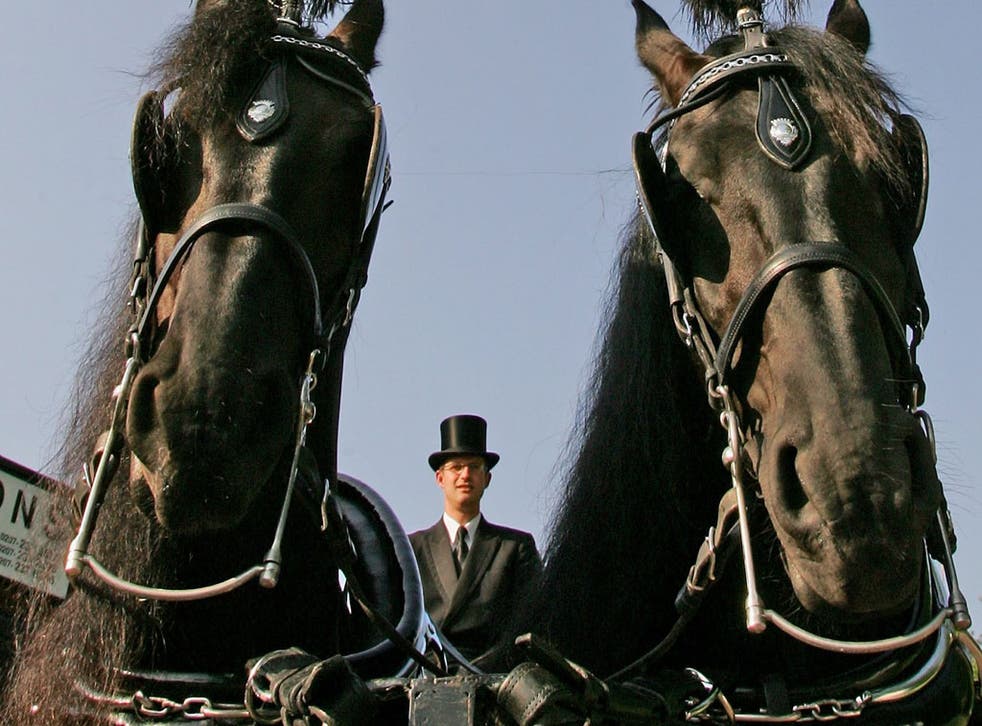 Nothing in life became him like the leaving of it, says Shakespeare in Macbeth. What he would make of the Thane of Cawdor leaving on the back of a flat-bed truck in a wardrobe-style coffin is anybody's guess. Yet the UK's obesity epidemic may soon see a generation of people departing this life in a less than traditional fashion. Super-size ovens at crematoriums, designer coffins, and lifting gear to lower caskets into graves are also part of the modern way of death in Britain.
The proliferation of ways to make the final journey is posing challenges to those responsible for organising funerals, a Local Government Association conference was warned last week. Sue Saville of the National Association of Funeral Directors said: "You cannot put very, very heavy people into a coffin. You end up burying somebody in a wardrobe. That is essentially what it looks like. It cannot fit into a hearse, or possibly even a van. Once you talk to people about flatbeds or JCBs, they hold their hands up in horror, but you cannot do these things any other way."
Natasha Bradshaw, deputy president of the Institute of Cemetery and Crematorium Management, said: "In some instances, a cremation cannot take place and they'd have to have a burial because there wouldn't be a cremator in the country that's wide enough. I was recently told of a case in the City of London where they had to have a chap craned into a grave."
At Mortlake crematorium in west London, three new ovens are being installed that will take caskets up to 42 inches wide – up from the 28in maximum of a standard machine.
While bodies are changing, so are the options for the deceased's nearest and dearest. As conventional church services decline, there has been a growth in everything from no- frills funerals to highly personalised civil ceremonies with hymns replaced by pop anthems. Designer coffins are taking over from the traditional wooden casket with brass handles.
"Half of today's funerals are a celebration of life, and one in 10 no longer includes religion," said George Tinning, managing director of Co-operative Funeralcare. "The modern era has seen the expansion of personalised funerals with modern influences and one in three funerals feature favourite pop songs or hobbies – something unheard of in the 1970s."
Cremation may have overtaken traditional burial – it now accounts for 73 per cent of all deaths – but there are new techniques for returning flesh and bones to dust and ashes. These include promession – "freeze-drying" the body which is then shattered to powder.
Experts warn that taboos surrounding discussion of death must be overcome if people are to take advantage of the modern ways of death. Rising costs also means that one in five of the population is struggling to cover the cost of their own funeral.
Transport
The choice of vehicles to transport the coffin can reflect the life of the deceased. Variations that have appeared recently include farmers being sent off in tractors, firefighters in fire engines, and bikers carried in motorbike hearses. And for the morbidly obese, a flatbed lorry may be the only way. However, the traditional hearse remains popular, as does the horse-drawn carriage.
Saying it with flowers
Modern funerals often have flowers arranged to reflect an aspect of the deceased. This can be anything from a pint of Guinness to a car. Floral tributes are personal, such as the "Jade Goody from Bermondsey" in 4ft pink carnations at the funeral of the Big Brother star. Although mourners are often asked to donate to charity rather than buy flowers, it is unlikely that they will ever go out of fashion.
Final send-offs
A number of new graveside rites have found favour, ranging from firework displays to live music. Others include the freeing of white doves, blowing bubbles, or releasing pink balloons, if the person has died from breast cancer. Aviation enthusiasts are buried as planes fly in tribute overhead, in a display traditionally reserved for the military. Almost anything goes, budget and regulations permitting.
Farewell ceremonies
While the majority of funerals are still conducted by a minister, significant numbers are non-religious. The emphasis is now on celebrating an individual's life, often expressed through music, words or coffin decoration. More than one in 10 funerals are humanist or civil ceremonies – led by a family or friend. And some people opt for "direct cremation", before which there is no ceremony.
Natural burial
Woodland burial grounds are the popular new option. There are more than 220 woodland burial grounds in Britain, according to the Natural Death Centre. They are in natural settings such as meadows or shaded areas which offer tranquil resting places. A natural burial often involves the planting of a living memorial, such as a tree and the placing of a simple plaque instead of a headstone.
Ashes to ashes
Traditional burial has been overtaken by cremation. But new ways of reducing the body to dust have been developed. Promession works by freezing the body to minus 18C, exposing it to liquid nitrogen and shattering it into an "organic powder". Another technique, resomation, reduces the corpse to a powder in a potassium hydroxide solution at high temperature.
Cost
The average funeral now costs £7,248, prices having risen by more than 60 per cent since 2004. This has left relatives struggling to pay for burial plots, grave-digging, caskets and headstones. London is the most expensive place to die, with some burial plots selling for more than £10,000. About half a million Britons will die this year, and many are buying pre-pay funeral plans.
Memorials
There are many ways in which people now keep memories alive. Memorial benches are commonly found in parks, or trees planted in memory of a loved one. And there are memorial websites offering virtual memorials. One recent survey found one in four asked would keep the ashes of a loved one at home or in the garden. One in seven said they would turn ashes into a lasting memorial, such as a sundial, birdbath or jewellery.
Dress code
Some funeral notices are known to stipulate bright clothing for mourners; this is particularly the case in funerals of younger people. In other cases, some families will also ask that funeral directors do not wear black, or request that they wear a coloured tie. And some of the deceased go to their grave dressed in anything from their football kit to motorbike leathers.
Coffin chic
From 7ft lions to a Rolls-Royce Phantom, there is no shortage of coffin designs. Nottingham-based firm Crazy Coffins made its name when it created a pearlescent coffin for the late TV presenter Paula Yates in 2000, and has since gone on to specialise in coffins that look nothing like traditional wooden caskets. Other shapes, colours and materials are being sought.
Register for free to continue reading
Registration is a free and easy way to support our truly independent journalism
By registering, you will also enjoy limited access to Premium articles, exclusive newsletters, commenting, and virtual events with our leading journalists
Already have an account? sign in
Register for free to continue reading
Registration is a free and easy way to support our truly independent journalism
By registering, you will also enjoy limited access to Premium articles, exclusive newsletters, commenting, and virtual events with our leading journalists
Already have an account? sign in
Join our new commenting forum
Join thought-provoking conversations, follow other Independent readers and see their replies