A very controversial cardinal
Keith O'Brien thinks gay marriage is like slavery, and has compared abortion to the Dunblane massacre. But could Scotland's top Catholic really have his eye on a move to the Vatican?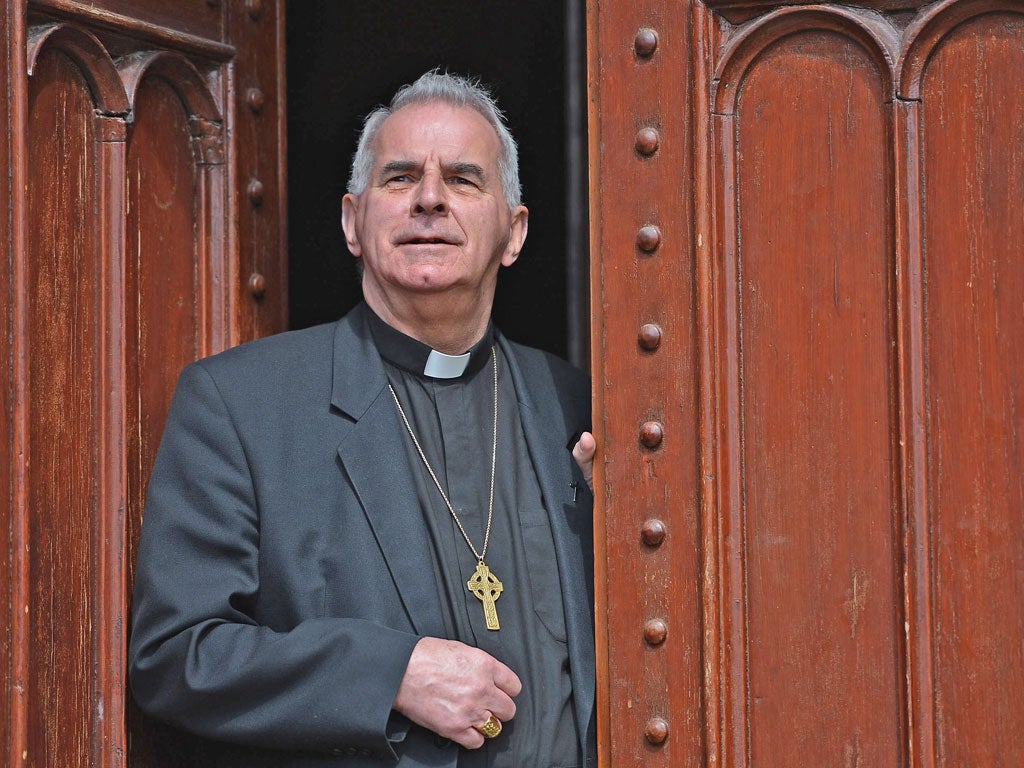 There are two starkly different ways of viewing the pronouncements of Cardinal Keith O'Brien over the past few years.
From the point of view of mainstream Britain, this is a man on the lunatic fringe of religious fanaticism. When he breaks off talks with the Scottish government over same-sex marriage, as he did on Sunday, compares the reform to the re-introduction of slavery, condemns it as "a grotesque subversion of a universally accepted human right", or brutally describes Scottish abortion rates as "equivalent to two Dunblane massacres a day", for many people he is completely out of order: a walking, talking demonstration of why we are grateful that religion has moved to the sidelines. This is the hectoring tone, the dogmatic certainty, the arrogant assertion of values we have long abandoned; a tone that deserves to be confined to the pulpits of dusty old churches, bothering the consciences of ever-shrinking congregations.
But viewed from Rome, from the heart of the Curia that rules the Church with an iron hand, the 74-year-old Irish-born Archbishop of St Andrews and Edinburgh is something else altogether: a prodigal son who has seen the error of his (relatively) youthful ways and returned to the path of righteousness; the most senior Catholic churchman in Britain, a man who is uncannily alert to the Vatican's concerns and finds earthy, vigorous language in which to promote its views.
The number of issues on which the Church today finds itself regularly challenged and thwarted and frustrated in the West is not infinite, they can be listed on the fingers of one hand: homosexuality – "objectively disordered" behaviour in the famous words of Cardinal Joseph Ratzinger, now Pope Benedict XVI; same-sex civil partnerships and marriage; abortion; and stem-cell research and other attempts by science to "meddle" with the mystery of life. Another abiding concern is the treatment of Christians in the Middle East and other countries where Islam is dominant. And it is on precisely these issues that, over and over again, Keith O'Brien has stood up to be counted.
Nothing extreme, nothing fanatical in Rome's terms: the Cardinal has simply given voice to Curial orthodoxy, albeit in pungent and provocative terms. The fact that his words are interpreted very differently in Britain, as the utterances, as Peter Tatchell put it, of "a sad, sick man", says a great deal about the vast mental expanse that now separates the Church and mainstream British society.
But what does it say about Keith O'Brien himself?
Nobody who knows him has any hesitation in telling you, first and foremost, what a charming individual he is. "He's very kind, very pastoral, a very good priest," says a London-based Catholic journalist, who recalls how, at the end of a meeting, he insisted on driving her editor to the station to catch her train.
According to John Haldane, Professor of philosophy at St Andrews University, his hardline image is sharply at odds with his character: "He is actually a very sociable, jovial man... he says everything with a smile, and should not be mistaken for some dour harbinger of doom."
There is no doubting the sincerity of his own religious commitment: twice rejected from the ministry because of a heart murmur, he defied those who rejected him. He has a BSc in maths and chemistry which may have been one of the things that put him on a wavelength with the late Pope John Paul II, who all his life held science in high regard. And the gregariousness and straightforwardness of his personality must also have rung a bell with the Polish pope, who had been an actor and a goalkeeper and a playwright and was never happier than when on a stage, addressing a crowd. For whatever reason, O'Brien rose rapidly through the church, peaking as Archbishop of St Andrews and Edinburgh, a job he has held for more than 25 years.
And that rapid ascent was curious. Because earlier in his career, he was quite as outspoken as he is today – but as a notorious liberal. At the Synod of Bishops, held in 1999, he insisted on raising the issue of priestly celibacy – the church's insistence that priests must be unmarried and remain unmarried for life, despite the absence of any doctrinal justification for the bar. Many on the right were furious: this was one of those issues on which the Church has never shown any desire to compromise. He was also way off message on contraception and homosexuality.
In 2003, despite his egregious lack of tact, he was created a cardinal – the occasion for a huge party in Rome of Scottish Catholics who turned up to cheer him on. And he seized the opportunity to repeat the outrage. Before leaving for Rome he had been obliged to make a humiliating "Profession of Faith" in his own cathedral, pledging that he "accepted and intended to defend church law and teaching on celibacy, contraception and homosexuality". Yet despite that, with the red cap fresh upon his pate, he reiterated his demand for freer discussion within the church.
The hardliners were appalled. A group called Catholic Truth called him "a source of scandal" and said the fact that he had been made a cardinal was "shocking beyond words". "One day into his role," wrote one commentator, "and Cardinal O'Brien is already hamstrung. His fellow men in red can use their status as a launch-pad, but Cardinal O'Brien has turned it into a trap door."
But there is a history in the Catholic Church of youthful liberals seeing the error of their ways. The present Pope was an ardent supporter of the liberal reforms of the Second Vatican Council until, like the classic liberal who has been mugged, he was terrorised by left-wing students at his university and had a Pauline conversion to extreme conservatism. Is that what has befallen Keith O'Brien?
Professor Haldane believes it was something of the sort. "He suddenly realised the focus that would be placed on absolutely everything he said, and the responsibility that came with his new position. He was now speaking for the Church, not just for himself."
A slightly less generous interpretation is also possible. O'Brien's elevation to the College of Cardinals was unexpected, and probably the result of his rapport with the late pope: on John Paul's death he said it was "like losing a father or a grandfather". With his patron gone less than two years after the promotion, how was he to turn the "trap-door" into a launch-pad – how was he, to put it crudely, to make himself "papabile" – to give himself a chance to become the next pontiff?
But raise the possibility of Keith O'Brien becoming the first Scottish pope in history and the assertion is likely to be dismissed with a guffaw. One Vatican-watcher said the idea was "mad".
That does not mean it has not taken up residence in the mind of the man himself. Before the last conclave, some bold bookies gave him 20-1 odds of becoming pope. After his strenuous efforts over the past few years to gain a reputation for unimpeachable orthodoxy, those odds can only have improved.
The Cardinal on...
Gay marriage "If marriage can be redefined so that it no longer means a man and a woman but two men or two women, why stop there? Why not allow three men or a woman and two men to constitute a marriage?"
Gay marriage and slavery "Imagine for a moment that the Government had decided to legalise slavery but assured us that 'no one will be forced to keep a slave'. Would such worthless assurances calm our fury?"
Gay marriage, adoption and paedophilia "What if a man likes little girls? Can he adopt a little girl and then just have a little girl at home? We are working towards the destruction of any sort of moral standards."
Abortion "We are killing – in our country – the equivalent of a classroom of kids every single day. Two Dunblane massacres a day in our country going on and on. And when's it going to stop?"
Join our commenting forum
Join thought-provoking conversations, follow other Independent readers and see their replies