Aberystwyth: Welcome to the most Europhile place in Britain
Adam Lusher basks in the warmth of the county dubbed 'Wales's California'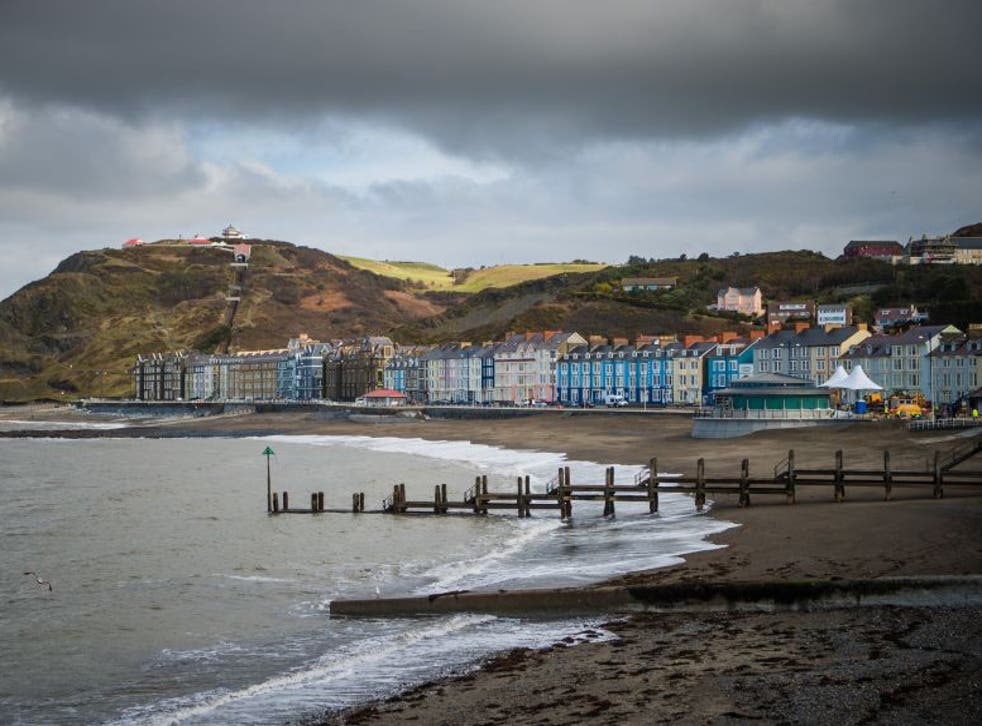 In Owain Glyndwr Square, Aberystwyth, a 'Britain Stronger in Europe' street stall is being prepared.
On 5 March, pro-EU activists will hand out leaflets and extol the virtues of an In vote at the forthcoming referendum.
"I think," says volunteer Tim Strang, 61, "that we'll get a favourable reaction."
Of course. This is the western edge of Wales, the county of Ceredigion, revealed this week as the most Europhile place in the UK. In a YouGov poll of 80,000 Britons, Ceredigion was found to be the most enthusiastically pro-EU of all 188 areas surveyed.
Even though, at first glance, it hardly looks it. A storm has whipped in from the sea, ripping off roof slates and hurling them on to the streets below: Aberystwyth feels more a far-flung outpost of the EU empire than its beating heart.
Locals love the name for the stone in the cliffs: Aberystwyth grits. They revel in the suggestions of toughness, of independence of mind.
To borrow the fond words of Mr Strang, who farms the hills above Bwlchllan, near Lampeter, this is "a quirky little county". They do things their own way here, as demonstrated at the last big referendum: the 1989 one, when they voted to let the pubs open on Sundays, thus offering a new range of weekend leisure opportunities to those not as fond of chapel attendance as they might have been.
Barring a brief dalliance with Labour between 1966 and 1974, the UK's two mainstream parties haven't had much luck here. Instead you find Plaid Cymru, Liberal Democrats, and a Radical Nonconformist tradition personified by local hero, Unitarian preacher and champion of the tenant farmer, William Thomas – Gwilym Marles to give him his Bardic name.
Evicted by the local Tory squire in 1876 from the chapel of Llwynrhydowen, in the "Black Spot", an area of indomitable resistance to Conservative politics and official-style Methodism alike, he provided a stirring example for his great-nephew, the poet Dylan Thomas. And so the visitor from Planet Westminster finds all the old familiar issues, but in discombobulating new packaging.
In the Wetherspoons round the corner from the square, they too worry about open borders and immigration – but not by Poles or Slovaks.
"It's the Brummies," says Paul Turner, 53, a gardener, from Borth, just up the coast from Aberystwyth. "Half the beachside houses in Borth are boarded up in winter, because they have become second homes for people from the English Midlands."
When it comes to refugee crises, Ceredigion has a long tradition of standing shoulder-to-shoulder with Brussels.
During the First World War, somehow, Ceredigion gained an influx of displaced Belgian Classical musicians.
On July 21 1915, in Aberystwyth's Coliseum variety theatre, the refugee musicians gave a fundraising concert. So great was the performance, so long did it linger in the memory, that last year, in the same venue – since converted to Ceredigion Museum – they held a centenary event to commemorate it, and the spirit it inspired.
"We've got a handful of Syrian refugees in Aberystwyth now," says museum curator Carrie Canham. "They have been very warmly received. We are proud to be open to that kind of cultural influx."
The London cynic might suggest it helps when the one pinprick of high density EU migrant labour is just across the border in Carmarthenshire, at the Dunbia slaughterhouse in Llanybydder.
But there is real pride when, from behind the bar at Wetherspoons, Charlie Miller, 27, says: "My little boy's best friend is Polish. I want him to think they should be allowed to come here."
The more you hear such liberal comments, the more you realise they are only half-joking when they call Ceredigion "the California of Wales".
"As well as tourism – which has benefited from EU investment – we've got a knowledge-based economy," says Owen Roberts, history lecturer turned communications chief for Elin Jones, the proudly pro-EU Plaid Cymru Welsh Assembly member for Ceredigion.
"We've got the university towns of Lampeter and Aberystwyth, with its Centre for European Studies. You get people going out with a Finn, then marrying a German, people who came to study and stayed. We're something of a cultural capital – some public interest, perhaps left-leaning organisations have their headquarters in Aberystwyth rather than Cardiff: the Welsh Books Council, and a major Welsh Government office employing 200 staff."
Out west, alliances aren't the same as they are in South-east England. Angry port-blockading, tyre-burning French farmers might be a nuisance in the Home Counties – here, they are brothers in arms.
"You hear people saying 'good on 'em," says Mr Strang, "That we've benefited from their stance.'"
For upland farmers like him, better to be in the EU fighting alongside their French confrères than at the mercy of a Tory Government that appears to be, "going back to the Seventies and Eighties and Agriculture ministers like Peter Walker – friends of big English landowners, not small Welsh farmers".
"Perhaps," muses Mr Strang, "Marginalised communities and regions feel forgotten by their domestic governments, and think they have a bigger voice in Europe, where they can coalesce with similar marginalised groups."
A stroll along Aberystwyth prom suggests he may have a point. This Welsh heartland may once have feared the prospect of "Wales to be killed by the Common Market" – as one slogan put it during the 1975 referendum campaign. Now the flagpoles north of the pier tell a different story. In summer, they carry the flags of Brittany, the Basque Country, Galicia … honouring smaller nations which, like Wales, might think themselves stronger together.
It's a potent Europhile brew. But as Mr Strang delights in observing, in Ceredigion "you get lots of mavericks down lots of lanes". And few get more maverick than the man seeking the antidote to all this Europhilia: former rattlesnake anti-venom maker Gethin James.
In 2008 he gave up his job as a chromatography operator with Protherics UK, the Ffostrasol, Ceredigion-based purveyor of rattlesnake antivenom, becoming a county council cabinet member. Elected as an independent, he became chairman of Ukip's Ceredigion branch, and thus got "sacked" from the cabinet. Now he is a man with a mission, and his very own big purple Brexit battle bus, parked for now at the other end of the county to Aberystwyth, by the banks of the River Teifi in Cardigan.
YouGov may have polled. Mr James, 50, may say he is the only Welsh county councillor to be a Ukip member, and admit that when he stood in Ceredigion at last year's general election he came fourth.
But he insists: "The battle is not over. Absolutely not. In the 2014 European elections, Ukip's share of the vote in Wales was only a few percentage points behind what they got in England. In Wales, we are as Eurosceptic as they come. With this bus, I'll take the message to communities all over Credigion…"
He's getting a trickle of curious visitors too. They may be grinning at the Aberystwyth street stall, but Mr James is grinning in his Brexit battle bus. Polls are polls. This is maverick county, Ceredigion. Anything could happen.
Love or hate Brussels: Extremes of opinion
Most Europhile areas
1 Ceredigion: Aberaeron and Aberystwyth
2 Aberdeen
3 Stirling
4 Lambeth, south London
5 Camden, north London
6 West Dunbartonshire
7 Southwark, south London
8 Hackney, east London
9 Edinburgh
10 Brent, north-west London
Most Eurosceptic areas
1 Havering, east London
2 Peterborough, Cambridgeshire
3 Bracknell Forest, Berkshire
4 Blackpool, Lancashire
5 Blackburn with Darwen, Lancashire
6 Southend-on-Sea, Essex
7 Warrington, Cheshire
8 South Tyneside, Tyne and Wear
9 Sandwell, West Midlands
10 Cumbria
Register for free to continue reading
Registration is a free and easy way to support our truly independent journalism
By registering, you will also enjoy limited access to Premium articles, exclusive newsletters, commenting, and virtual events with our leading journalists
Already have an account? sign in
Register for free to continue reading
Registration is a free and easy way to support our truly independent journalism
By registering, you will also enjoy limited access to Premium articles, exclusive newsletters, commenting, and virtual events with our leading journalists
Already have an account? sign in
Join our new commenting forum
Join thought-provoking conversations, follow other Independent readers and see their replies