Abortion should be decriminalised in the UK, says British Medical Association
Move's proponents argued decision is a medical one, not criminal - but opponents said decriminalisation may put vulnerable women at risk
Ella Pickover
Tuesday 27 June 2017 11:49 Comments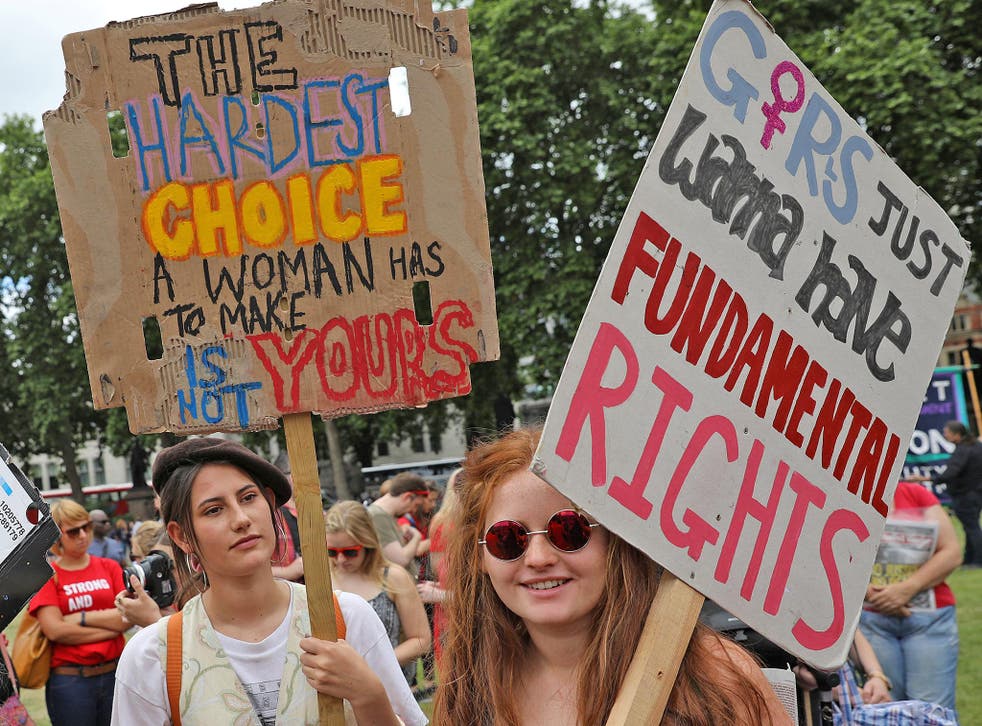 Abortion should be decriminalised, medics at the British Medical Association (BMA) have said.
Delegates at the BMA's annual meeting in Bournemouth voted in favour of a motion calling for a change in the law.
This means the BMA will adopt this stance as formal policy and lobby ministers for a change in legislation.
At present the law permits abortion up to 24 weeks of pregnancy. But if there is a substantial risk to the woman's life or foetal abnormalities, there is no time limit.
Two doctors must ensure that the requirements of the Abortion Act are met before an abortion can take place.
The topic received heated debate among the 500 medics at the meeting.
Some medics said that abortion is a medical decision and not a criminal one. They said a change in policy supports the rights of women.
But others raised concerns about decriminalisation putting vulnerable women at risk, sex-selective abortion and professional regulation.
Dr John Chisholm, chairman of the BMA's medical ethic s committee, said that the motion was not about time limits, saying that the BMA supports current time limits on abortion.
Dr Coral Jones, who presented the motion, said: "We must respect women and have trust in women to make decisions for themselves and their families."
The BMA said criminal sanctions for abortion should be abandoned but it should be regulated in the same way as other health procedures.
One delegate, Sarah Johnson, questioned whether it would be regulated in the same way as hip replacement or lip fillers – a cosmetic procedure not subject to stringent medical regulation.
The BMA said limits could still be set, but subject to professional and regulatory sanctions.
Other criminal laws which apply to other aspects of care would continue to apply to abortion - for instance supplying abortion drugs without a prescription would be a criminal offence under the UK-wide Human Medicines Regulation 2012.
Dr Chisholm added: "Abortion is currently a crime, with exceptions, throughout the UK. Following the debate the majority of doctors were clear that abortion should be treated as a medical issue rather than a criminal one.
"What must be clear is that decriminalisation does not mean deregulation. The debate today and the BMA's new policy only relate to whether abortion should or should not be a criminal offence; the policy does not address the broader issue of when and how abortion should be available.¸
Speaking after the debate, Dr Clare Gerada, former chairwoman of the Royal College of GPs who is also a trustee of the British Pregnancy Advisory Service (bpas), said: "Abortion is never an easy thing to do for any woman or for any man. But for abortion to be governed by criminal law rather than governed by healthcare regulation is nonsense.
"I think this is as powerful and as important as the 1967 Abortion Act. This will start now putting abortion where it really should be, which is regulated by healthcare and then improving women's access to it, improving contraception and removing sanctions for women who might or might not buy their medicines online.
"BMA doesn't make law but the BMA is a very powerful voice for doctors and it's a very powerful voice for people of this country.
"And to be able to say that the BMA fully supports the decriminalisation of abortion I think is a very, very, very powerful voice to have.
"For the BMA to be coming out absolutely overwhelmingly for the decriminalisation of abortion, I think now politicians will have to stand up and listen and actually take action."
She said she suspects that following the vote there would be a Private Member's Bill put to the House of Commons.
In March, a Bill was introduced at the Commons calling for abortion to be decriminalised up to 24 weeks.
Former shadow health minister Diana Johnson introduced the Reproductive Health (Access to Terminations) Bill in a bid to get rid of "Victorian" abortion laws which contain criminal sanctions for both women and doctors if they do not meet certain requirements.
The Bill, which called to remove criminal sanctions in England and Wales and place regulation with professional bodies, received its first reading in March.
After gaining traction among MPs, it was scheduled for a second reading in May but Parliament was dissolved ahead of the General Election so the Bill fell.
Last year the Royal College of Midwives came out in favour of abortion being removed from criminal law.
Press Association
Register for free to continue reading
Registration is a free and easy way to support our truly independent journalism
By registering, you will also enjoy limited access to Premium articles, exclusive newsletters, commenting, and virtual events with our leading journalists
Already have an account? sign in
Join our new commenting forum
Join thought-provoking conversations, follow other Independent readers and see their replies