Woman jailed for taking abortion pills after legal cut-off in 'tragic' case
Campaigners and MPs 'appalled' at jail term for mother of three left 'racked with guilt'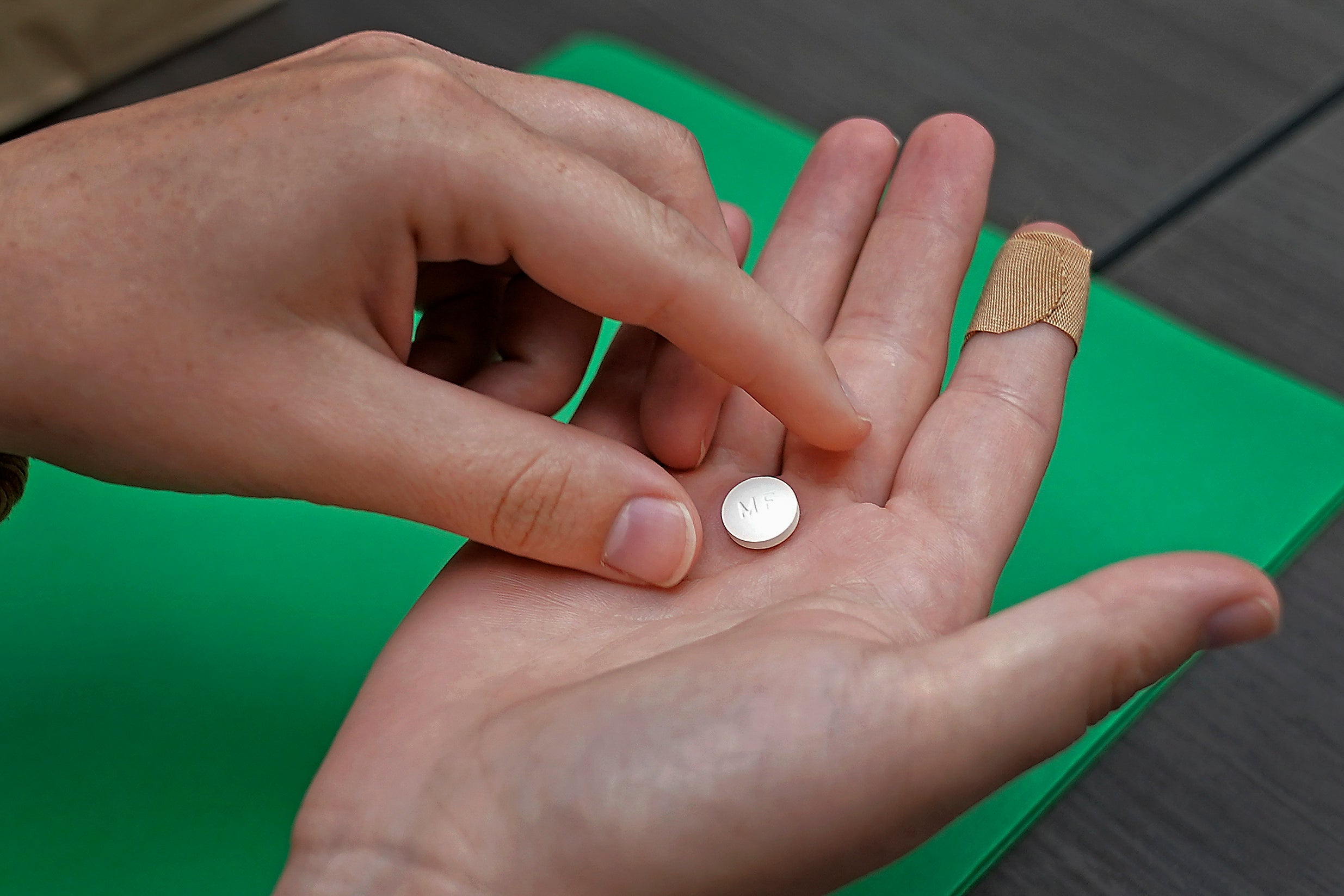 A woman has been sentenced to more than two years in jail for obtaining drugs to have an abortion after the legal cut-off in what has been described as a "tragic" case.
Carla Foster, 44, got hold of the abortion pills under the government's "pills by post" initiative that was rolled out in the wake of the Covid crisis – and is still in operation now – for unwanted pregnancies up to 10 weeks. Doctors concluded she was 32 to 34 weeks pregnant at the time.
The court heard Foster, who already had three children before she became pregnant again in 2019, had lied to the British Pregnancy Advisory Service (BPAS) during a telephone consultation about how far along her pregnancy was so she could obtain the pills.
Following the sentencing, abortion providers, campaigners and politicians fiercely criticised the decision to jail the mother as they called for abortion care in the UK to be immediately decriminalised.
Despite receiving a letter from healthcare professionals asking him not to imprison Foster, justice Edward Pepperall imposed a 28-month sentence.
Signatories to the letter included the president of the Royal College of Obstetricians and Gynaecologists and the chief executive of the Royal College of Midwives.
Justice Pepperall said Foster felt "very deep and genuine remorse", was "racked with guilt" and still had nightmares over her actions.
But he said his role as judge "is to apply the law as provided by parliament and clarified by the Court of Appeal", adding that it is "a matter for parliament and not for the courts".
Discussing the letter, he said: "If the medical profession considers that judges are wrong to imprison women who procure a late abortion outside the 24-week limit then it should lobby Parliament to change that law and not judges who are charged with the duty of applying the law."
The judge said it would have been better if the letter, which he described as "inappropriate", "had not been written at all".
Foster will carry out half her sentence in prison and the remaining time under licence.
Having a medical abortion involves taking two tablets but can only be carried out up to 10 weeks into a pregnancy in the UK, while surgical abortions can be performed up to 23 weeks and six days into a pregnancy.
Prosecuting, barrister Mr Robert Price said the woman had "lied to" BPAS about "how pregnant she was, so they sent the tablets to her".
He added: "She said she had not seen a doctor about her pregnancy because she was embarrassed.
"While the baby was not full term, she was approaching that stage of development. Multiple and prolonged internet searches showed a level of planning. The taking of the drugs was a planned and deliberate act in which her intention could only have been to procure an abortion."
The prosecution said the woman made a number of internet searches during lockdown between February and May 2020, including "how to hide a pregnancy bump", "how to have an abortion without going to the doctor" and "how to lose a baby at six months".
Foster was initially charged with child destruction and pleaded not guilty but later pleaded guilty to an alternative charge of administering drugs or using instruments to procure abortion, which was accepted by the prosecution. The maximum sentence is life imprisonment.
Justice Pepperall said the case was made more "tragic" because the woman did not plead guilty earlier, adding that he may have been able to consider suspending the jail sentence if she had.
Abortions are still deemed a criminal act in England, Scotland, and Wales under the 1967 Abortion Act.
The 1861 legislation means any woman who ends a pregnancy without obtaining legal permission from two doctors, who must agree that continuing with it would be a risk to the woman's physical or mental health, can face up to life imprisonment. Any medical professional who delivers an abortion out of the terms of the act can face criminal punishment.
Abortion providers, charities, medical bodies and MPs have spent years demanding that abortion is decriminalised in the UK.
In a statement released after the sentencing, Clare Murphy, the chief executive of BPAS, said: "We are shocked and appalled by the decision.
"No woman can ever go through this again. In their sentencing remarks, the judge made it that women will only be protected from prosecution if MPs bring forward legal change. There has never been a clearer mandate for parliamentary action, and the need has never been so urgent."
Dr Sarah Salkeld, of abortion provider MSI Reproductive Choices, told The Independent: "This has been an incredibly distressing case for everyone involved. 
"It is neither a compassionate nor a proportionate response to send someone to prison for ending their pregnancy. Nor is it in the public interest."
Mandu Reid, leader of the Women's Equality Party, told The Independent she was "devastated for the woman at the centre of this case" and "absolutely furious at the system".
Ms Reid added: "This sentence is a human rights violation. No one should ever be criminalised or deprived of their liberty for accessing healthcare. This conviction serves absolutely no one – not the woman, not her children, not the public interest."
Labour MP Stella Creasy, who is an outspoken campaigner for abortion rights, tweeted: "This case reveals bitter truth, contrary to what some claim, abortion is not legal in England – and you can be prosecuted for having one.
"No other healthcare procedure has such a status. No other patient group would be treated this way. It's time to change [the] law and trust women."
Ms Creasy, who is the MP for Walthamstow, argued it was a "hangover from another era" that abortion legislation is not founded on "healthcare considerations, but first and foremost criminal sanctions".
A march, calling for legal reform over the issue, has been arranged for Saturday.
Additional reporting by Press Association