LGBT+ activists dump manure and cockroaches outside awards ceremony for property industry
'We are at the mercy of the housing market, where landlords and letting-agents condemn us to live in unsafe flats among filth and vermin'
Benjamin Kentish
Thursday 06 April 2017 01:10 Comments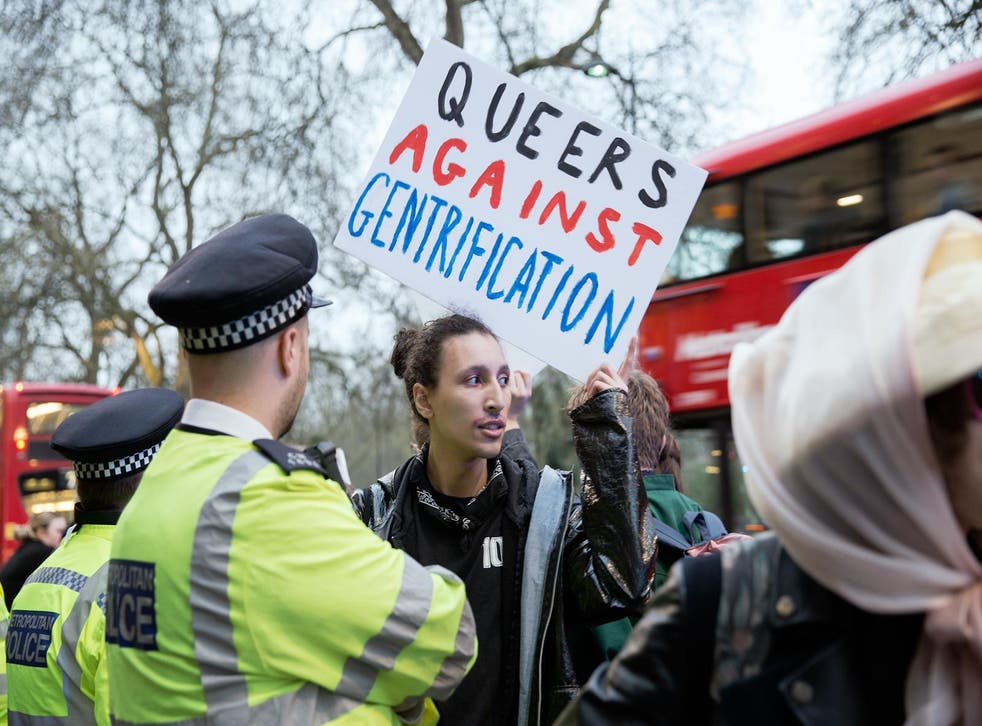 LGBT+ activists have dumped manure and cockroaches outside an exclusive awards ceremony attended by UK property industry executives.
The group, called Sexual Avengers, targeted the annual Property Awards, hosted at the five-star Grosvenor House hotel on London's Park Lane. They dumped cow manure and hundreds of live cockroaches outside the building as guests arrived for the black-tie gala.
Campaigners said they were demanding more genuinely affordable homes, rent controls, the end of the Right to Buy scheme that helps social tenants to buy their property, and more support for homeless LGBT+ people.
The activists also criticised "the gentrification of London and the displacement of its diverse communities".
The prestigious awards ceremony is attended by bosses from a number of major property companies. Tickets are said to cost up to £400 and tables £3,000.
A spokesperson for Sexual Avengers said: "We are at the mercy of the housing market, where landlords and letting-agents condemn us to live in unsafe flats among filth and vermin.
"Property developers have grown rich by building multi-million pound housing projects, gentrifying working-class, multicultural areas and driving impoverished queer people away from support networks and into the street."
The world's least affordable cities for housing

Show all 10
One activist called Stacey Jones said: "My partner died of cancer last April, and they wanted to kick me out in May. They couldn't understand how I could be in a relationship with a woman when I had a child. I'd just lost my partner and had to sit there and justify my sexuality. Why did I deserve the house where we lived, where I cared for her and where she died?
"Property developers need to build for need not greed. I've been homeless twice, and I'd be on the streets now if it wasn't for [gay rights charity] Stonewall. The number of empty properties and the number of people on the streets – it's madness."
The Sexual Avengers are a network of activists campaigning for LGBT+ rights. They made headlines earlier this year after sticking a "Queer Heritage" plaque, in the style of the traditional English Heritage signs, to the walls of the House of Lords.
Register for free to continue reading
Registration is a free and easy way to support our truly independent journalism
By registering, you will also enjoy limited access to Premium articles, exclusive newsletters, commenting, and virtual events with our leading journalists
Already have an account? sign in
Join our new commenting forum
Join thought-provoking conversations, follow other Independent readers and see their replies