Adrian Chiles: BBC presenter says the media only sees religion in terms of fanaticism
Coverage of fanaticism eclipses ordinary worshippers of all faiths, says host of new Sunday TV series 
Ian Burrell
Media Editor
Friday 01 January 2016 18:37 Comments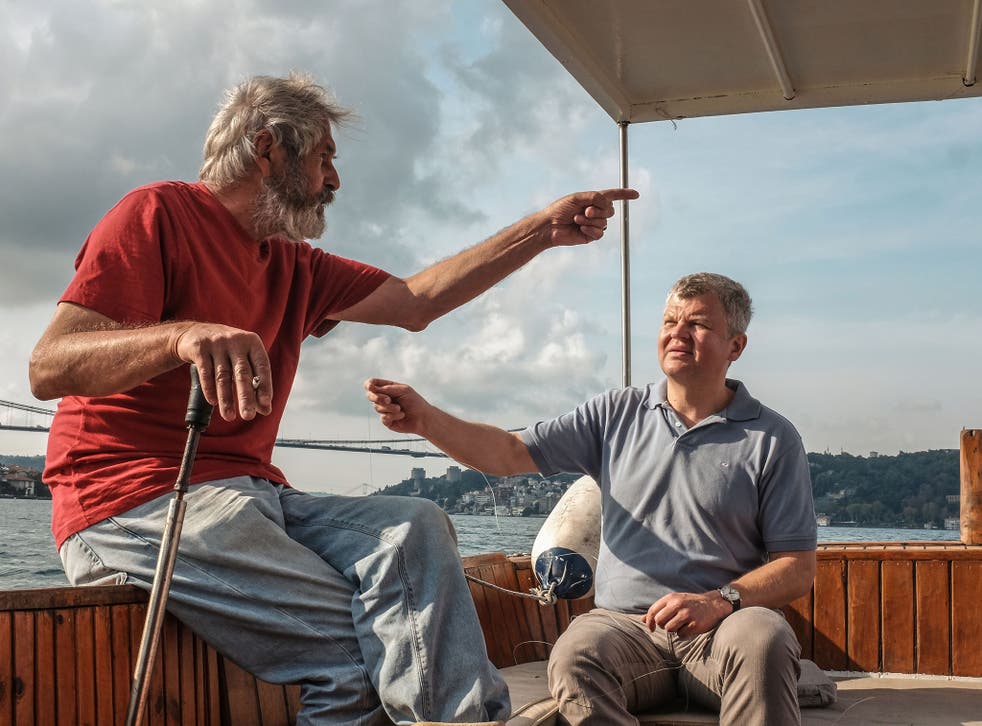 The BBC broadcaster and practising Roman Catholic Adrian Chiles has complained that the media has come to see religion only in terms of fanaticism and turned its back on millions of ordinary worshippers of all faiths.
"Jesus said, 'The meek will inherit the earth.' Well, they might do but they get no press along the way at all, they're completely forgotten," said Chiles. "And I'm not just talking about Christians, I'm talking about [all religions]."
The football presenter hosts a new religious series beginning tomorrow night on BBC2, for which the working title, Holy Med, has been replaced by the less religious-sounding My Mediterranean with Adrian Chiles. "The fourth word in it is 'God'. It's as though they think everyone will have lost their remote control," the presenter said of a series which opens with him saying "I believe in God", and in which he spends time with Christians, Muslims and Jews. "Why would anyone want to watch me doing a travelogue around the Med?"
He said he accepted the show's title. "I wouldn't say I agree with it, I understand it. It was a collective decision that I stand by. I would have erred the other way, probably with calamitous consequences."
At the start of the films, Chiles states: "On my journey around the Mediterranean I want to show that religion actually does more good than harm. I won't be seeking out the religious zealots – they get quite enough airtime if you ask me. I just want to find the majority; the nice, normal, gentle people who happen to be religious." The film is a new direction for Chiles. At the start of last year he abruptly left his lucrative job at ITV, where he was lead football presenter and former Daybreak breakfast show host. The ex-presenter of Match of the Day 2 and The One Show returned to the BBC to take up a show on Radio 5 Live.
He said friends in television production warned him off making religious shows. "It was always, 'You will not get anything on about religion, you're wasting your time.'"
But BBC2 controller Kim Shillinglaw commissioned the programme after Chiles told her how he and a Muslim taxi driver had a late-night discussion, bid each other farewell with a "God bless you", and, he concluded, "there wasn't a piece of paper between us".
Chiles said he has "more in common with a liberal Jew and a liberal Muslim than I have with even a conservative Roman Catholic". He added: "Does it calm you down or fire you up? If it's the latter, I think you are missing the point but who am I to judge? It's [religious] fervour that frightens me more than anything else. Just be calm and still."
The concept for My Mediterranean was partly inspired by Chiles having attended Mass on each of the 46 days of Lent last year. He plans a "Lent Live" project this year, visiting various churches and faiths – "Gurdwara, Humanist, Quaker, Druids" – recording the project for radio or print media, as television chiefs "just weren't interested".
Despite having "so many priests on my WhatsApp" he has no ambition to present the BBC's Songs of Praise, as he is "not mad on hymns", although he listens to Gabriel Fauré's Requiem in the car as consolation after his team, West Bromwich Albion, loses. Not working at the Uefa European football championships in June could drive him to a monastery, he said. "The summer will be hard – I might have to go to some retreat. But I couldn't imagine not doing [football] again."
The former Manchester United captain Roy Keane, Chiles's old colleague in football punditry, has been a particularly loyal friend since his ITV departure. Chiles, Keane and the former Arsenal and Manchester City player Patrick Vieira once attended a Roman Catholic service together in Poland. "That was my all-time greatest Mass," he said.
'My Mediterranean with Adrian Chiles' airs on BBC2 tomorrow, 9pm
Register for free to continue reading
Registration is a free and easy way to support our truly independent journalism
By registering, you will also enjoy limited access to Premium articles, exclusive newsletters, commenting, and virtual events with our leading journalists
Already have an account? sign in
Join our new commenting forum
Join thought-provoking conversations, follow other Independent readers and see their replies