Afghan man who worked for British Army set to be deported from UK in days, prompting urgent appeal
Exclusive: Hafizzulah Husseinkhel spent two years as an 'outstanding, personable and loyal' interpreter for the British Army in Afghanistan. His father was shot in the leg by the Taliban after he fled. He has volunteered for charities since arriving in the UK two years ago. The Home Office just told him he will be removed from the country in the coming days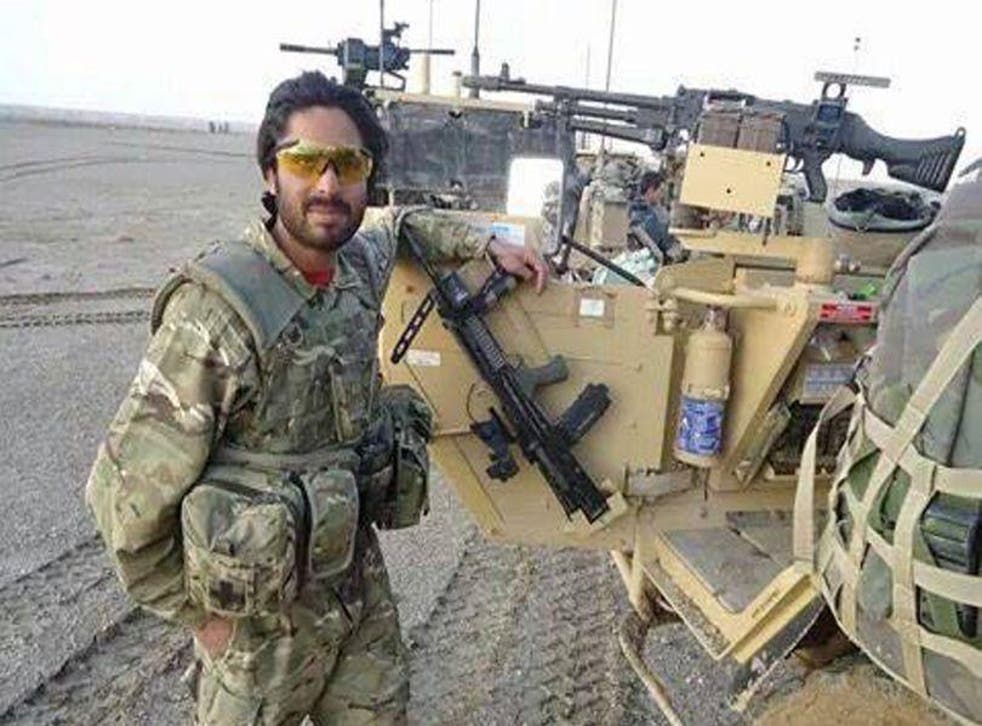 An Afghan man who worked as an interpreter for the British Army for two years is set to be removed from the UK in days, prompting an urgent appeal for authorities to reverse their decision.
Hafizzulah Husseinkhel's asylum claims was rejected in June. An attempt to overturn the decision by applying for a judicial review at the High Court was later also refused.
Last Wednesday, the 26-year-old was reporting to the Home Office as required when he was handed removal papers and taken to a detention centre at Campsville near Oxford. He was told he would be removed from the country between 6 and 22 December.
Mr Husseinkhel fled from Afghanistan in 2014 after receiving death threats from the Taliban. His father was shot in the leg when he refused to reveal his whereabouts.
He is likely to be deported to Austria, the first country he was registered in as an asylum seeker.
Those attempting to prevent his removal say changes to the immigration system there following an election that saw the far-right Freedom Party enter government mean he is likely to end up being sent back to Afghanistan, where his life would be in danger.
Campaigners have launched a petition demanding he be allowed to remain in the UK after serving on the front line for the British Army between 2010 and 2012, when he worked as an interpreter between British and Afghan officers. He spent several years working for Nato forces before that.
The Ministry of Defence announced in 2013 that up to 600 Afghans who worked as interpreters, or in other dangerous roles supporting British and allied forces in Helmand, would be eligible to resettle in the UK.
But the resettlement package was available only to staff who were in post on 19 December last year – shortly after Mr Husseinkhel left the post.
The regiment he worked for said he fulfilled his duties to an "extremely high standard" and described him as "enthusiastic, personable and loyal".
A certificate handed to Mr Husseinkhel by a cavalry regiment of the British Army, seen by The Independent, states: "In recognition of his outstanding contribution as an interpreter for the Formation Reconnaissance Squadron during Operation HERRICK 14 Apr – Nov 2011."
A reference from the regiment states: "Hafizullah has fulfilled his responsibilities to an extremely high standard and has fitted well into the squadron.
"He is very popular amongst his Troop who have commented on several occasions on how impressed they have been with his performance, both in terms of his day-to-day activities and his calm approach during enemy engagements.
"He is an enthusiastic, personable and loyal individual."
Mr Husseinkhel was reportedly injured by an improvised explosive device (IED) while serving with US forces in Afghanistan before he moved to be with the British Army – an incident that left him with serious eye injuries, causing him to have 20 per cent vision in one eye and 80 per cent in the other.
Friends of the 26-year-old described him as "intelligent and enthusiastic", and said his detention poses serious consequences for his mental health.
Steve Cooke, from Derby Refugee Solidarity, which had been supporting Mr Husseinkhel financially and legally through his asylum process, told The Independent: "Hafis is one of the kindest most intelligent, bright, enthusiastic people you could meet.
"He volunteers interpreting for other refugees, and volunteers in our warehouse lifting clothes every Thursday. He just helps everyone that he possibly can. He's been so supportive. I've rung him up at a moment's notice asking him to help me out with collecting donations for the day and he's been there.
"He's been here for nearly two years and he's been settling his mind into life in the UK in Derby – making friends and building relationships, volunteering, going to college to improve his English.
"It's inhuman to send him back after this anyway, let alone the fact that he's worked for the British Army, and he's got the trauma of working as a frontline interpreter, seeing the things he's seen, being blown up by an IED, losing sight in his eye, plus the trauma of getting to the UK."
Janet Fuller, from the Refugee Centre in Derby, where Mr Husseinkhel often volunteers, said: "We've almost got no hope left, we've written hundreds of letters to the Home Secretary. Words fail me [...] Hafis is terrified for the safety of his family, because his father has already been shot in the leg.
"It's a betrayal. He worked for the British forces and then had to leave his country as a result. There's a debt owed to him by the UK.
Refugees welcome here: Protesters demand UK resettle more migrants in response to refugee crisis

Show all 7
"At the refugee advice centre he's been volunteering as an interpreter. He's really supportive and will sometimes just do the hoovering without asking. He's a man of great integrity, who has been 'waiting for something to happen' since 2014 to enable him to feel safe.
"I've been to visit him in detention and he's very emotional. He said he feels like his life is over."
The Home Office told The Independent it did not comment on individual cases.
Join our new commenting forum
Join thought-provoking conversations, follow other Independent readers and see their replies