More Afghan interpreters who served alongside British troops can apply to relocate to UK
Interpreters were the 'eyes and ears' of British troops in Helmand, Ministry of Defence says
Lizzie Dearden
Home Affairs Correspondent
Saturday 19 September 2020 12:53 Comments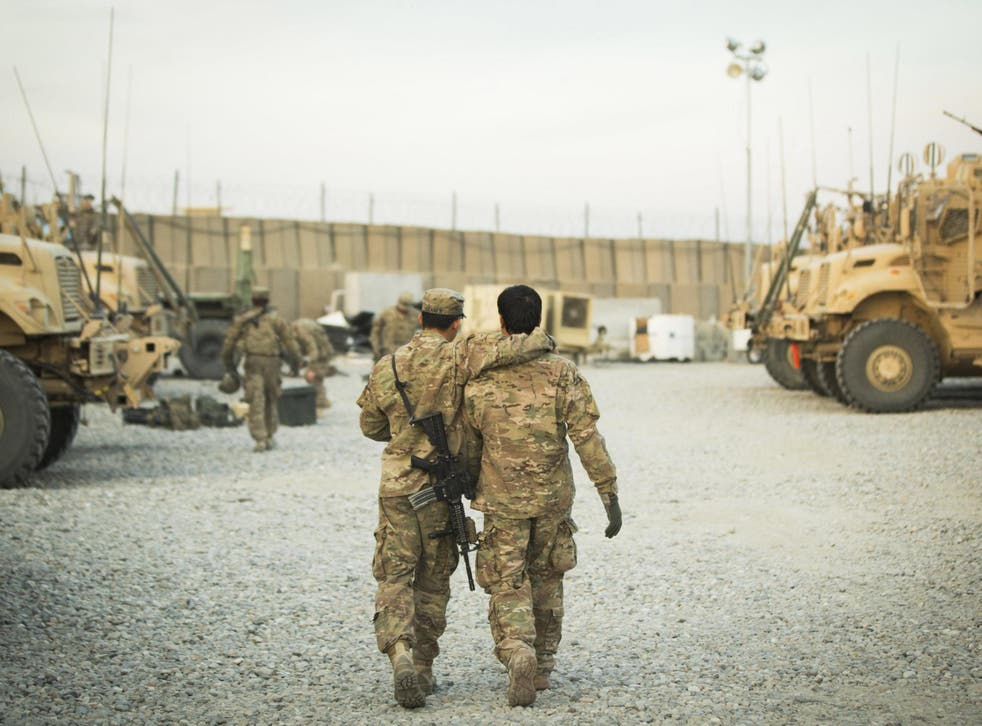 More Afghan interpreters who were the "eyes and ears" of British troops will be able to move to the UK, the Ministry of Defence has announced.
The government was accused of failing to protect former civilian employees from Taliban reprisals after British combat troops were withdrawn in 2014.
It is now expanding a scheme that offers interpreters the option of relocating to the UK with their families, or five years' training and a monthly stipend, or the equivalent of 18 months' salary.
It was previously only open to civilians who had been made redundant after serving more than a year on the frontline.
But changes announced on Saturday expand it to interpreters who voluntarily resigned and served for at least 18 months.
The Ministry of Defence said the change will allow dozens more Afghan interpreters to use the scheme, which has already seen 445 former staff and their families – a total of 1,319 people – relocate to the UK.
Ben Wallace, the defence secretary, said: "Our efforts in Afghanistan simply could not have been possible without the help of brave interpreters who risked their lives to work alongside our personnel throughout the conflict.
"They did not leave us behind then, and we will not leave them behind now. It is crucial there is a fair system in place to support those who want to relocate to the UK, and that is why we are going even further to make sure more individuals have the opportunity to apply for relocation."
The changes will be made through secondary legislation in October, meaning they do not need to go through all the stages of parliamentary approval, and be implemented shortly afterwards.
Priti Patel, the home secretary, said: "Courageous Afghans worked side by side with our armed forces to defeat terrorism, risking their own lives in the pursuit of peace."
Afghanistan's forgotten frontline

Show all 5
The Ministry of Defence said that Afghan civilians in Helmand Province had often been "the eyes and ears of British forces" between 2006 and 2014.
It said their linguistic and cultural expertise "enabled the UK to work hand-in-hand with our Afghan partners and local communities while protecting British troops" in dangerous situations.
Last summer, ministers were urged to speed up the security vetting of the interpreters who moved to Britain following reports that translators living in Britain faced bureaucratic delays of up to 10 years to get the necessary clearance to secure well-paid jobs with Nato forces.
Some had been forced to take low-paid fast food work in the interim instead of doing the specialist work "for which they are uniquely qualified", the House of Lords heard.
A 2018 report by parliament's Defence Committee said a government scheme to safeguard Afghan interpreters threatened with reprisals for working with the British Army "had dismally failed to give any meaningful assurance of protection" from the Taliban.
The "intimidation scheme", which is separate to the redundancy offer, had not seen anyone relocated to the UK at the time.
Register for free to continue reading
Registration is a free and easy way to support our truly independent journalism
By registering, you will also enjoy limited access to Premium articles, exclusive newsletters, commenting, and virtual events with our leading journalists
Already have an account? sign in
Join our new commenting forum
Join thought-provoking conversations, follow other Independent readers and see their replies