Just four Afghan refugees brought to the UK since fall of Kabul
Since mass airlift evacuated thousands in August 2021, only four have been brought to Britain through flagship scheme for refugees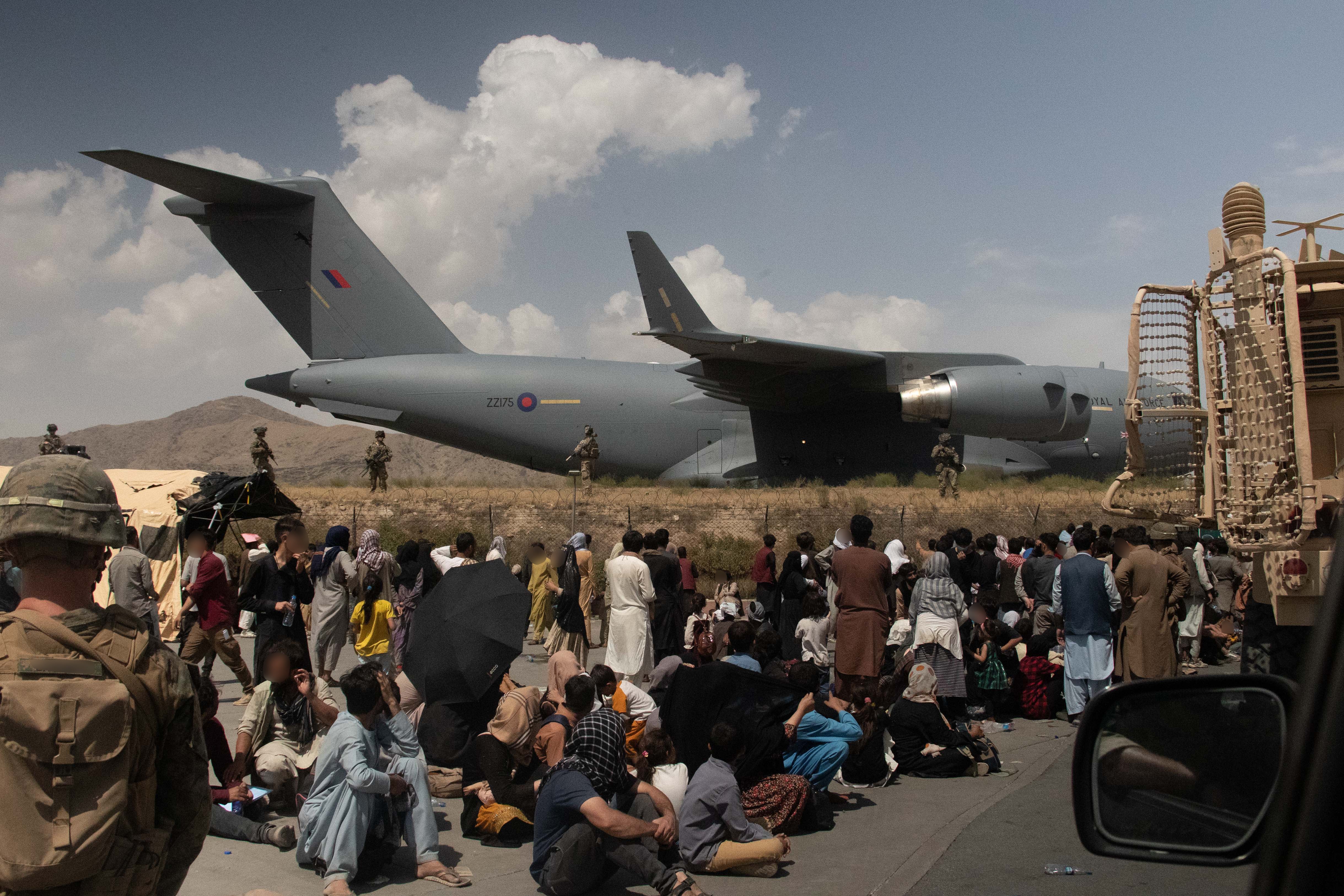 Just four Afghan refugees have been brought to safety in the UK on the government's flagship resettlement scheme since the fall of Kabul, Home Office figures show.
Announced last August, the Afghan citizens' resettlement scheme (ACRS) aimed to resettle 5,000 Afghans in the first year, and up to 20,000 over five years.
But while 6,314 refugees who are already in the UK have been granted indefinite leave to remain, only 4 people who fled Afghanistan after the Taliban takeover have been resettled.
Charities have condemned ministers for "abandoning the Afghan people" and effectively closing any safe routes to the UK for those at risk abroad.
The Independent's Refugees Welcome campaign has called for the government to do more to make the UK a haven for refugees.
The Home Office said the situation is "complex and presents us with significant challenges".
It emerged in February that around 6,500 of the places had already been given to Afghans evacuated during Operation Pitting – the UK's military operation following the Taliban offensive in August 2021.
Almost 6,000 have also been granted visas under a separate scheme, the Afghan Relocation Assistance Policy (ARAP), set up to support Afghans who worked for the British army and their families.
However, only four people have been resettled under the second pathway – which receives referrals from the United Nations High Commissioner for Refugees.
That means that Afghans who are at risk in Afghanistan, or in a third country, effectively have no safe route to the UK.
Stephen Kinnock, the shadow minister for immigration, said: "Britain owes a debt of gratitude to courageous Afghans who served British interests in Afghanistan, and it is a debt that must be honoured. UN figures show that since last summer at least 160 Afghans have been killed through reprisal attacks.
"Operation Warm Welcome has become Operation Cold Shoulder, due to the Conservative government's toxic combination of incompetence and indifference."
He said that ministers "must urgently clear the asylum backlog at home, while working more effectively with the UNHCR to keep the promise they made last autumn to bring vulnerable Afghans to safety."
Mary Atkinson, campaigns officer at the Joint Council for the Welfare of Immigrants, said the figures were "disgraceful" adding that "this failure is pushing many at-risk Afghans – not least those with links to the UK – into perilous journeys here".
She continued: "We shouldn't allow this government to get away with its shameful abandonment of the Afghan people – we need a fully functioning Afghan resettlement scheme now."
Lib Dem home affairs spokesperson Alistair Carmichael said the government had failed to uphold their commitment to Afghan refugees who are fleeing Taliban terror.
"They claim to care about Afghan refugees yet you can count the number of people they are resettling on one hand," he said.
One former senior Afghan prosecutor has been living in immigration limbo in Pakistan for more than a year. Despite having British family members, he has been unable to secure a move to the UK.
The former director of prosecutions for an Afghan province that is home to 500,000 people previously told The Independent that he felt "constantly terrified" that Taliban networks within Pakistan would find him.
"I am constantly terrified; I am worried that I will go to jail. I don't know what is going to happen," the prosecutor said. His case has been referred to the UNHCR but he is still stuck in Pakistan, his lawyer Deena Patel said on Thursday.
The ACRS scheme, which opened in January, was designed to help those who have "assisted the UK efforts in Afghanistan and stood up for values such as democracy, freedom of speech, and rule of law", the government said.
Pathway one issued visas to those already in the UK after they were evacuated by British forces after the fall of Kabul, while pathway two was opened up for Afghan families who fled Afghanistan into neighbouring countries, mostly Pakistan or Iran, and have been identified by the UNHCR as in need of resettlement.
Ms Patel, from Sohaib Fatimi Solicitors who is representing people seeking to access the scheme, said: "The number of four Afghans [coming through pathway two] is highly believable. The prosecutor's case was a strong case on merit. He should have been relocated under pathway two, but he's been waiting months on end."
"This is just taking way too long. The UNHCR have to do a refugee assessment in each case, if they are not even speeding up this process then they are not going to make a referral to the Home Office.
"We know the crisis that this is causing – a large proportion of those arriving illegally are Afghans. What can you do if there is no legal route?"
Dr Neelam Raina, an academic who has supported refugees who have been forced to flee Afghanistan, said: "ACRS is only pretending to exist".
"It's an unequal opaque system which is just virtue-signalling," she said, adding that there was no clarity on how to access the resettlement scheme.
She added that the UNHCR in Pakistan is "struggling to cope with the huge numbers of people from Afghanistan".
A Home Office spokesperson said: "The UK has made one of the largest commitments to support Afghanistan of any country and, so far, we have brought more than 22,800 vulnerable Afghans to safety.
"However, the situation is complex and presents us with significant challenges, including safe passage out of the country for those who want to leave and who are eligible for resettlement in the UK."
The headline of this article was amended on December 1 2022. It previously referred to four people being resettled during that time frame, but that did not distinguish those four refugees from those who had been resettled as part of the evacuation programme or Afghans who had applied to the scheme for those who worked with British forces. We also amended the sub-headline to refer to the thousands of people who were evacuated in August 2021, to acknowledge their resettlement in addition to the four people brought to the UK via the new 'safe and legal route'.
Join our commenting forum
Join thought-provoking conversations, follow other Independent readers and see their replies