Afghan man who 'risked his life' for British army sleeping on streets of Athens after being rejected by UK
Exclusive: 'The army said they liked me, that I did a good job. I saved lives in the battlefield, taking part in ambush operations. I did all I could, but they've left me behind,' says Mohammed Nabi Wardak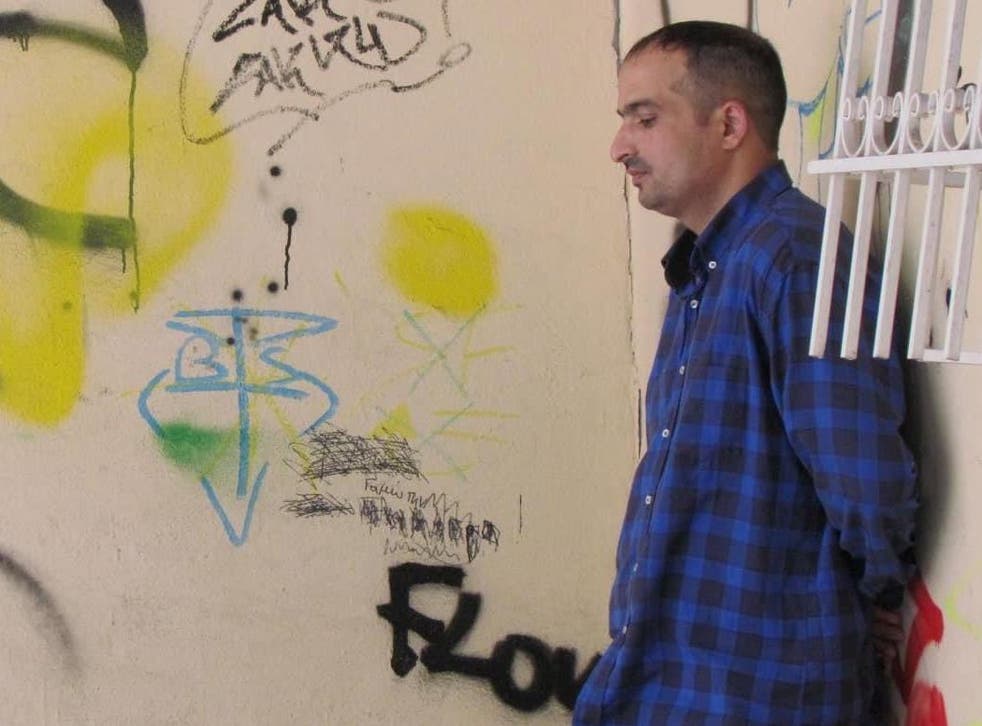 An Afghan man who risked his life working as an interpreter for the British army is sleeping on the streets of Athens after being told he and his family do not qualify for relocation to the UK.
Mohammed Nabi Wardak, 30, served on the front line in Helmand Province between 2008 and 2011. His commanding officers during this time described him as an "excellent interpreter" who "risked his life on many occasions".
In the years during and after his service, he received a number of threats from the Taliban directed at him and his wife and children, aged eight, six, five and three. He informed the British embassy, but nothing was done.
Mr Wardak continued to received threats in the form of letters and knocks on his door. In 2016, he was attacked by two men close to his home. At this point, he decided he had to flee the country, leaving his family behind.
Two years later, the 30-year-old is sleeping rough in Greece and living in fear that his family too will be targeted by the Taliban.
He has been told he does not qualify under the strict terms of the UK's relocation scheme because he voluntarily left the job on two occasions – once because his family was being threatened by the Taliban, and the second time because his mother was seriously ill.
Mr Wardak is now pleading with the government to consider his case, explaining that his brief resignations were out of duty to his family.
In a letter to the defence secretary, Gavin Williamson, this week, Mr Wardak said: "Because of my job with the British Forces as an interpreter, I put myself and my family's life at serious risk, and I received many times death threats from the Taliban, which forced me to leave my country behind.
"I left my wife and children in my 80-year-old father's house and in serious risk 10km away from the front line of the war. I have four children – three girls and one son."
He explains that ever since he left Afghanistan, he has been trying to contact the British embassy and UNHCR – emailing and faxing many times in order to ask for protection for him and his family.
"For almost three years I assisted the British army in a very hostile environment, many times I risked my family's life and my own," he adds.
Speaking to The Independent from Athens, Mr Wardak said he felt "betrayed" by the British government: "My children are in danger. I don't want them to be punished because of me.
"The army said they liked me, that I did a good job. I saved lives in the battlefield, taking part in ambush operations. I did all I could, but they've left me behind.
"I feel betrayed. I worked for the UK. I am not a normal refugee. I sacrificed my life for them. They should protect my children. I left my house and my children for them, why are they forgetting that?
"I got a promise from my bosses. They said if you have any security issues they would help us. Where has that promise gone? Why give me an important job and then leave me behind?"
A letter of recommendation issued to Mr Wardak by one of his commanding officers describes him as an "excellent interpreter" and an "extraordinary young man with an infectious personality".
Another states he "risked his life on many occasions" while working for the army, and that he on occasion had to endure abuse from those "less than supportive of the mission".
The commander added: "He has also put his family in danger by association and has had to endure lengthy periods without contact with them."
A government spokesperson said they did not comment on individual cases, but added: "We recognise the vital role interpreters and local staff played in operations in Afghanistan.
UK news in pictures

Show all 50
"We are the only nation with a permanent expert team based in Kabul to investigate claims of intimidation, offering tailored security advice and support to individuals and their families.
"Over 1,200 former Afghan staff and their families have been relocated to the UK through our redundancy scheme with those who have been offered relocation having faced the greatest danger working alongside British troops in Helmand province.
"The defence secretary recently announced an expansion of the scheme allowing for a further 200 visas to be issued."
Register for free to continue reading
Registration is a free and easy way to support our truly independent journalism
By registering, you will also enjoy limited access to Premium articles, exclusive newsletters, commenting, and virtual events with our leading journalists
Already have an account? sign in
Register for free to continue reading
Registration is a free and easy way to support our truly independent journalism
By registering, you will also enjoy limited access to Premium articles, exclusive newsletters, commenting, and virtual events with our leading journalists
Already have an account? sign in
Join our new commenting forum
Join thought-provoking conversations, follow other Independent readers and see their replies