Airlander 10 airship: World's largest aircraft gets off the ground
Giant vehicle expected to herald new generation of airships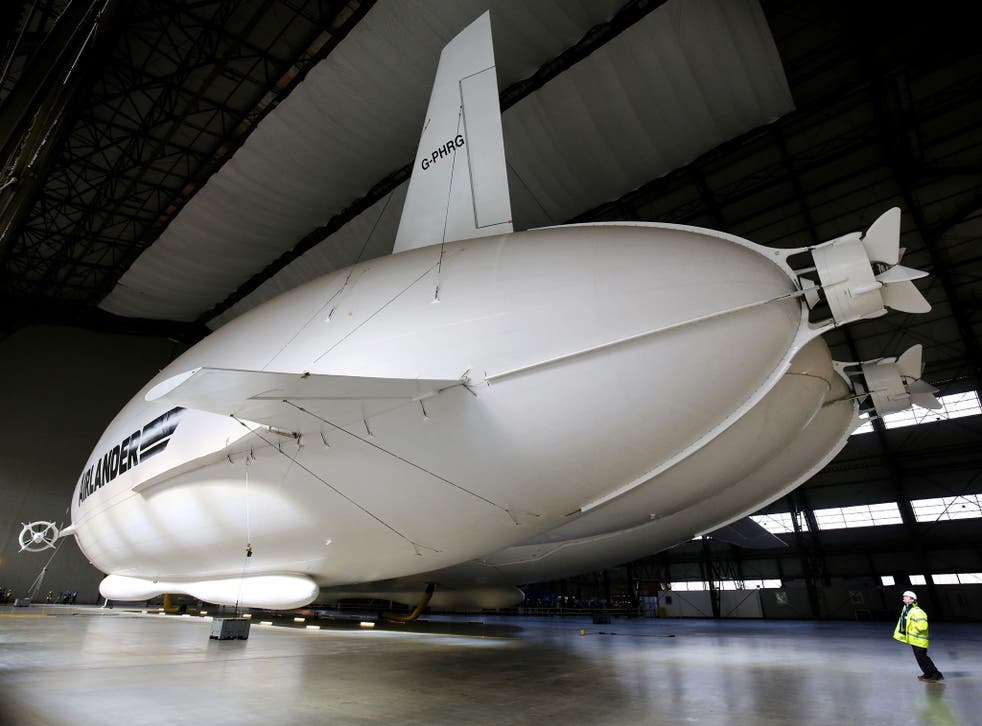 The world's largest aircraft has left the ground for the first time.
The Airlander 10 floated several feet off the ground while tethered at it hangar, in Cardington, Bedfordshire.
Its maiden flight is due in several weeks time.
The brief lift-off at its official unveiling was designed to test the performance of the new generation airship when taking off, gliding and landing.
The Airlander 10 - part plane, part airship and part helicopter - is longer than a football pitch at 92 metres long, and only slightly narrower at 44 metres wide.
It is 26 metres high and weighs 20 tons. In comparison, the biggest passenger jets are around 77 metres long.
The Airlander 10 will be powered by 1.3 million cubic feet of helium and will be able to reach 92 mph, its designers say.
The hovering of the aircraft represents a crucial step forward for the Airlander 10, which has been almost 10 years in the making.
It was designed by British firm Hybrid Air Vehicles, initially for the US military. However, following cutbacks to defence the project was stalled.
Leading lights: celebrating pioneers in science, technology, engineering and maths

Show all 18
Following investment from the British government and a number of other backers, including Iron Maiden frontman Bruce Dickinson, it has now been assembled.
The Airlander 10 is designed to land on a variety of surfaces, including water and ice.
If successful, the aircraft – which flies silently and produces no emissions – could be a major development in transport, heralding in a new generation of airships.
The aircraft could be used for monitoring, search and rescue, cargo, aid distribution and even leisure and passenger roles, according to its developers.
Chris Daniels, HAV's head of partnerships, said: "This is a fantastic story of British innovation getting a unique aircraft fully assembled to do something both useful and commercially viable."
Register for free to continue reading
Registration is a free and easy way to support our truly independent journalism
By registering, you will also enjoy limited access to Premium articles, exclusive newsletters, commenting, and virtual events with our leading journalists
Already have an account? sign in
Register for free to continue reading
Registration is a free and easy way to support our truly independent journalism
By registering, you will also enjoy limited access to Premium articles, exclusive newsletters, commenting, and virtual events with our leading journalists
Already have an account? sign in
Join our new commenting forum
Join thought-provoking conversations, follow other Independent readers and see their replies