Passengers set for £5 charge to jump passport queue at airports
Unions warn move will exacerbate pressure on Border Force staff and create more delays for people who cannot afford to pay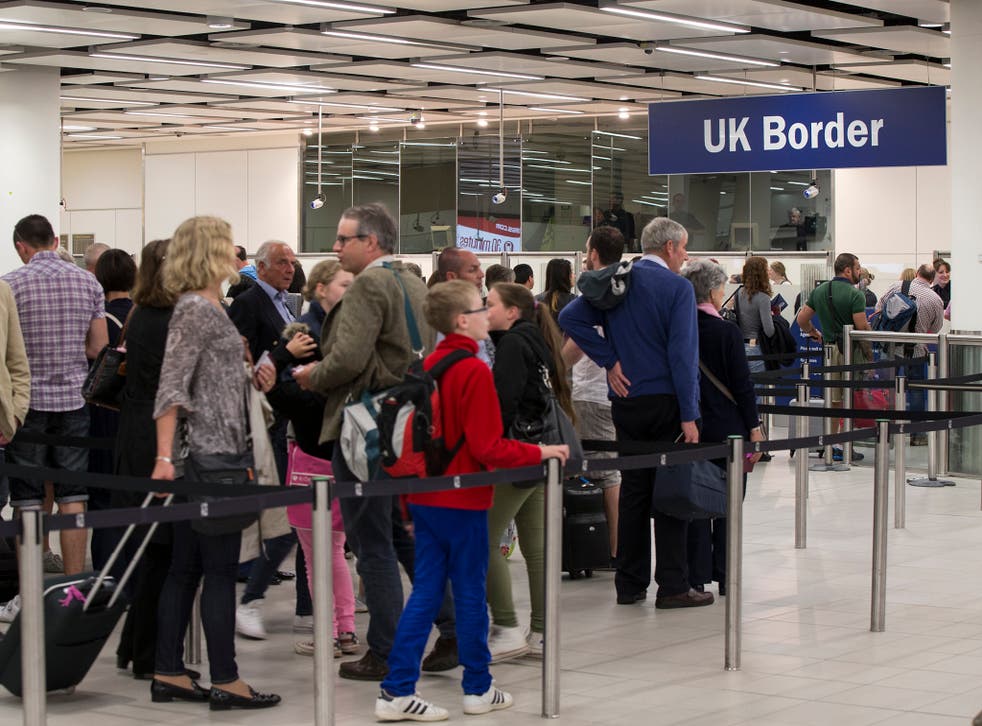 All UK airports could soon allow travellers to pay to skip passport control queues under a controversial new scheme reportedly due to be rolled out by the government.
New fees ranging from £5 to £20 could soon be introduced in airports across the country to allow people to skip the long queues at passport control, if a similar scheme at Edinburgh Airport is successful.
The new charge will be on top of existing time-saving charges, like paying for priority boarding and check-in.
Unions warned the measure will add to the strain on airport workers and worsen the problems with low staffing levels, which they say is responsible for the long queues in the first place.
A spokesman for the Public and Commercial Services Union branded the move a "gimmick".
He told the Sunday People: "This is a ridiculous idea that exposes just how understaffed our borders are. What happens if everyone opts to pay £5? We're back to square one.
"Instead of gimmicks like this the Government needs to properly invest in staff to work at ports and airports because the shortages are there for all to see."
Mark Gibbin, the leader of the ISU union for border and customs staff, said staffing levels were already at breaking point.
The most delayed UK airports in pictures

Show all 10
In a recent memo to members Mr Gibbin wrote: "There are simply not enough staff. Our members are working hours on end under oppressive, often hostile conditions.
"Managers are under severe pressure to contain queues, creating still more pressure for frontline staff. It's only a matter of time before serious public disorder and, who knows, even mass breach of the border."
It comes after a whistleblower claimed "stressed" Border Force staff were struggling to cope with passport queues at Heathrow and some workers at the port in Dover were being drafted in to work at the London airport.
The unnamed worker told the BBC: "We are being crucified. There is a high percentage of long-term sick due to stress.
"We are being pushed completely and we cannot cope."
He said they did not have enough time to examine the passports properly because they couldn't have a "thumb through to what you've been doing".
In April, Theresa May, who was then Home Secretary, confirmed plans to cut the border security budget by a further £2m.
Shadow Home Secretary Andy Burnham condemned the cuts and claimed the National Crime Agency had evidence that people traffickers were specifically targeting weaker sea ports, the Daily Telegraph reported.
The Home Office told The Independent's denied that it planned to roll out the scheme at Edinburgh Airport across the country bu said they were working with several airport operators to introduce the Fast Track Passport service.
Register for free to continue reading
Registration is a free and easy way to support our truly independent journalism
By registering, you will also enjoy limited access to Premium articles, exclusive newsletters, commenting, and virtual events with our leading journalists
Already have an account? sign in
Register for free to continue reading
Registration is a free and easy way to support our truly independent journalism
By registering, you will also enjoy limited access to Premium articles, exclusive newsletters, commenting, and virtual events with our leading journalists
Already have an account? sign in
Join our new commenting forum
Join thought-provoking conversations, follow other Independent readers and see their replies